w

orkplac

e

design

solutions
about us
about us
Workplace is an architectural studio specialising in designing work environments. Our team of architects, engineers, project managers, psychologists and sociologists is a unique combination of professionals creating functional workplaces where people feel comfortable and want to spend time.
Since 2012 we have been shaping work environment in Polish and international organizations. Our projects have been recognised in prestigious competitions.
Check the latest news about our projects and more on our Linkedin profile.
sqm of offices were completed by workplace between 2012-2018
average number of projects per year
number of workplace team members in 2019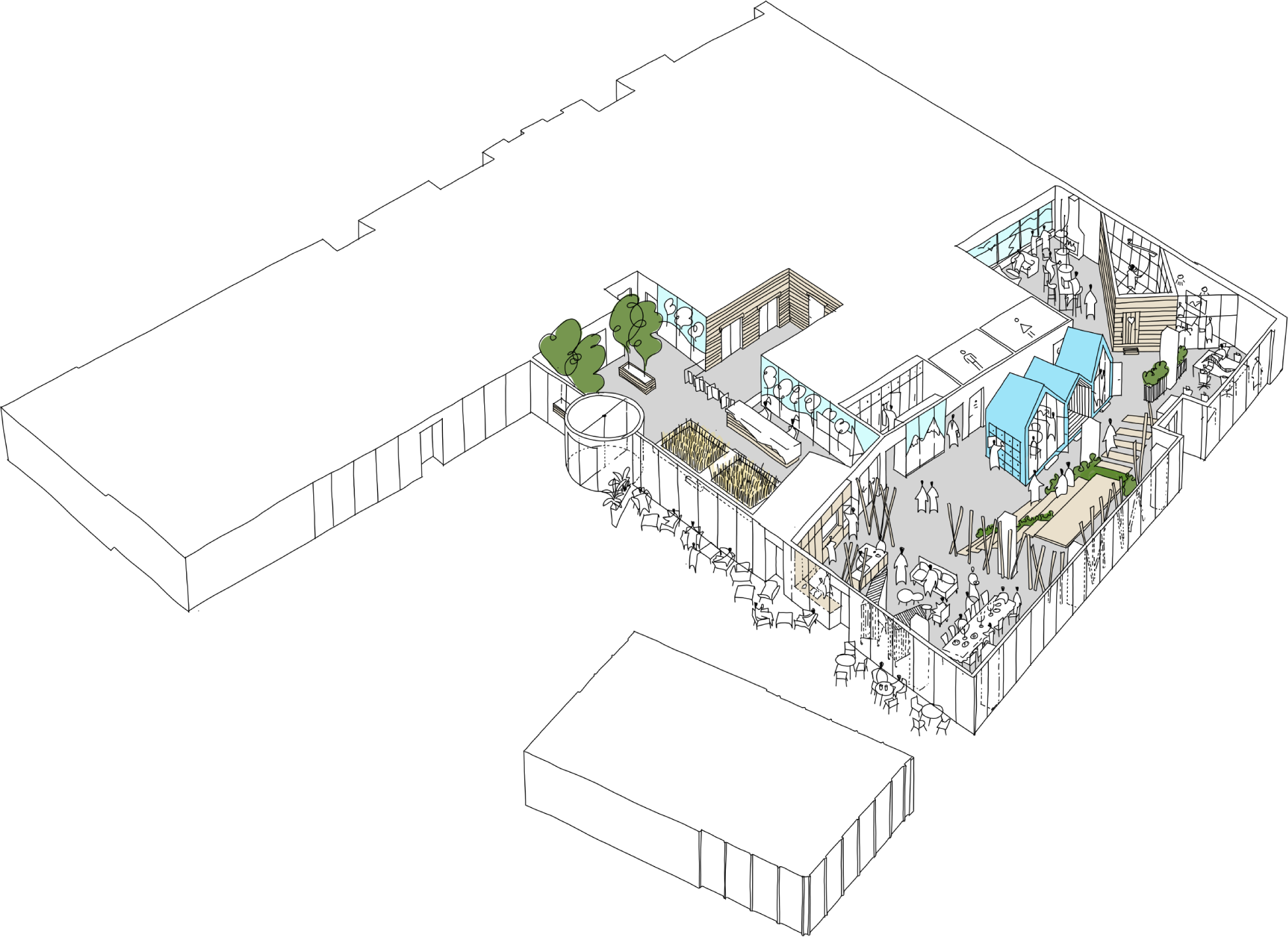 average number of projects per year
sqm of offices were completed by workplace between 2012-2018
services
services
Our holistic design method is underpinned by data gathered during systematic studies of the nature of work and competencies in architecture, space planning and wayfinding. The solutions we offer are based on the latest technology, optimal use of greenery and sustainability.
Our projects are implemented with the knowledge of change management so that every user of a given space feels comfortable in it and their efficiency is higher.
different specialists are engaged in workplace design process of specific environment
years before moving into new office is a perfect moment to start design process
months is an average time needed to complete 1000 sqm of office space on site
research & analysis
research & analysis
The design process always starts with an analysis of the existing work environment, allowing us to become familiar with the character of work in the organisation and to plan a complex strategy that will support the customer's needs. Through observation of space utilisation, quantitative and qualitative research among all or selected groups of workers, workshops, pilot programs and reference visits, we identify the needs of the organisation.
Our research is complemented by evaluations conducted during various phases of planning and design as well as after the completion of the implementation process. This allows us to respond even more accurately to the customer's needs.
participants took part in Think Tank meetings organised by workplace between 2012-2016
organizations had work environment studies done by workplace between 2012-2016
interviews with managers and board members should be conducted during each design process
number of meetings up to 4 people
in average organisation
organisations had work environment studies
done by workplace between 2012-2016
time spent on cooperation
and individual work in typical HQ

space planning
space planning
Space planning is a key step in creating a functional interior that maximizes the available space and benefits from the specificity of a particular building.
We propose appropriate solutions based on our research and strategy, with the aim of increasing spatial efficiency. What we take into account is the number of staff, their needs and requirements of the organisation, not only present but also reflecting future plans. By optimising budgets and space we create a flexible working environment, striving to reach both employee and employer satisfaction. We offer solutions designed to meet business needs in the office space and to increase the efficiency of your organisation.
sqm was drawn by workplace between 2012-2018
rate of meeting and supporting areas in average office in Poland, leaving even 80% for work zones
rate of common and meeting areas usually achieved by workplace
sqm per employee net in agile workplace
design
design
The most important and at the same time the most complex stage of work is the design process. On the basis of previously prepared functional systems and depending on the scope and budget established with the client, the process consists of elements such as general concept, detailed drawings, visualisations, guidelines for executive designs and supervision of the implementation itself, which consists of offering and coordinating contractors.
We always give unique character to the work spaces we design. Our main goal is to give it individual character that stimulates both creative and focused work, enhances knowledge exchange among employees, helps them rest and builds relationships in a less formal atmosphere.
per sqm from shell and core is a budget for well designed office (400 euro for outsourcing type of workspace)

minimal number of stand-up desk, should be placed in proper zones for higher utilisation

types of phone booths from the market pointed in surveys as very good acoustics and ergonomisc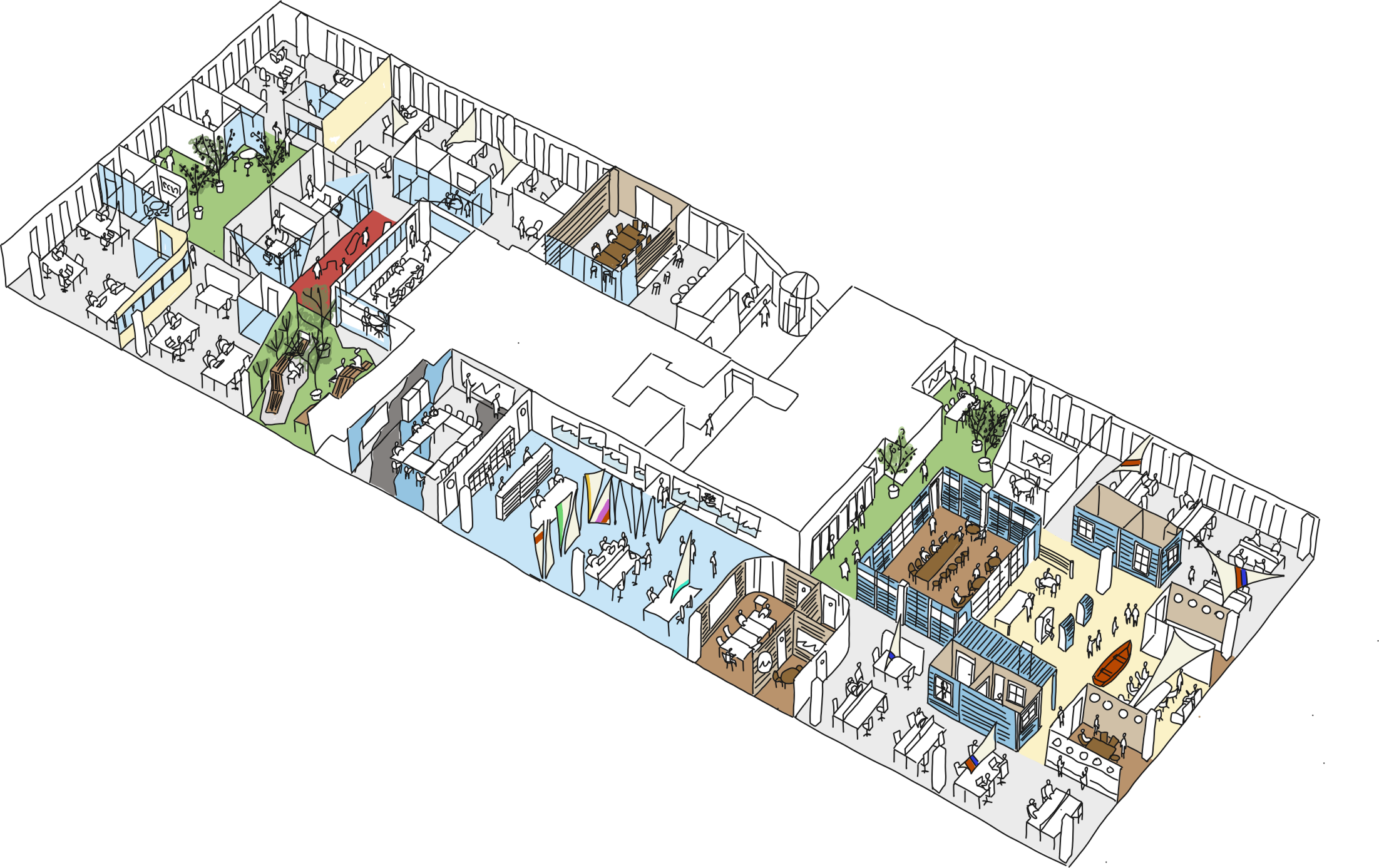 average number of suited design ad-hoc meeting spaces per employee answering for the needs in company with average level of cooperativeness

satisfaction factor from workplace environment in MediaCom City Office (91% from the design)

minutes employees lose per day due to distractions associated with open-plan offices
wayfinding
wayfinding
As a part of our comprehensive service we offer interiors integrated with individually developed communication system that will orient and navigate the users to help them find their ways in the rooms and understand their functions. Such a system of information is commonly known under the names of space branding and wayfinding.
A precisely designed system allows all users to navigate the office smoothly. The recipient will easily be able to go to specific places, find co-workers, get to the services they want. This will increase the comfort of work and optimize the time needed to complete individual tasks.
is an average number of wayfinding markings in 1000 sqm office space
pictograms is used in typical office
of running meters of decorative foil on glass walls is used in a 1,000 sqm office
greenery
greenery
At the stage of developing functional systems we pay attention to the creation of space which positively influences the well-being, morale, and satisfaction of its users. A very important role in this process is played by greenery and its maintenance in the office.
Apart from CO2 reduction and oxygen production, the presence of vegetation has a positive effect on us. Appropriately selected plants in the office eliminate toxins, absorbs sound, but above all changes the atmosphere indoors and bring us closer to nature.
lower eye irritation in a properly designed green office

less hedaches thanks to greenery that clean air from chemicals and dust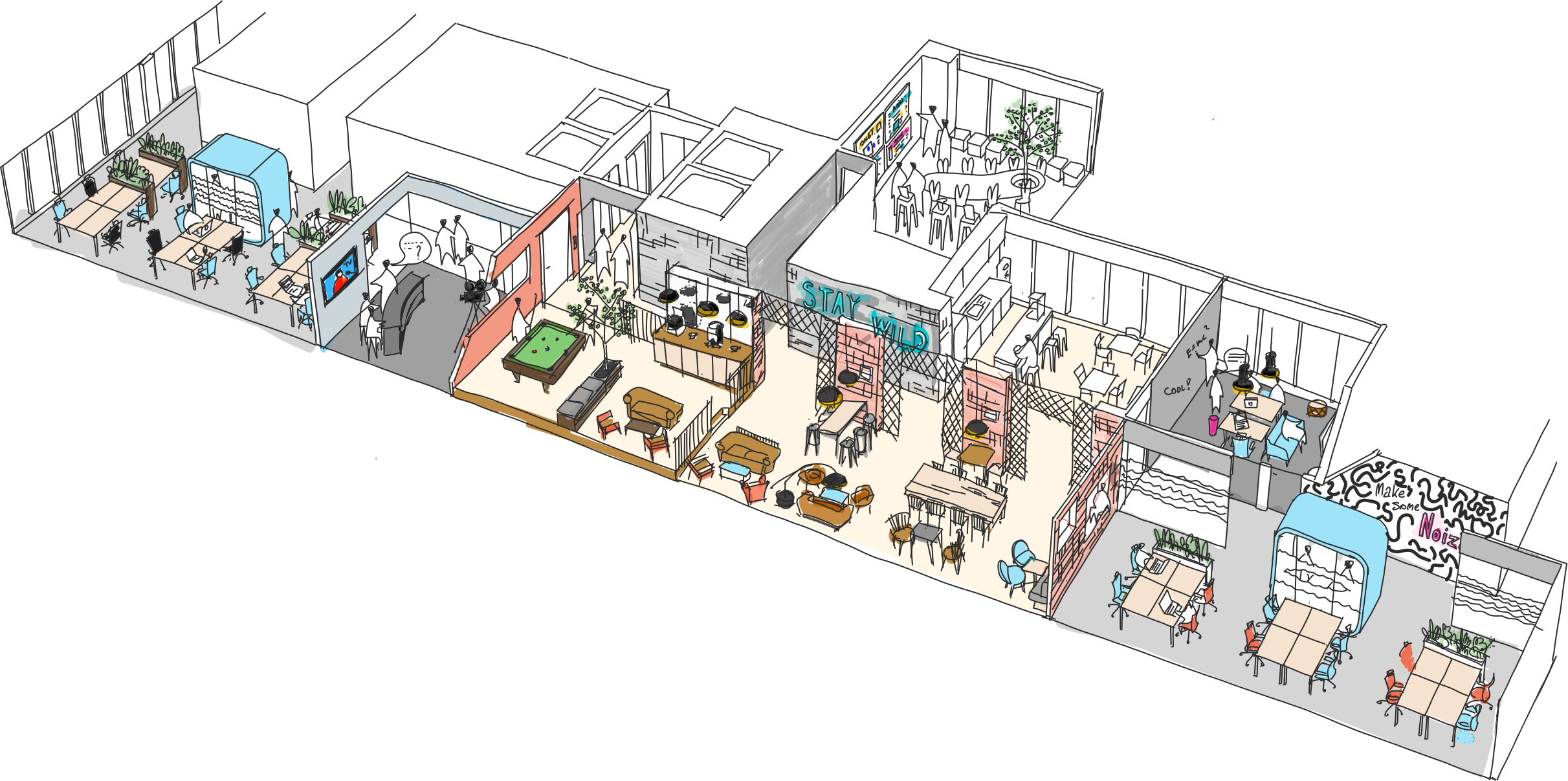 optimal number of plants per employee with with regard to health and well-being

technology
technology
Modern offices, constantly changing forms of work, and ways of cooperation require support of advanced technological solutions. In consultation with experts we fully align audiovisual and ICT solutions to the needs of the organisation, taking into account their availability, price, and user-friendliness.
We offer the latest solutions for both monitoring and optimising utilisation of the office space, providing tailor-made communication solutions that increase efficiency and improve the exchange and acquisition of knowledge.
number of project where we are getting complete IT/AV brief
how good room booking system can raise the utilisation of meeting areas
number of necessary IT people in the the whole process of office design

project management
project management
Contemporary work environments and the coordination of individual complex processes require comprehensive project management, implementation, and coordination across multiple industries. We pay great attention to the schedule and the budget of the project.
We are constantly looking for new solutions, both for our customers and for the development of our services. This allows us to be flexible at various stages of implementation by optimising time and budget.
hours is the average time spend by Workplace team on each design
the average number of drawings to coordinate while working on designing and completing ordinary 1000 sqm office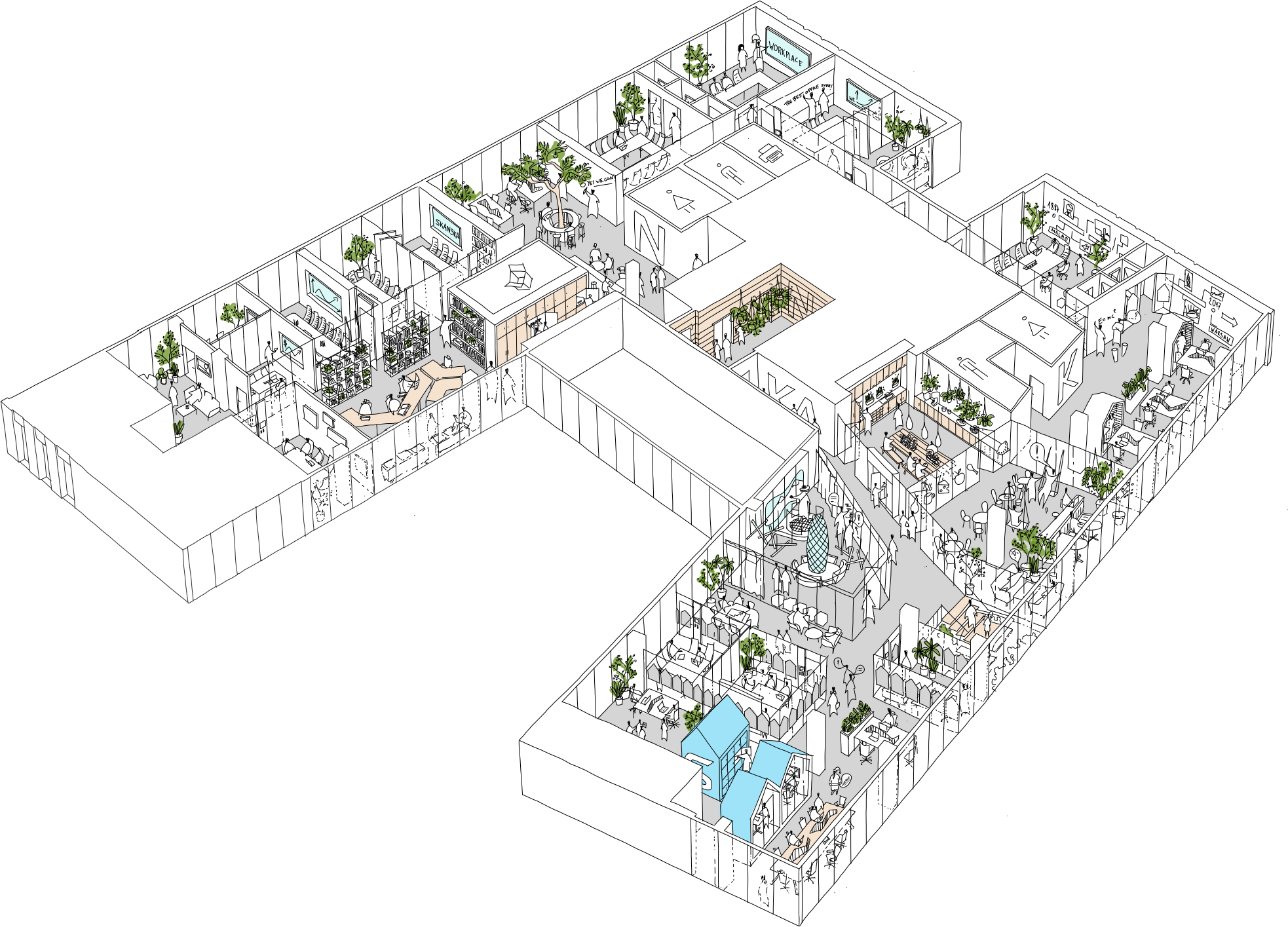 days in total our architects have spent at supervisions on site in 2018
change management
change management
The change and reorganisations of the office space requires implementation and adaptation. Change management activities help to familiarise employees with the new space, make work organisation more effective, and streamline operations.
We utilise workshops, training semininars, and internal/external multi-channel comunnication to complete the relocation and adapt the employees to new work conditions.
of respondents indicates increased workspace comfort
as a way to facilitate the achievement of their professional goals


more effectively, creatively, and collaboratively people work when they are happy at work

of employees is not engaged at work, meaning the vast majority of working adults doesn't enjoy their work
clients
full clients list
Allegro
Asseco
Bird&Bird
Ceetrus
Ceneo
Cambridge Innovation Center Warsaw
Fortum
FUTU
GroupM
ICAN Institute
IQVIA
Maxus
mBank
MEC
Mediacom
Nordea Bank AB IT
Nordea Bank AB
OLX
Ringier Axel Springer Polska
PayU
Provident
PwC Polska
Santander Consumer Bank
Savills
Skanska
Strabag Real Estate
UPC Polska
The Heart
Vastint