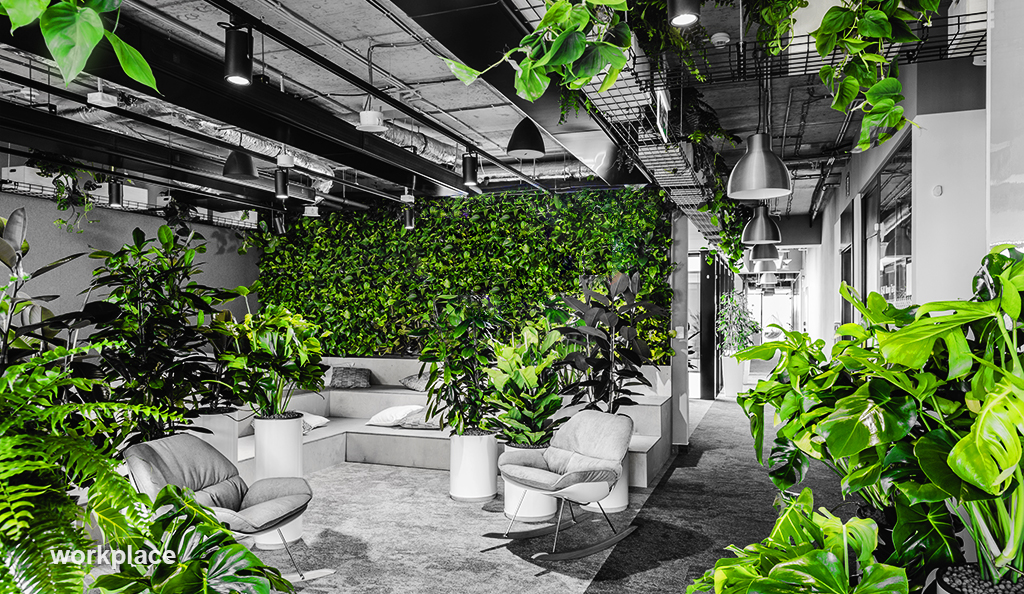 Biophilic guide | How to create a healthy workplace
Nature helps us rest, integrate our senses, and feel natural and comfortable. The workplace should share some features of the natural environment too. We want to share our knowledge by showing why, where and how plants may be used to create a healthy workplace. While designing green office projects, for Nordea and Skanska, we became aware of the positive effects of greenery on everyone. This motivates us to promote the idea of creating designs that are in harmony with nature. 
Almost 60% of office spaces worldwide are not equipped with any facets of nature. Sometimes, even small rearrangements are enough to change the negative view of offices, usually associated with empty, impersonal rows of desks. We wish that architects and designers thought about greenery from the very beginning and treated it as an integral part of the whole décor idea. However, we know it may be achieved easier.

Why?
Psychological aspect. Research conducted by the University of Exeter indicates that employees who have contact with nature are 15% more productive and motivated than those who work in more "sterile" conditions. In a report entitled The Global Impact of Biophilic Design in the Workplace, researchers record a 15% increase in creativity among people who have contact with natural plants in their workplaces.
Health aspect. While staying in buildings, we expect the air inside to be cleaner and free from the ubiquitous smog. It is estimated that in a room filled with a sufficient number of plants, the number of bacterial colonies is reduced by 60%. It has also been observed that headaches are diminished by 24% and eye irritations by 52%. Thanks to plant transpiration, pot plants increase the level of air humidity which often drops below critical levels in buildings with central and floor heating.
Visual aspect. Every human being is used to being in contact with nature. If you work intensively in front of a liquid-crystal display, it is recommended that you look away and focus on some greenery afar off regularly. Plants improve a space visually, lift the impression curve while you walk around the office and change your perception of the workplace into a positive feeling.
How?
Even 3 pot plants are enough to enhance your mood essentially and improve the quality of the air surrounding you. The NASA Clean Air Study, which lists the species that absorb harmful volatile compounds, is a great overview of the plants that are suitable for your workplace. However, in cooperation with Florabo, we created our own guide based on joint research and conclusions. It turns out that the differences in the purification of the air in particular species are very subtle. Therefore, any type of plant may be used to create a healthier space. It is important, however, that the selected species can survive harsh office conditions. The following three species are the best for such an environment:
Areca palm,
Sansevieria,
Epipremnum or different kinds of philodendrons.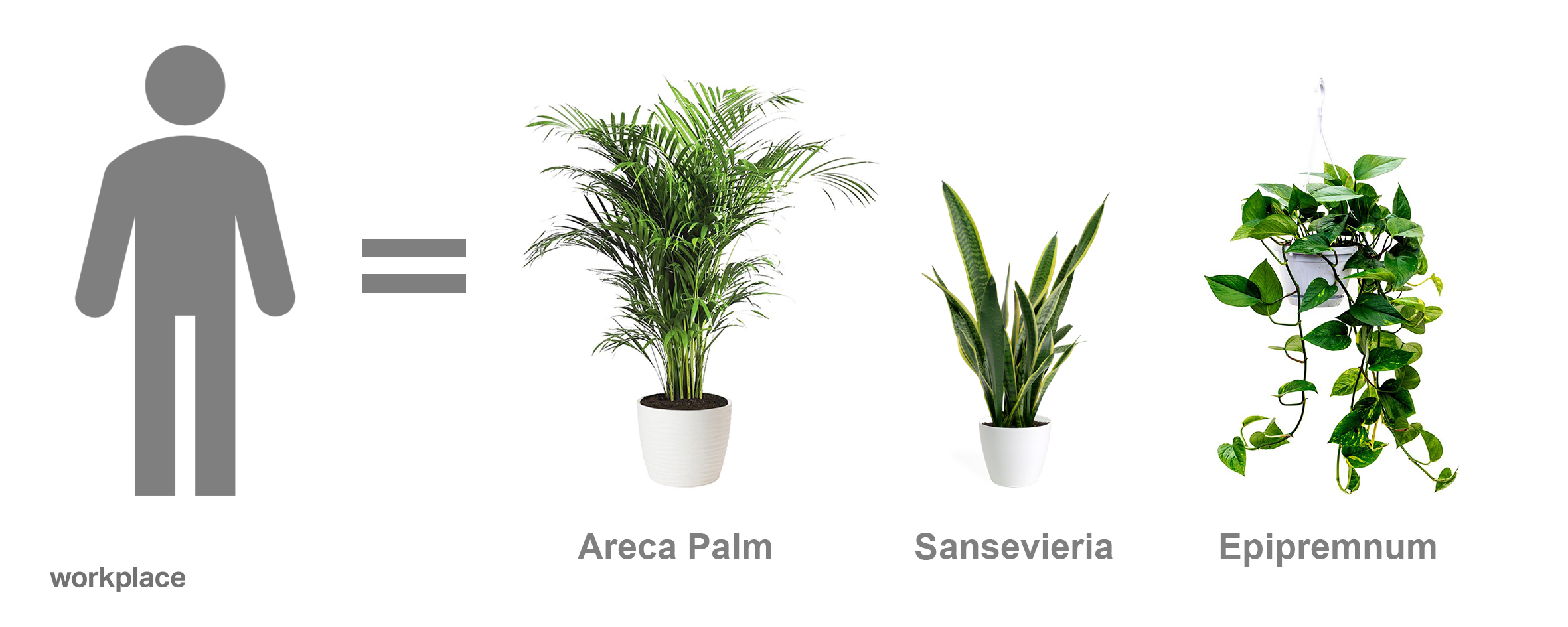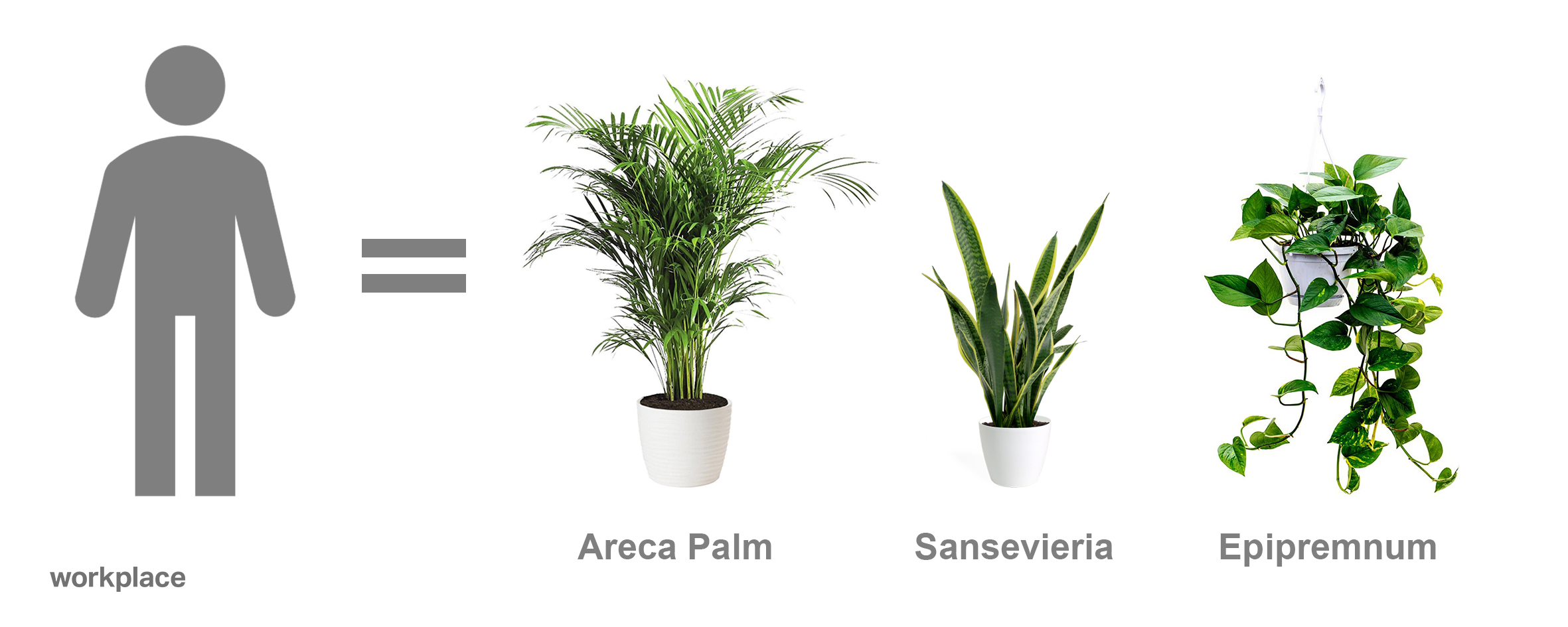 Where?
There are three levels of the green interference in the work environment:
Greenery accumulation in the common working area in order to improve the internal climate and visual attractiveness of the space. Start with your own desk, so that your eyes can get some rest by focusing on some greenery. Even a couple of plants are enough to change the impact of a given area on an employee.
Social and networking areas are the places where the concentration of plants should be particularly intense. Green walls, as well as some philodendrons or ivy in pots hung from the ceiling are a good solution for creating an "office jungle". In such a green oasis, employees can rest and relax, which naturally improves their involvement and commitment to the workplace.
An integrated implementation of greenery in the whole office is a process which gives a measurable, positive effect, both for an individual and a business. It important to choose the appropriate location for a given species, make sure it can be moved in case of a quick rearrangement and, above all, ensure proper care. Interior design based on greenery poses a challenge, however it is worth trying because the naturalness of a space arranged in this way is alluring, stimulating and motivating.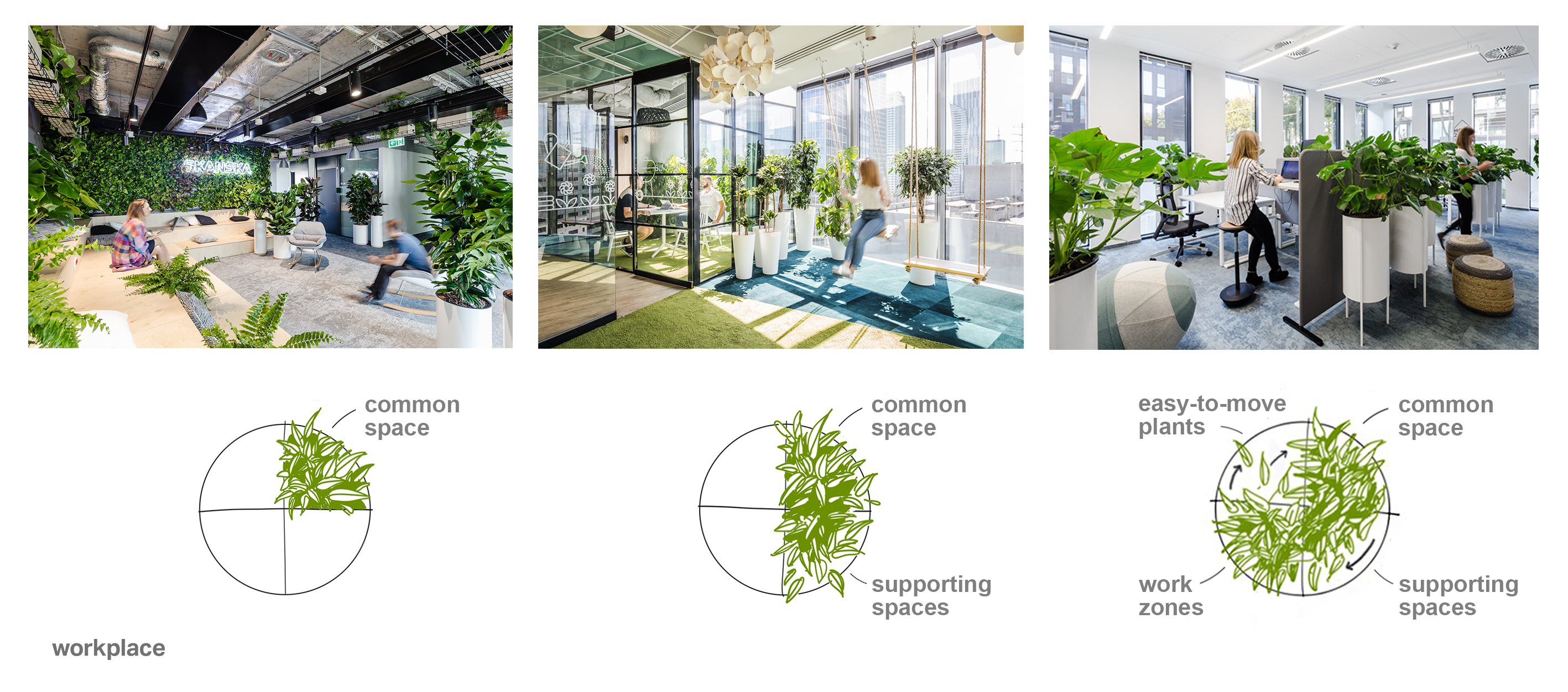 Biophilic challenge
We would love greenery to play a more significant role in the work environment. Last year, we designed probably the greenest office in the world, but we are wondering whether your workspace is healthy as well. Take up the challenge and share a picture of the plants in your office using the hashtag #biophilicchallenge. Let's create a map of the most "green" offices in Poland! Let the green spread across workspaces in Poland and around the world, so that the biophilic trend can carry on!