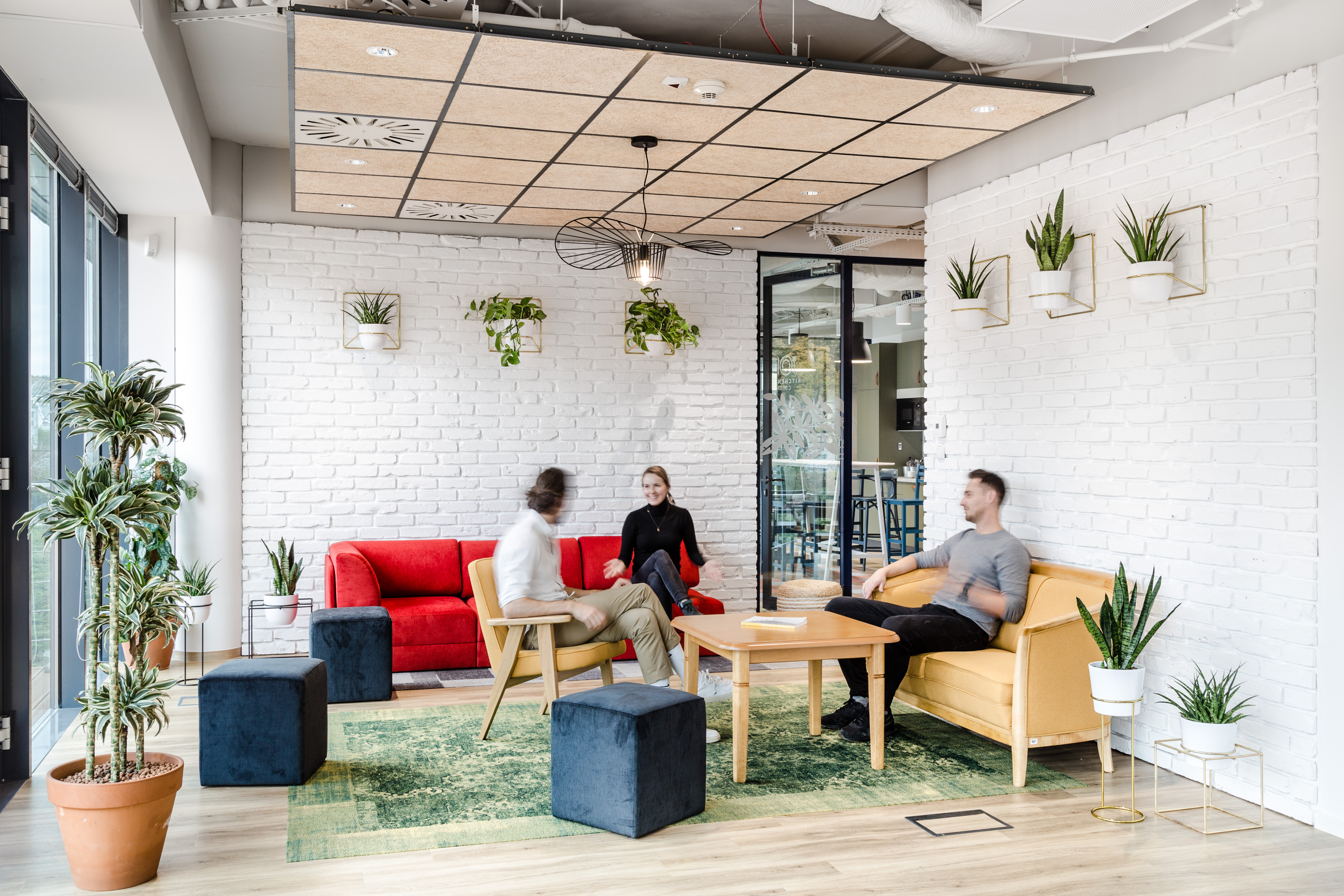 Less Waste Office | Nordea
The first Less Waste Office in Poland uses about 80% recycled and ecological materials, by design. This undertaking proves that environmentally friendly projects go hand in hand with functionality, aesthetics and meeting the end users' needs.
Zero waste, sustainable development and environmental responsibility – these are all topics influencing the modern economy and architecture. We also began discussing them in public in 2018. The lack of specific examples of how these ideas should be implemented in designing commercial spaces motivated us to gain the necessary experience and knowledge from our own examples. We've now designed the first Less Waste Office in Poland, or maybe even in Europe, an office which proves that reducing the negative influence on the environment is beneficial both for the planet and business. In this article we discuss:
why sustainable design is so important for the commercial interior industry,
what kinds of materials and solutions were used to minimise the environmental footprint,
how the less waste design process looks.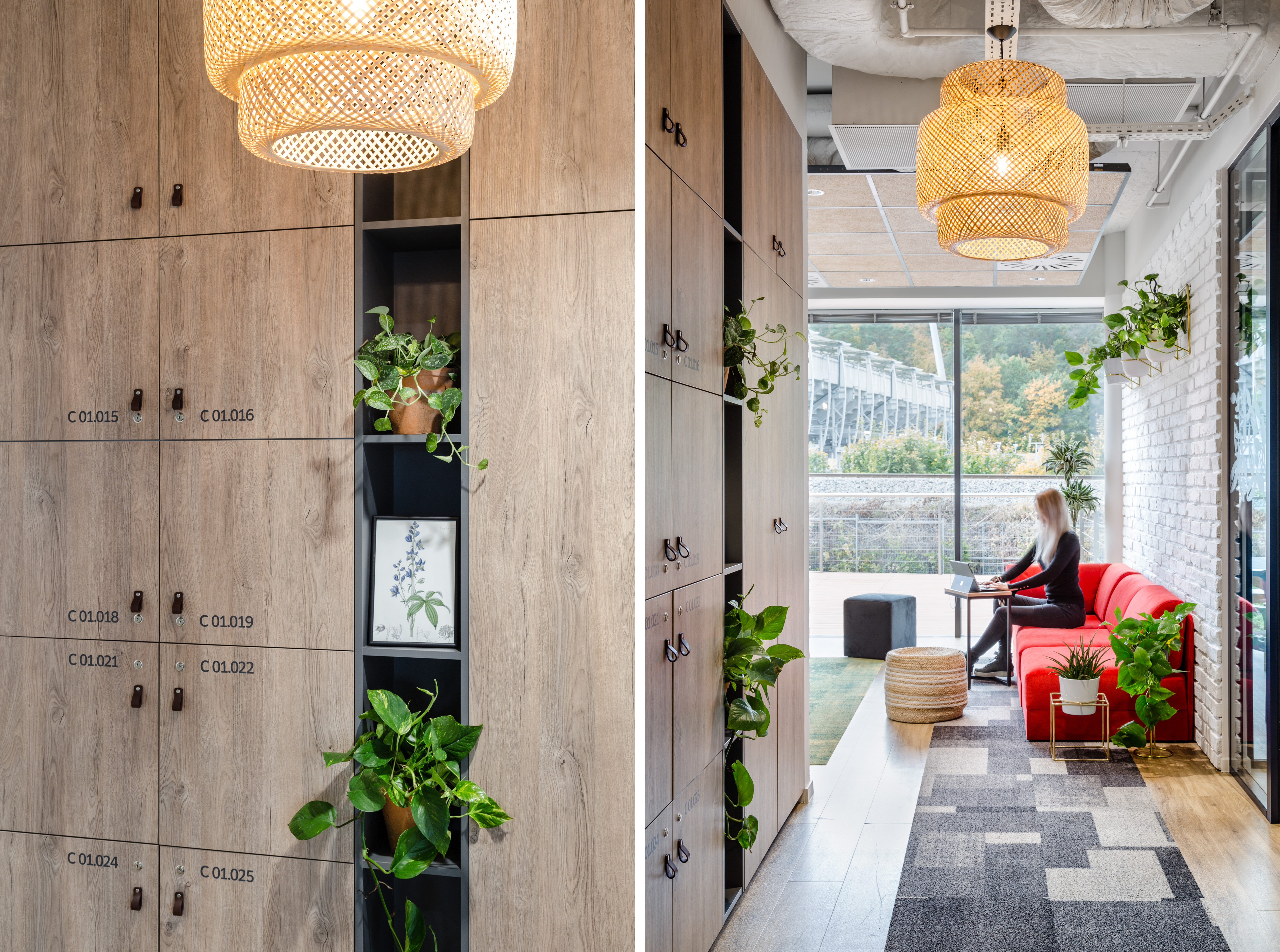 Responsibility and motivation
The life cycle of an office space is typically about 5–10 years. For the architecture industry this compares to a single use plastic bag. After this time, most of the office equipment becomes waste. This means that the design process is based on a linear cycle, which is detrimental to nature. According to the United States Environmental Protection Agency, up to 8.5 million tonnes of office assets end up in their landfills annually.
As designers, we're not only responsible for functionality and aesthetics, but also for how our work influences the environment. In the design process, we should focus on a circular model that minimises the costs to the environment. We believe that offices and other commercial spaces should be created based on the 3R model – reduce, reuse and recycle.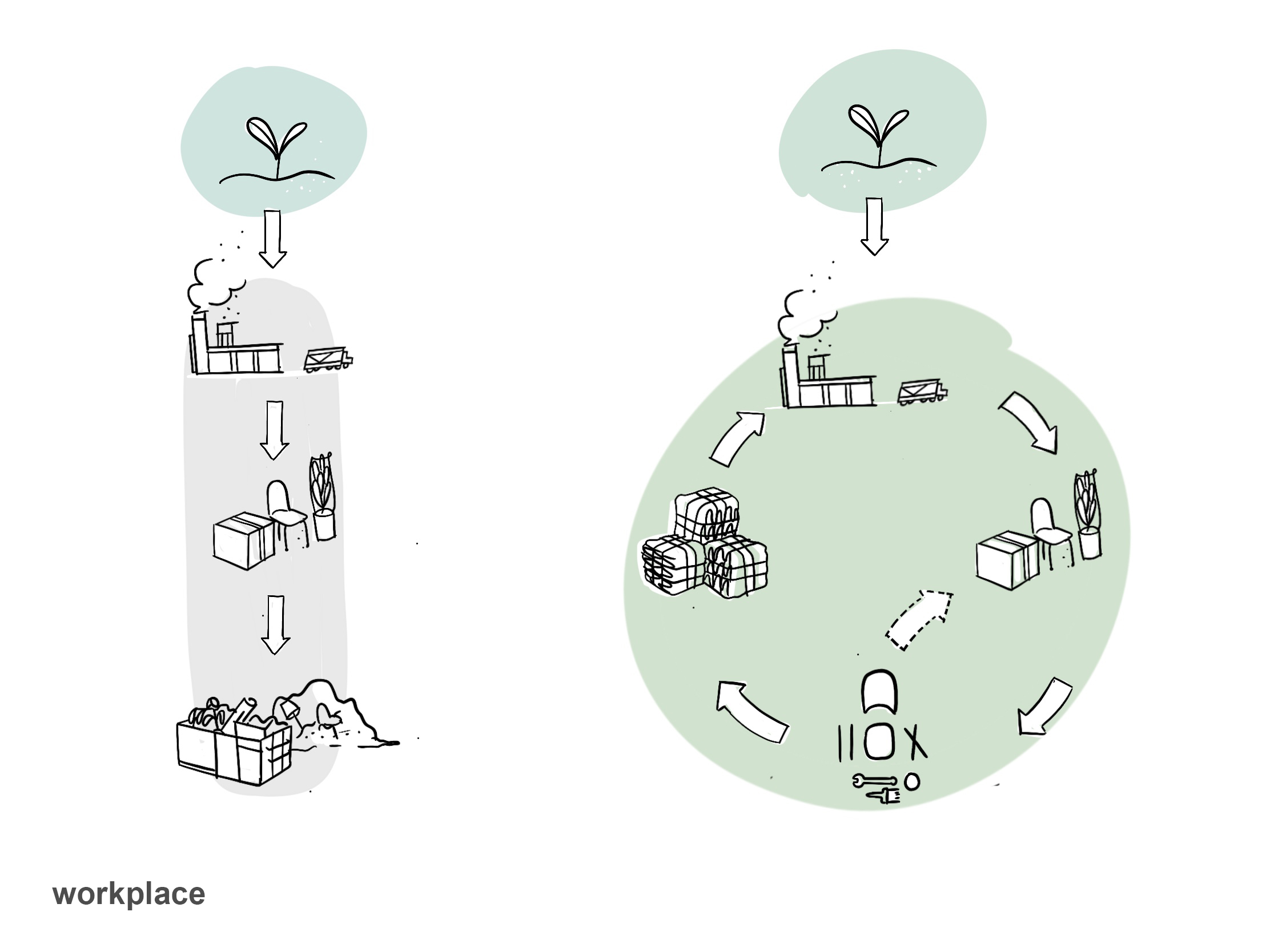 For over two years, more attention has been paid to the issue of environmental responsibility and the zero-waste ideology. Inspired by Stockholm Furniture Fair, which addressed the problem of waste and the solutions required to reduce it, we wanted to enhance our knowledge and began to look for ways of designing through 3R.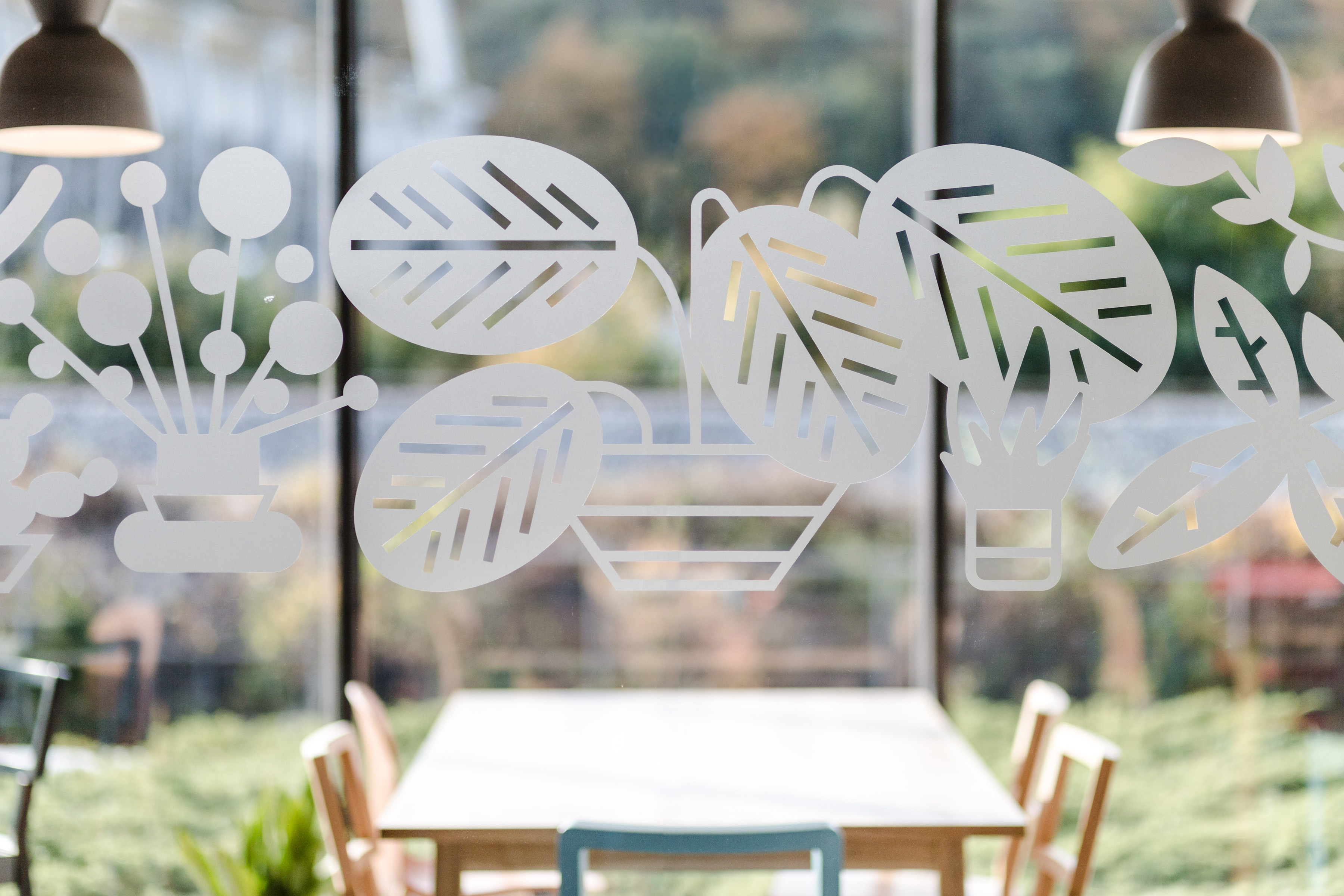 Among the popular topics today are ecological design and minimising the carbon footprint. There were no examples of how to apply these practices on a larger, commercial scale, which is something we wanted to change. We decided to pave the way for environmentally friendly design and to create a working space that complies with this approach. That's how the Nordea Less Waste Office story began.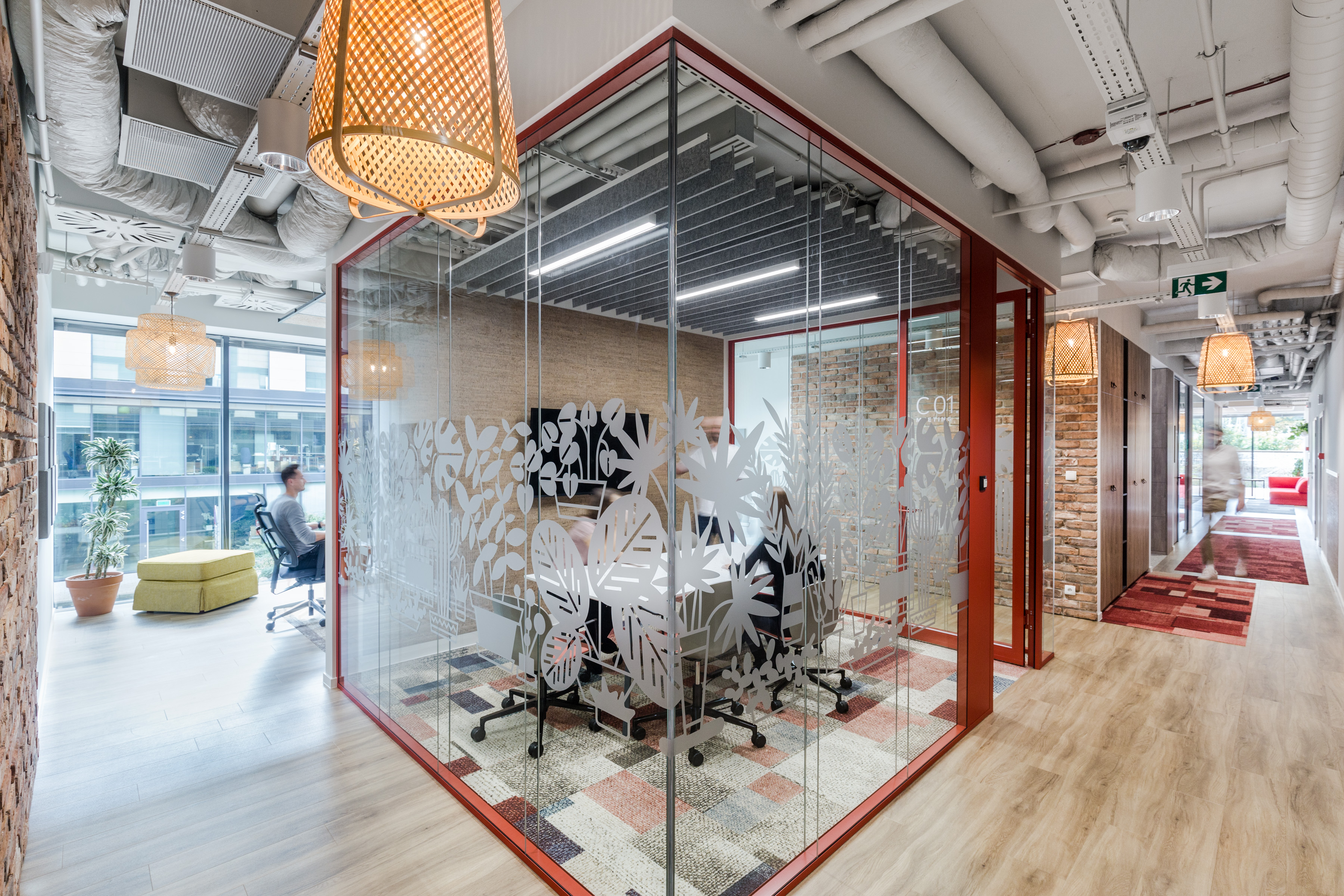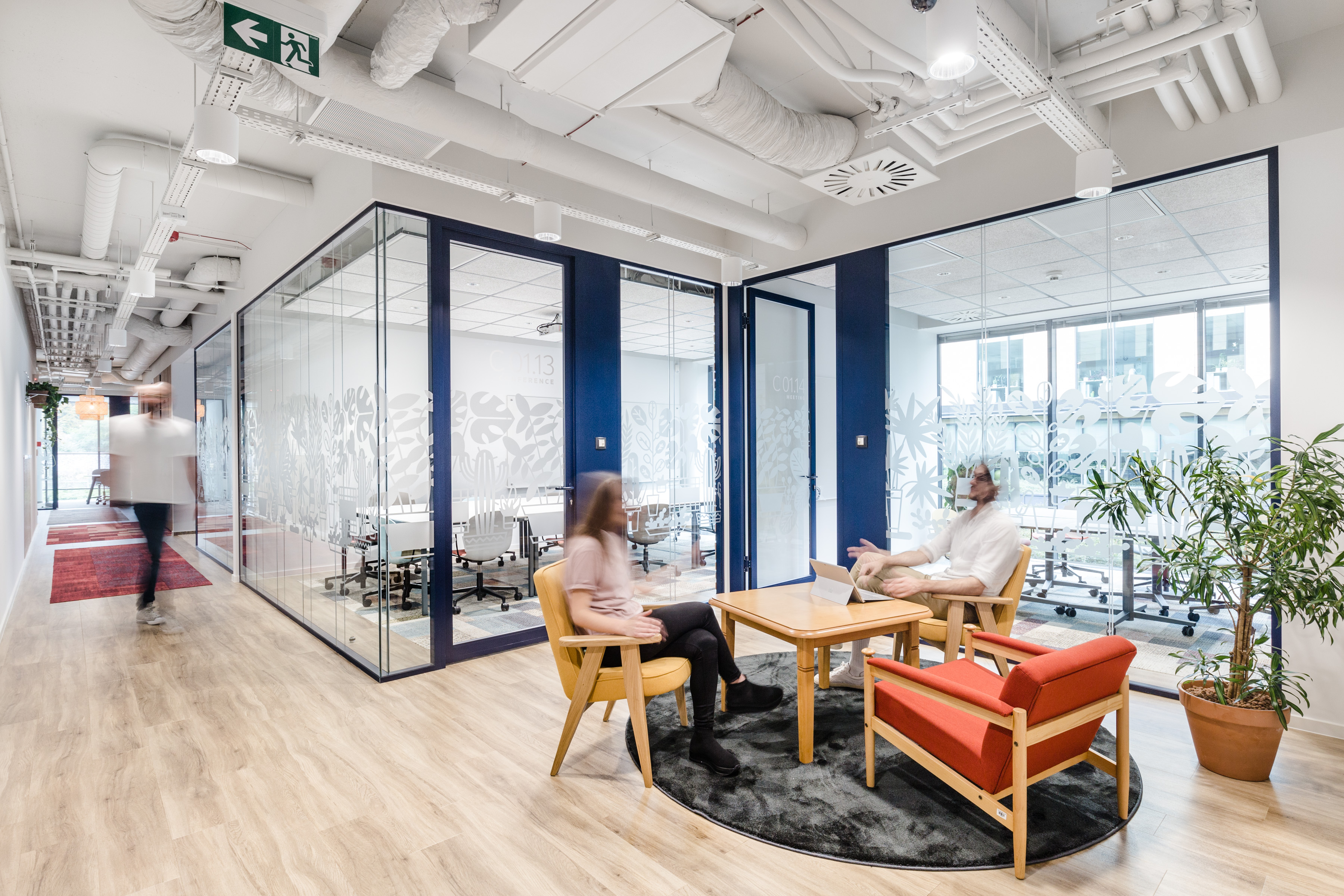 To execute this plan, we needed a partner who cared about environmental responsibility and who would accept the risks behind an innovatory means of waste reduction in office design. Nordea was such a partner – a client for whom we've designed over 39,000 sqm of office space in Gdynia, Łódź and Warsaw. Their offices are meant to attract talent. The less waste idea is intended to strengthen the employee's identification with the company's values, consciously approaching the issue of environmental protection.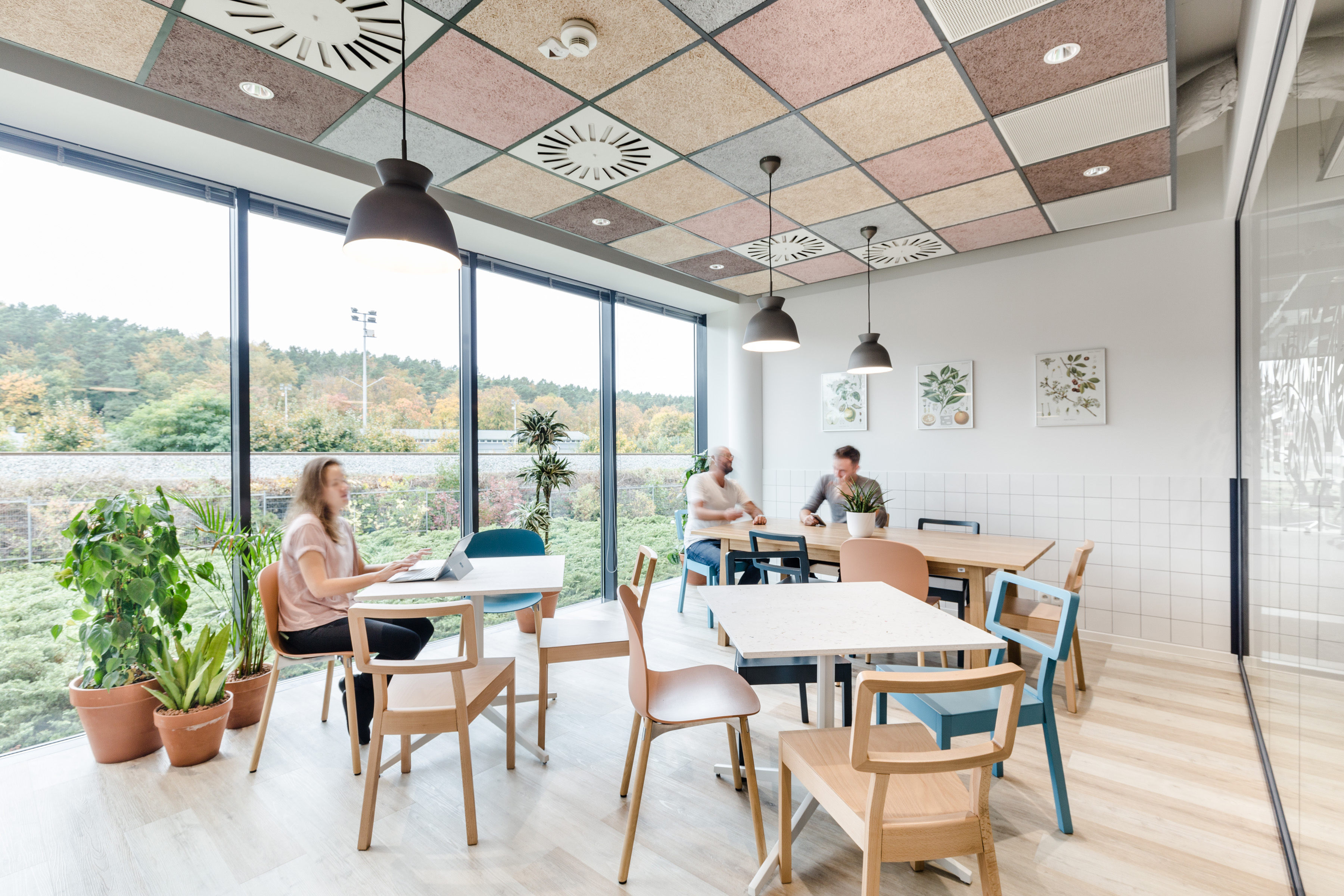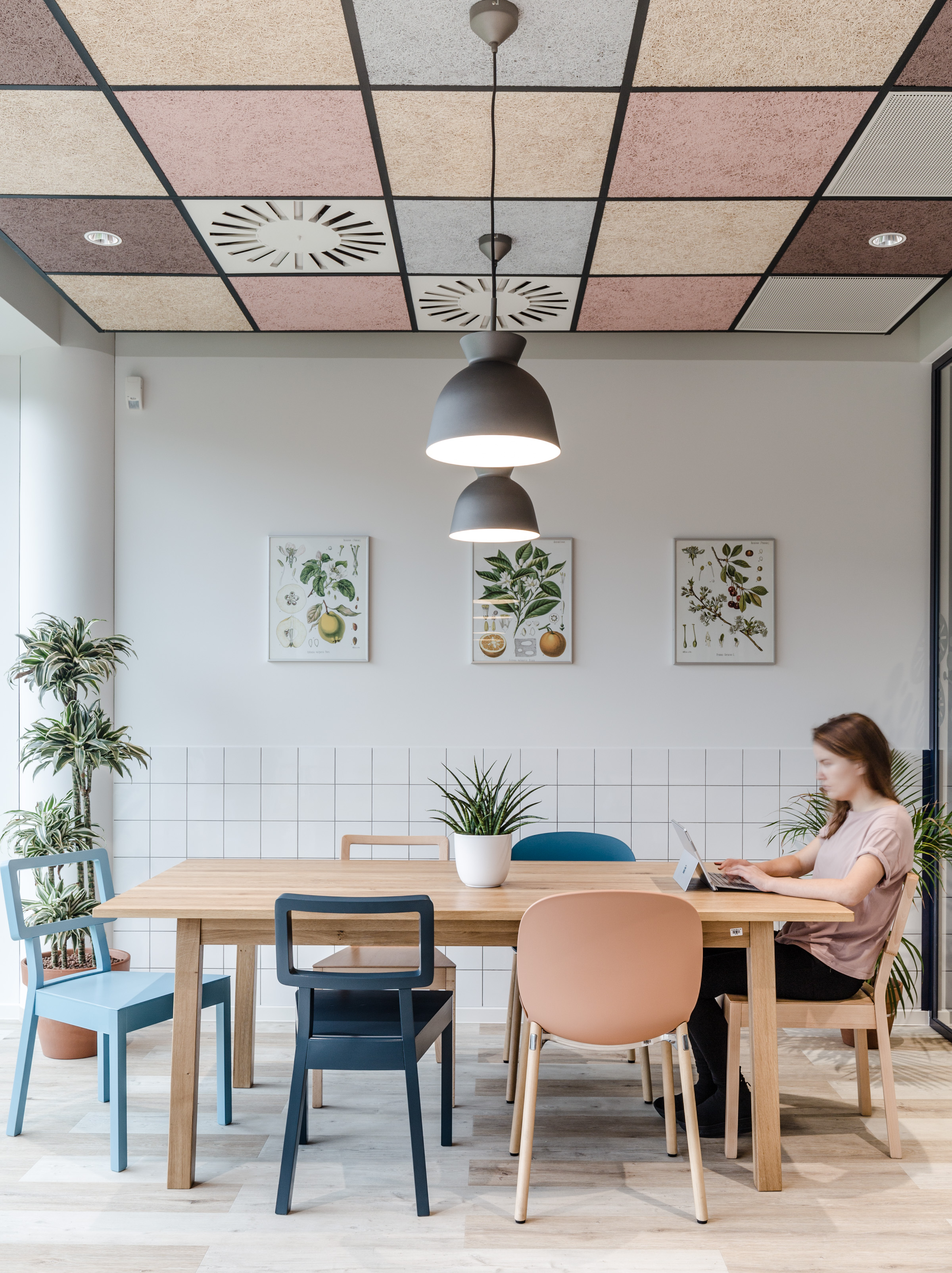 What is Less Waste Office?
We have designed an office which demonstrates that it is possible to incorporate sustainable development in working space design. A design that is beneficial for everyone and everything – the environment, people and business. Less Waste Office is 1,100 sqm of space where approximately 80% of the interior elements are recycled, reused and ecological. What does this number mean exactly?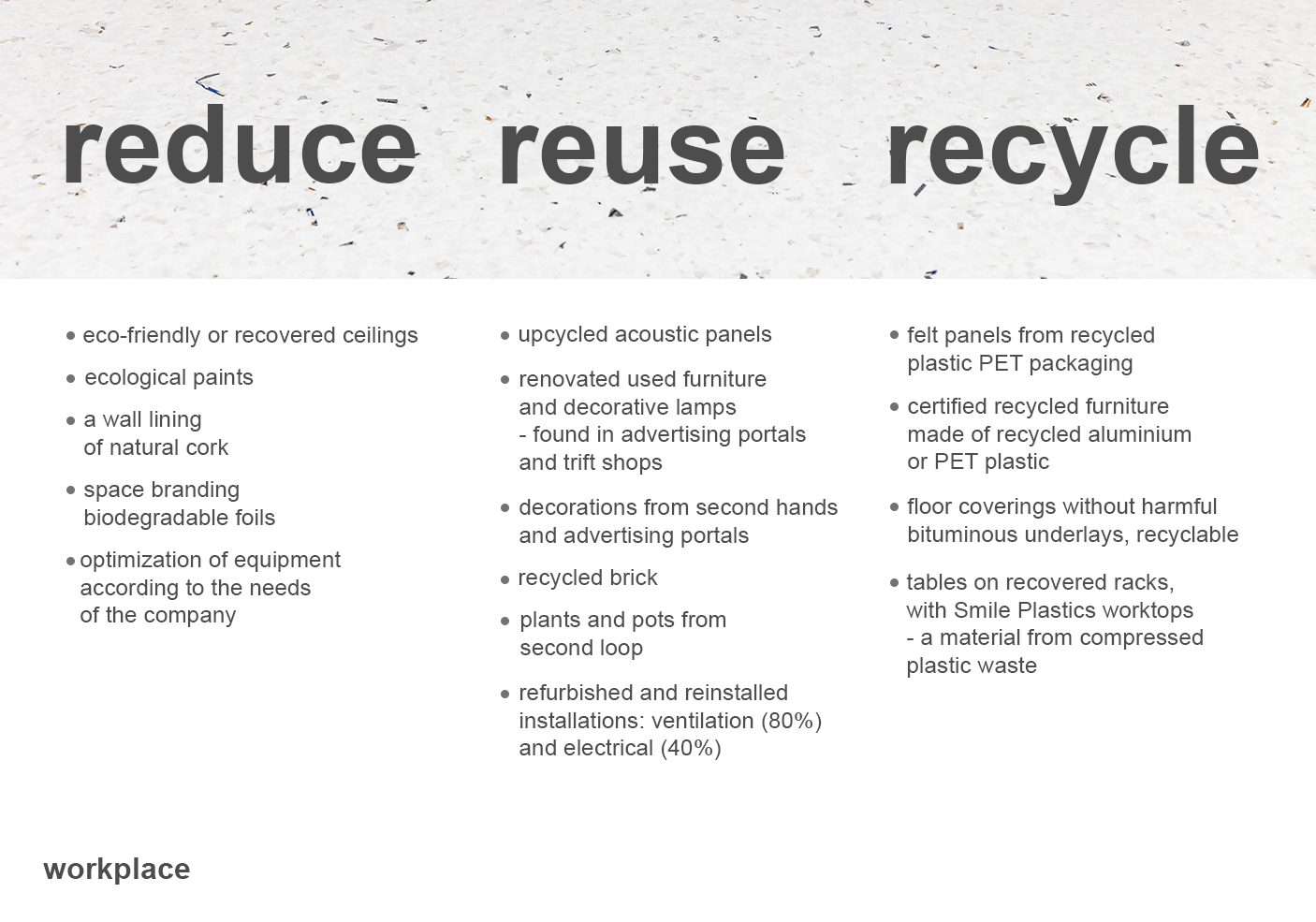 What about the 20% of brand-new interior elements? These mainly comprise elements used in the individual working spaces, including desks and chairs – the most used furniture in the office. This is determined by ergonomics – caring for the employees' health means they have to be good. Our client's standards assume that the furniture must be equally functional and able to ensure work comfort.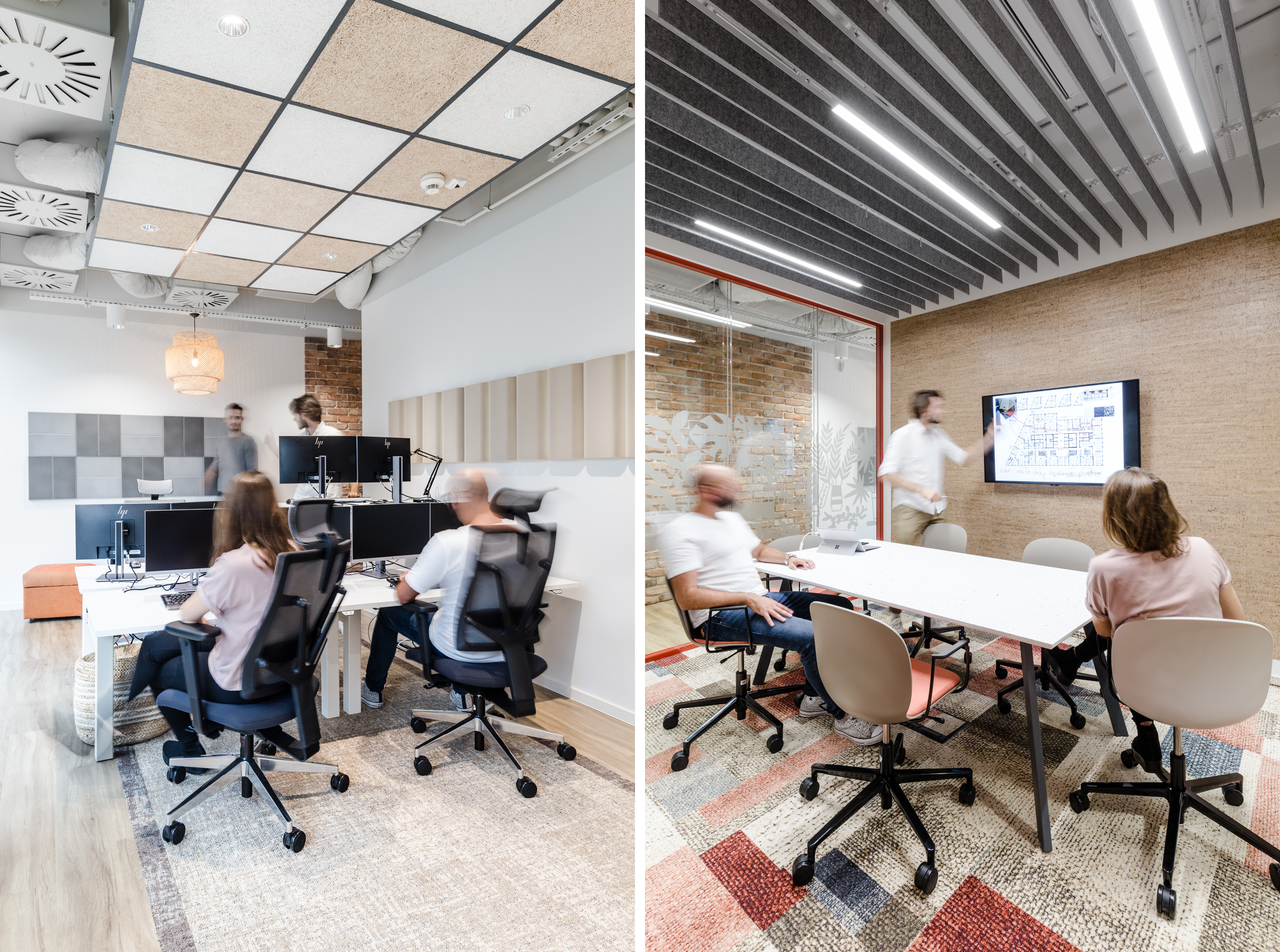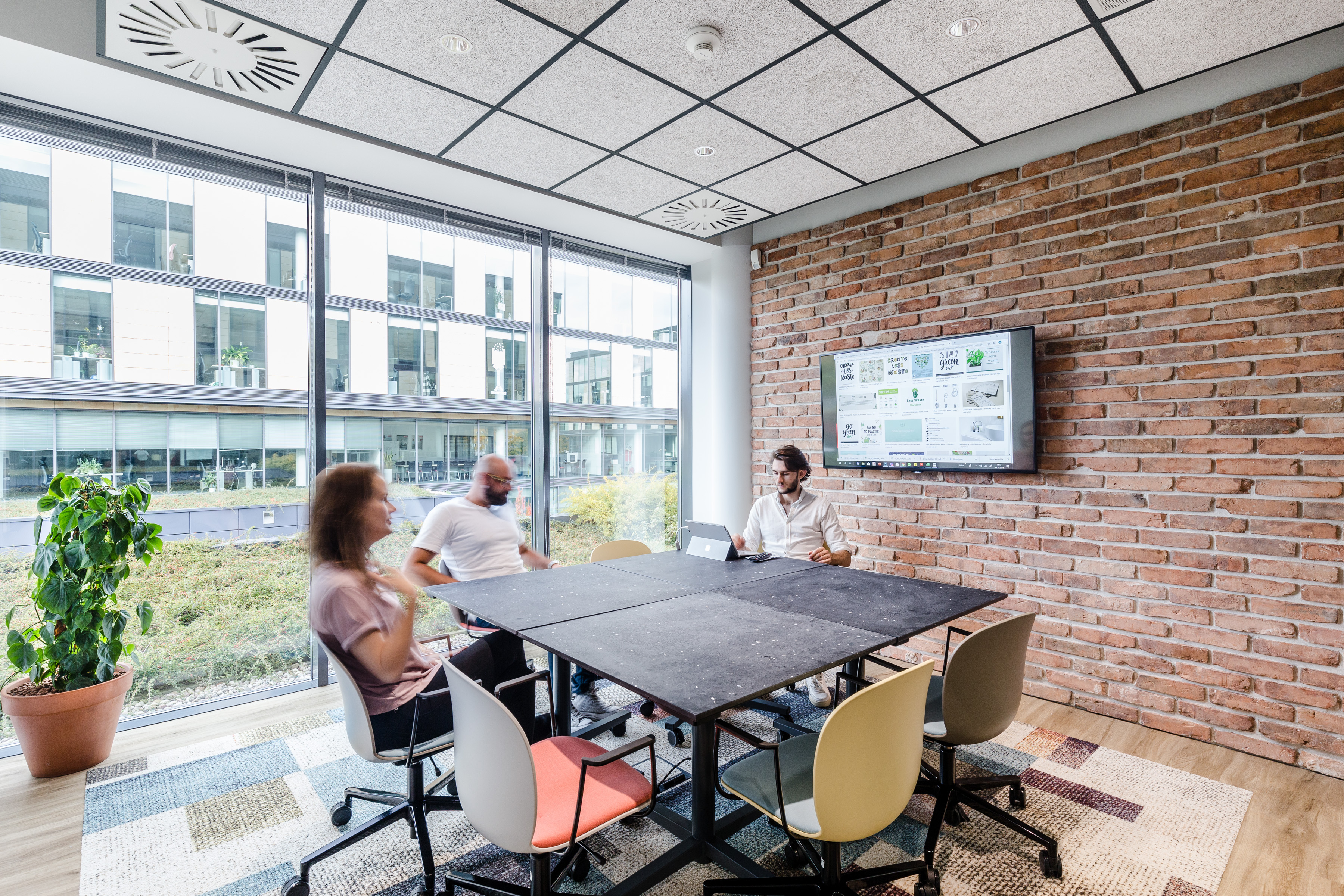 The creation of the concept was the result of an atypical design process, one similar to patchworking. We would choose and 'sew' the materials together, leaving us with a unique design. At the same time we looked for furnishings in magazines and commission shops and on advertising sites. The style this created was finished off with niche, ecological solutions.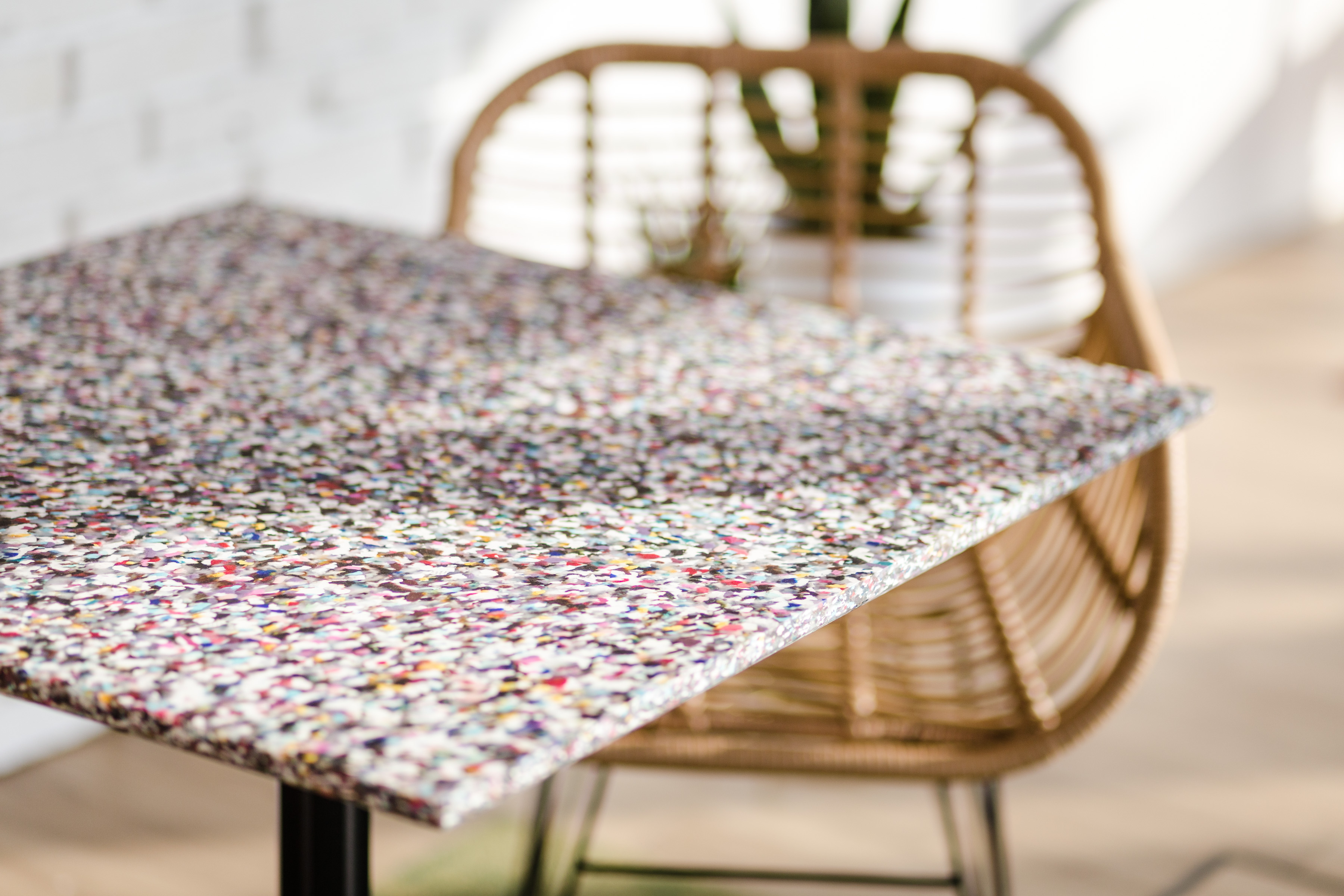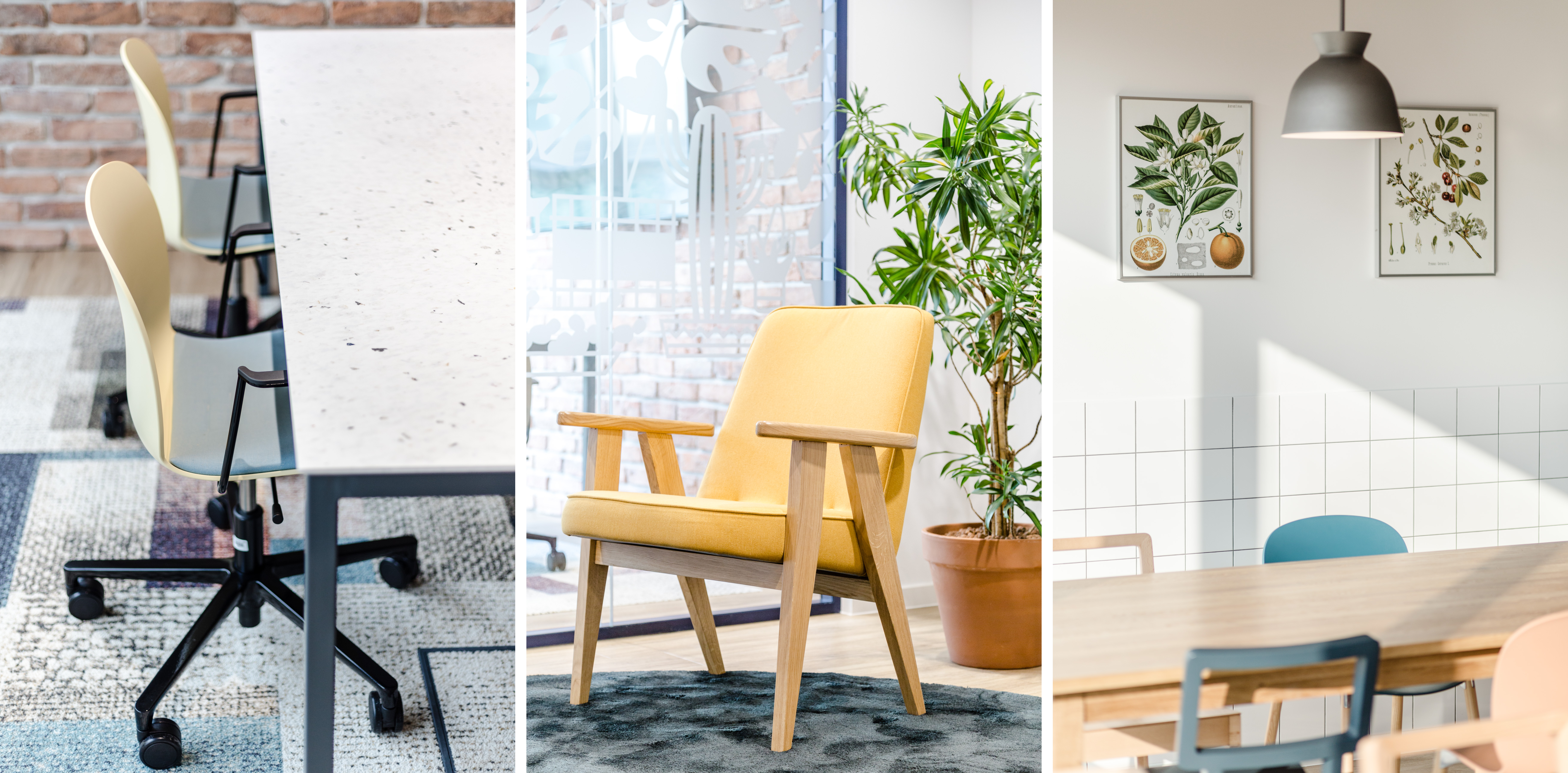 We maintained the aesthetics already familiar to the customer, as used in their previous designs. We warmed up the Scandinavian style with a variety of colours, furniture, materials and decorative elements. The result triggers emotions tied to a cosy home, retreat or favourite café, where the objects bear an emotional charge and are not impersonal. Raw materials like brick, clay and even plants complement this idea and create a vibe close to nature.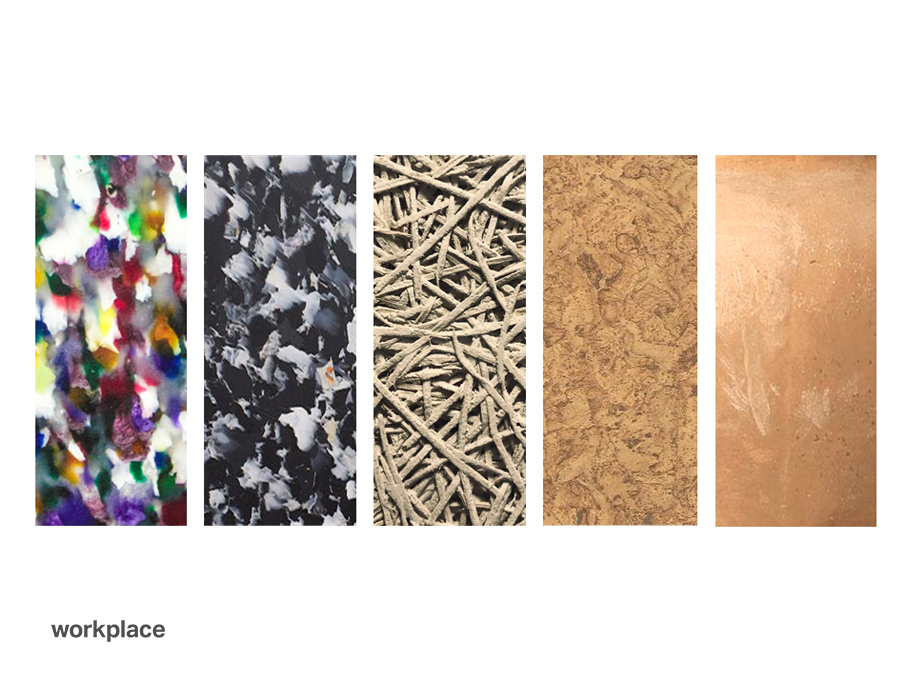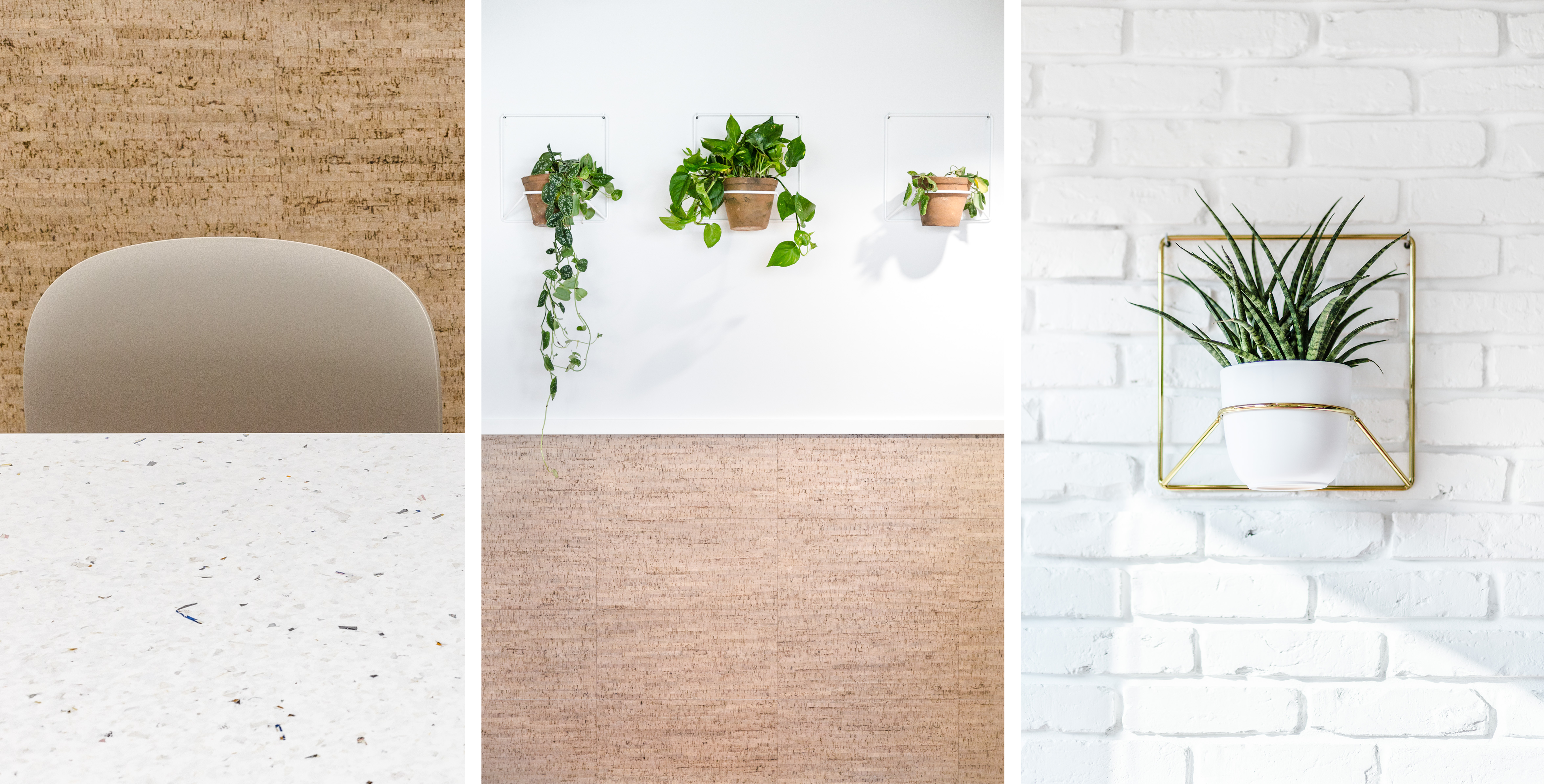 Process
Designing a space based on 3R also required an experimental process. To ensure that the design followed and showcased the less waste idea, we had to prove that any reduction in environmental costs went hand in hand with fulfilling the client's business standards:
a budget not exceeding the previous designs,
6-month execution period,
provision of work and acoustic comfort, as well as good lighting.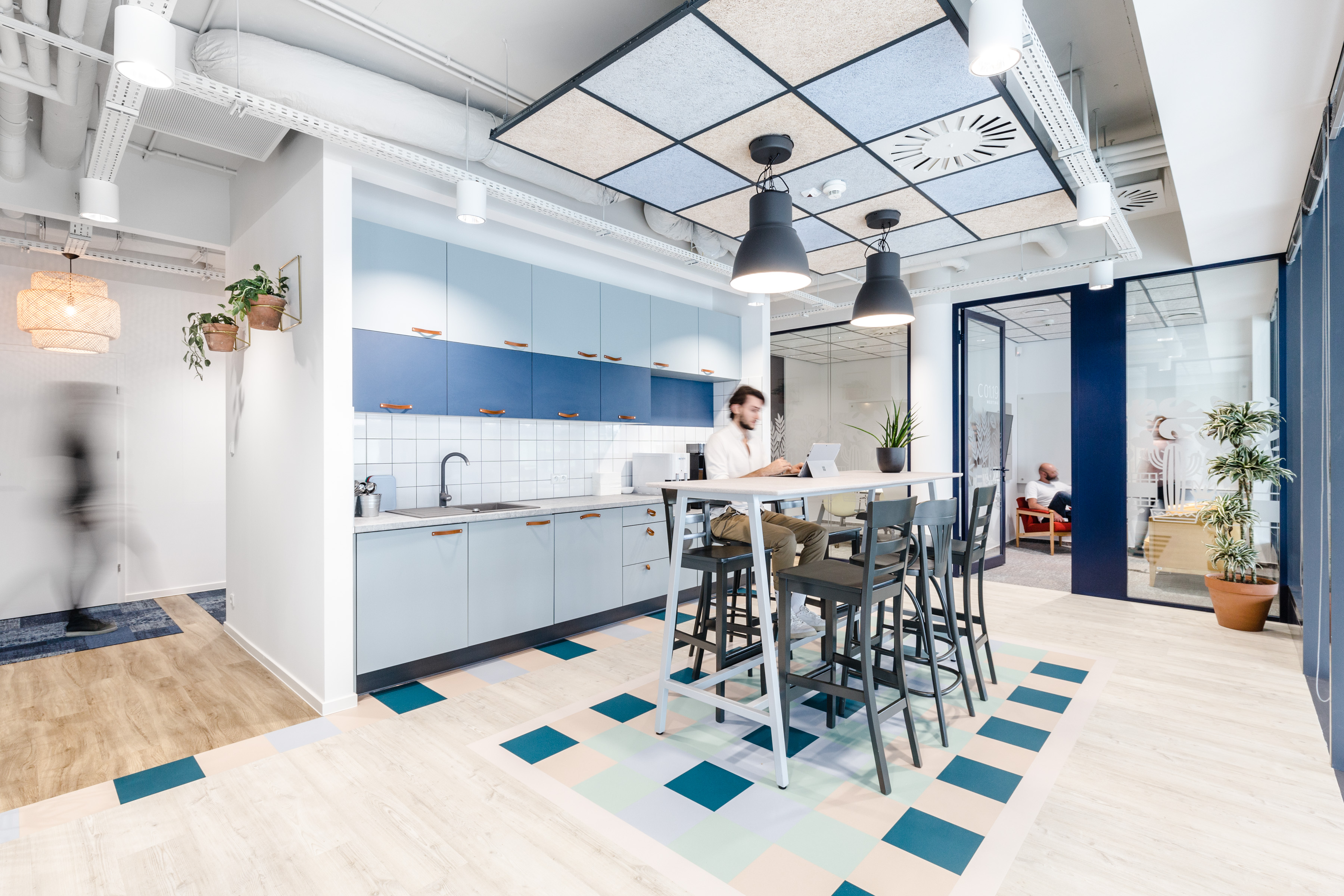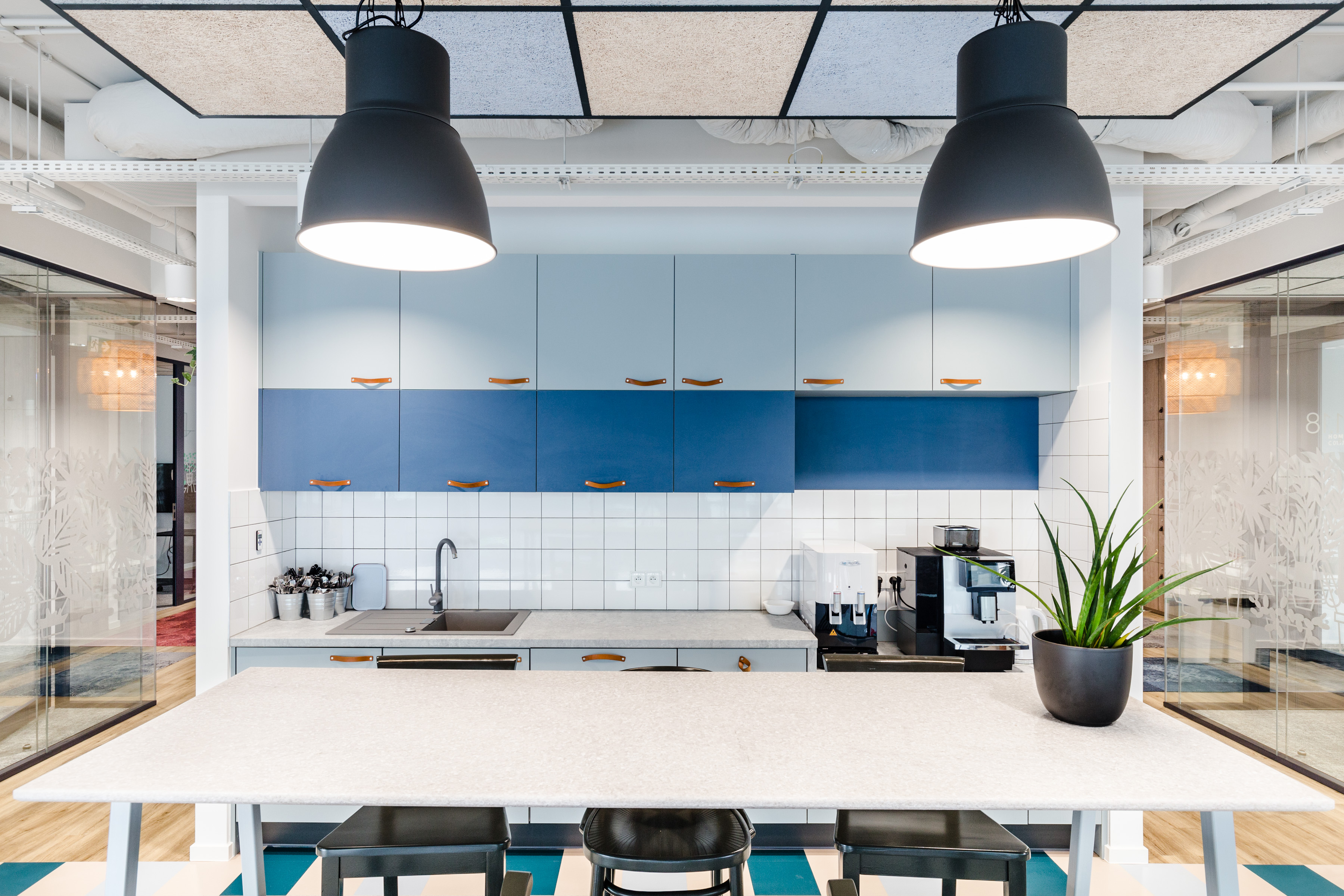 How did we do it? What are the biggest differences between designing a less waste space and a regular office?
Material research. This is the first and the most important step. The process of research, thorough verification and testing of ecological solutions, reused furniture or building materials was more time consuming than usual. However, expanding this knowledge means that future designs will require less time.
Reversed approach. The concept is based on the available materials. Hence it requires the ability to connect suitable dimensions, colours and material solutions, as well as greater engagement from the designers and suppliers.
Cooperation and focus on the idea. The job of the designer is to ensure that everyone involved is aware of the project's importance. The building owner, subcontractors, furniture suppliers, client and architects have to cooperate closely and remember about waste reduction, choosing solutions creating the smallest environmental footprint and the reuse of materials.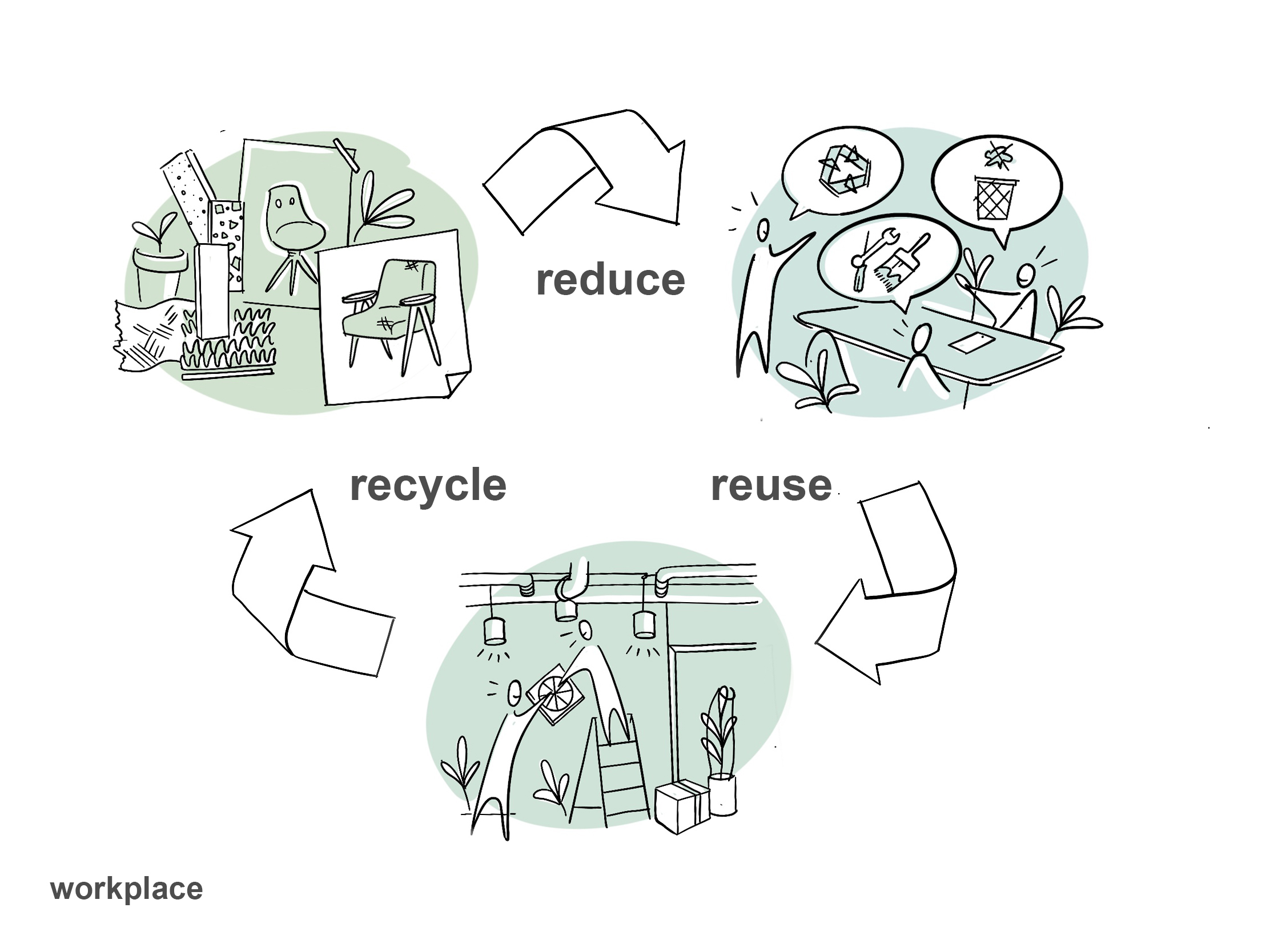 (NO)challenge
By creating the Less Waste Office, we wanted to share good practices and educate employees, future clients and the whole design industry. We would like to motivate designers to create new projects that use even more ecological solutions and certified materials. We also want to encourage sustainable design practices, which are the future of architecture, design and business. For us, as designers, it's not a choice but a requirement that will help create a better, sustainable future. None of us should forget that there's no planet B.
Less Waste Office in numbers:
Area: 1100 sqm

Employees: 90

Floors: 1

Location: Łużycka Office Park, Gdynia

Duration: 5 months

Workplace board: 
Dominika Zielińska, Head of Architecture | Managing Partner
Bogusz Parzyszek, CEO | Founder
Workplace project team:
Dominika Zielińska, Head of Architecture | Managing Partner
Małgorzata Romanowicz, Senior Architect
Daniel Dziczek, Project Manager | Architect
Words: Mateusz Sikora
Graphics: Urszula Kuc, Mateusz Sikora
Photos: Adam Grzesik