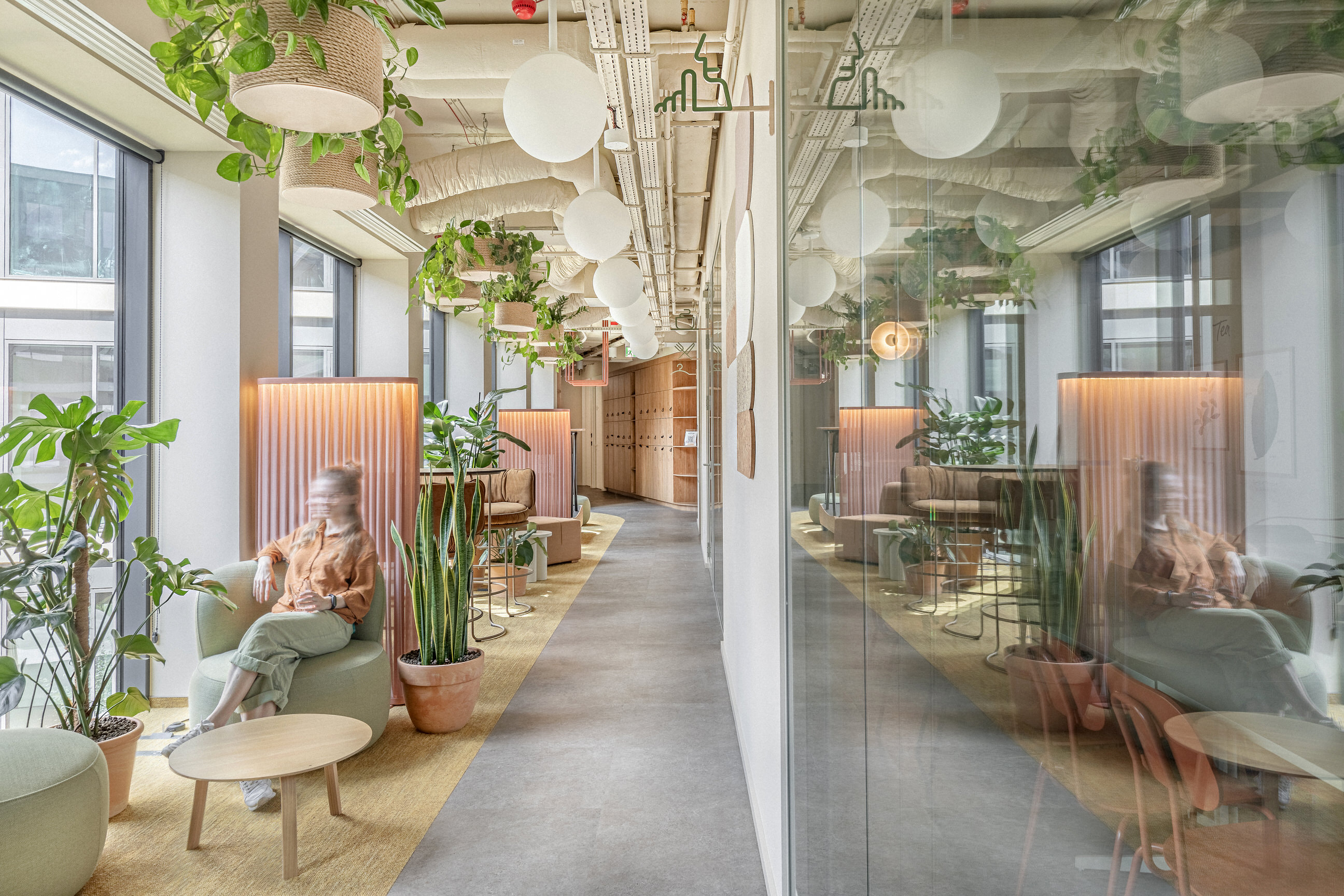 Lipton – social infusion
29.09.2023 / Corporate perception of space is becoming history.
And rightfully so. The significant changes in workplace standards are bringing about a more conscious and empathetic understanding of the spaces we work in. Today, leaders are those who grasp this change and adapt it in their own workplaces. At Workplace, we are unquestionable guides in this field, both for current and future leaders. We are expanding our vision and goals, utilizing the knowledge and tools acquired through dozens of projects.
We were presented with a project where we had the opportunity to leverage our understanding of human nature. We grasped the limitations, possibilities, and needs of humans. We embarked on this collaboration with an employer who, from the very beginning, shared our vision of change and openly introduced us to the character and culture of the organization.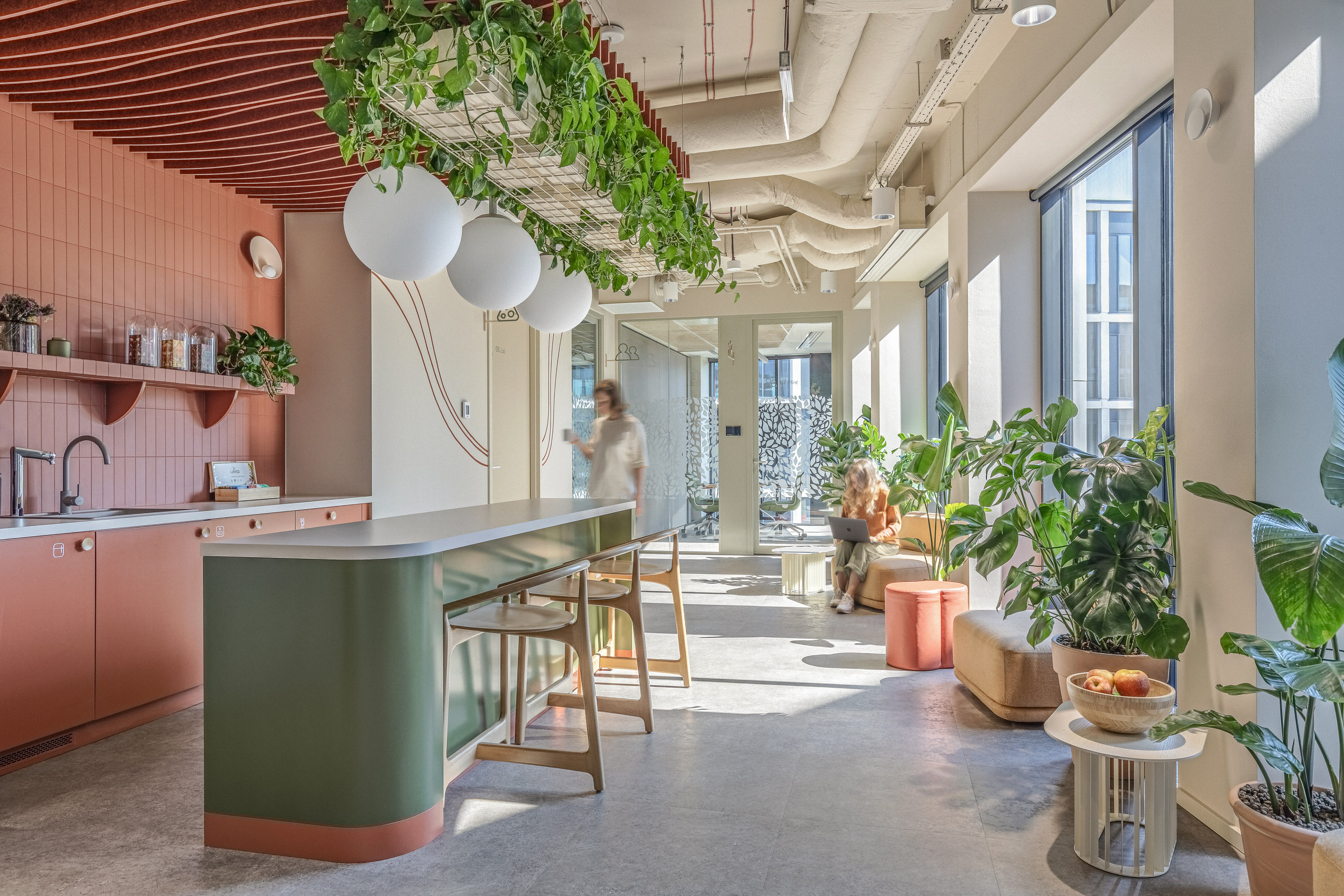 The power of change hidden in empathy.
A brand that is not only a guest in Polish homes but also an advocate for ecological concern on a global scale. It is a company focused on plants, the producer of teas like Lipton, Pukka, T2, PG Tips or Tazo. At the same time, it is an active participant and promoter of ecological change worldwide.
In collaboration with them, we discovered that behind the Lipton brand are people with immense creativity and hearts full of passion. Their empathy extends beyond caring for the health benefits of their products; it genuinely fosters a culture of mutual trust and openness. In this perspective, achieving common goals becomes better understood and more sincere from both sides.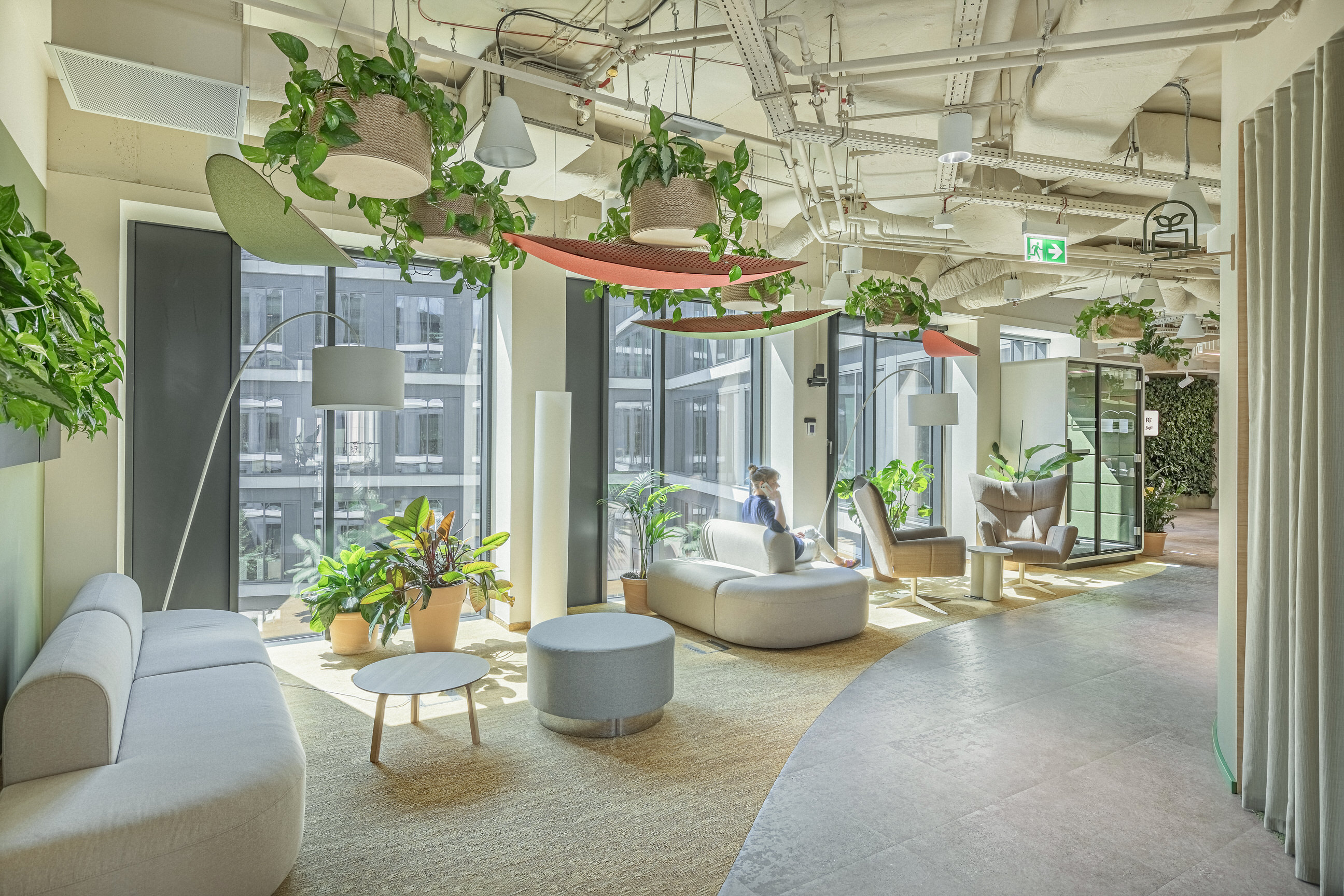 Immersed to the brim in the idea of regenerative power of plants, the brand has also set a noble goal: bidding farewell to the previous coworking space in favor of its very first headquarters. Exclusively for themselves! This is an expression of their separation from Unilever in the Polish market and their concern for the well-being of their team.
Simultaneously, this is a turn towards humanity. Faced with the increasing dynamics of the world, which often leads to distraction and stress, Lipton aims to create a place for its employees that facilitates regeneration.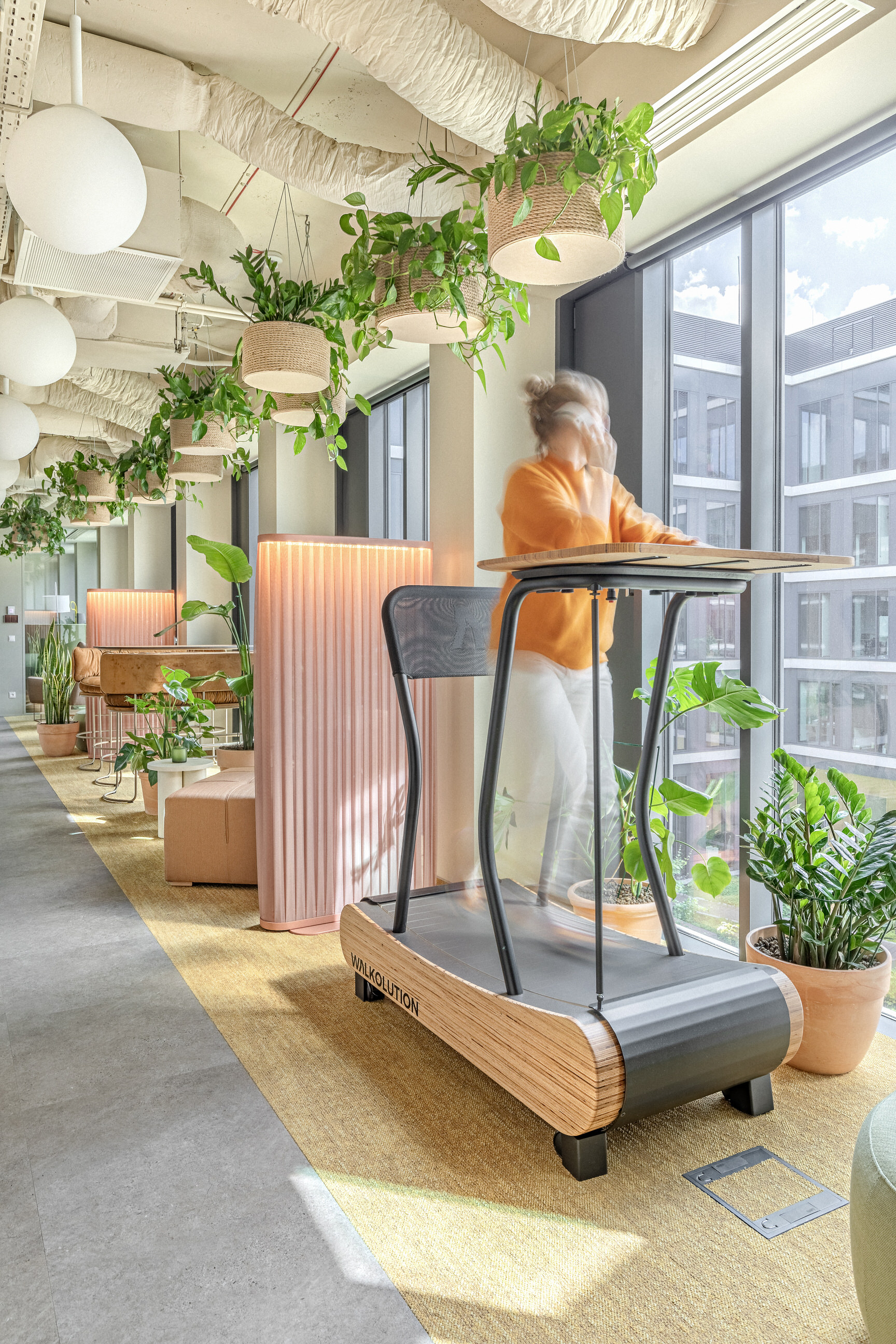 This is possible, among other things, thanks to greenery that provides people with essential contact with nature, which is crucial for their well-being. Lipton wants to provide this opportunity by creating diverse spaces filled with greenery. From regeneration zones to areas for tea-related experiences, to quiet workspaces or places for socialization. This allows employees to achieve maximum efficiency by choosing a space tailored to the specific task they are currently working on.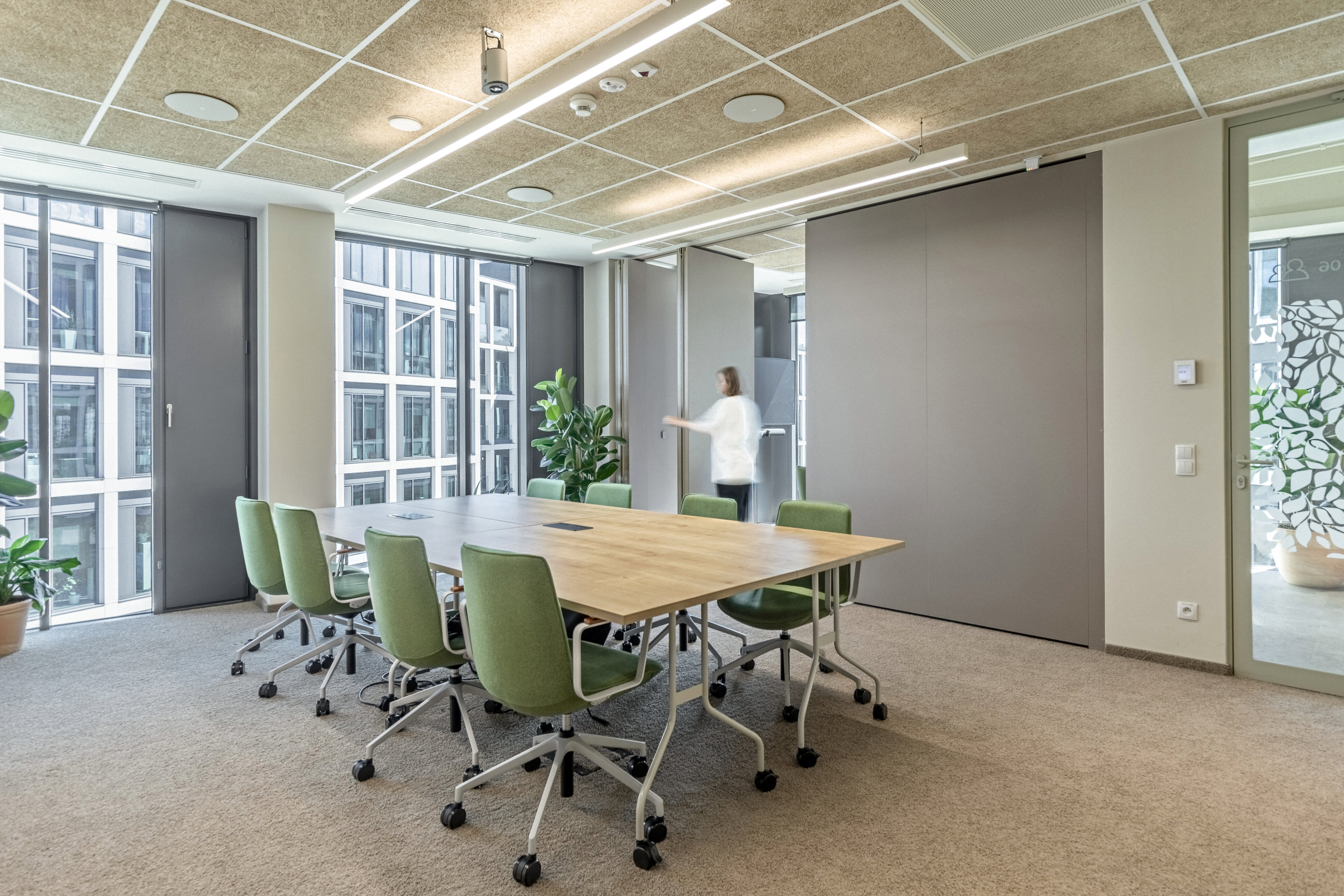 Lipton's aspiration was to create not just an office, but above all, a meeting place.
One that you return to as if it were home. In an environment that supports productive work, fosters relationships, and provides a sense of support and care.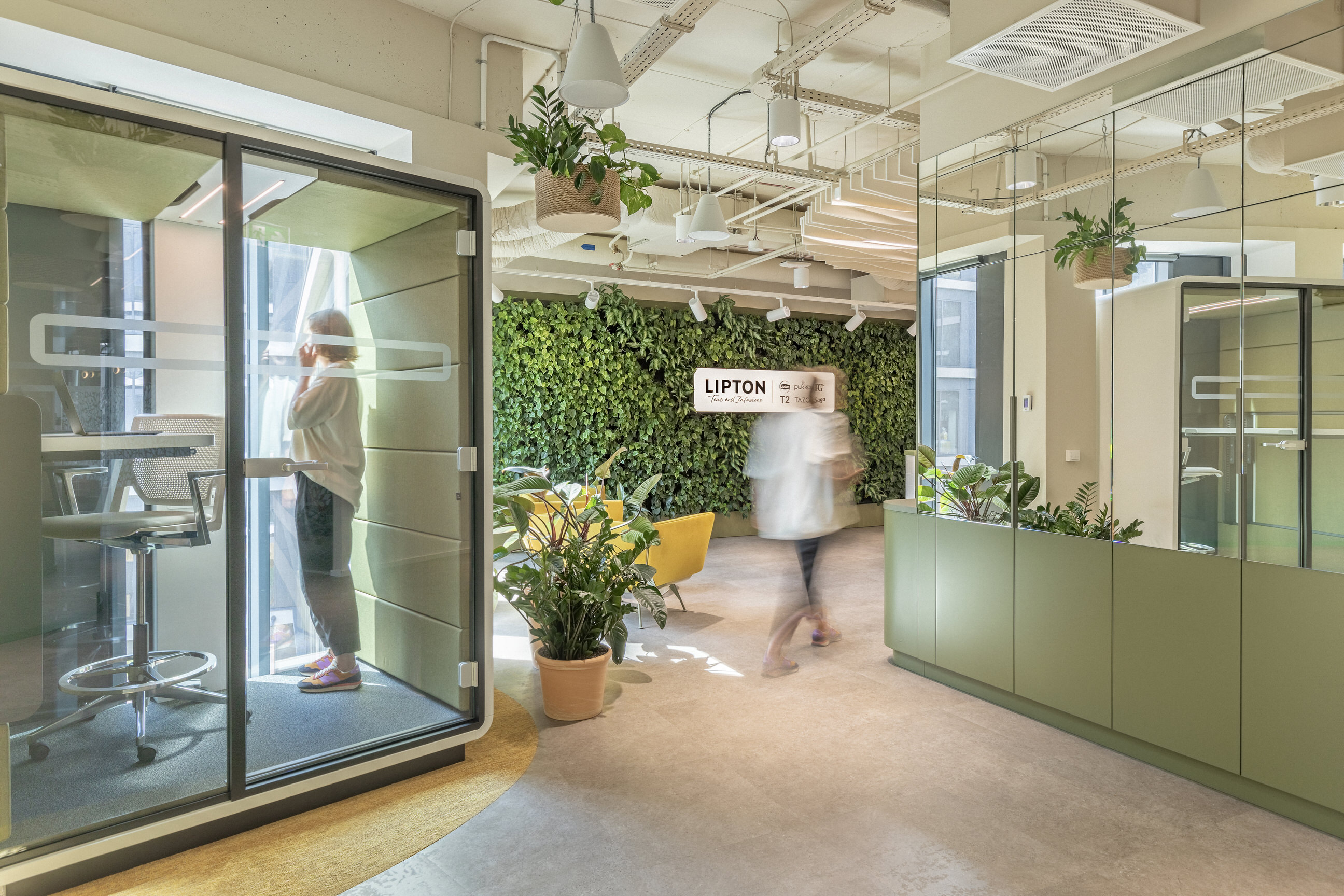 Creativity as a driving force.
The brand's first independent office space had a clear requirement: to be top-notch. It was meant to create a workspace that supports well-being and naturalness, which is priceless in today's times. This falls within Workplace's area of expertise.
Lipton's global mission, centered around regeneration through plants, served as the starting point for our design approach. We expanded upon it, enriching it with our unique values and tools that shape the collaboration process and ultimately define the end result. We were inspired by the subtle yet vivid environment associated with tea cultivation and consumption, which we incorporated into our design.
The team responsible for creating top-quality teas on the market consists of individuals with exceptionally creative personalities. Workplace's task was to provide the right conditions for nurturing and sharing this creativity.
The only sensible approach for Workplace, driven by empathy, was to design with a full understanding and care for the client: their character, expectations, and needs. Our task was to create a space tailored to Lipton's personality. It wasn't just about enlivening the daily office routine; it was about creating a space that is communal, fostering an atmosphere of freedom and openness. A place where employees would want to return to in the post-pandemic reality.
We designed a diverse space that adapts to various tasks performed throughout the workday. We address the needs of those who prefer to work in silence and those who value social interactions, whether they work in solitude or in groups, at desks or in comfortable chairs. Our space accommodates all these needs, giving employees the freedom to choose their work style, allowing them to work with full freedom and comfort, thereby enhancing focus, fostering problem-solving, and inspiring creativity.
The direct inspiration came from the uniqueness of Lipton, specifically tea: its richness in colors, intensity, and the brewing process. Our new space reflects three different degrees of tea steeping:
Light, characteristic of white tea infusions, which we translated into a design that supports focus.
Medium, noticeable in cups of oolong tea, transformed into aesthetics that foster creativity.
Strong, reflecting the colors of pu-erh tea, clearly visible in social areas, serving as a hallmark of the brand for guests.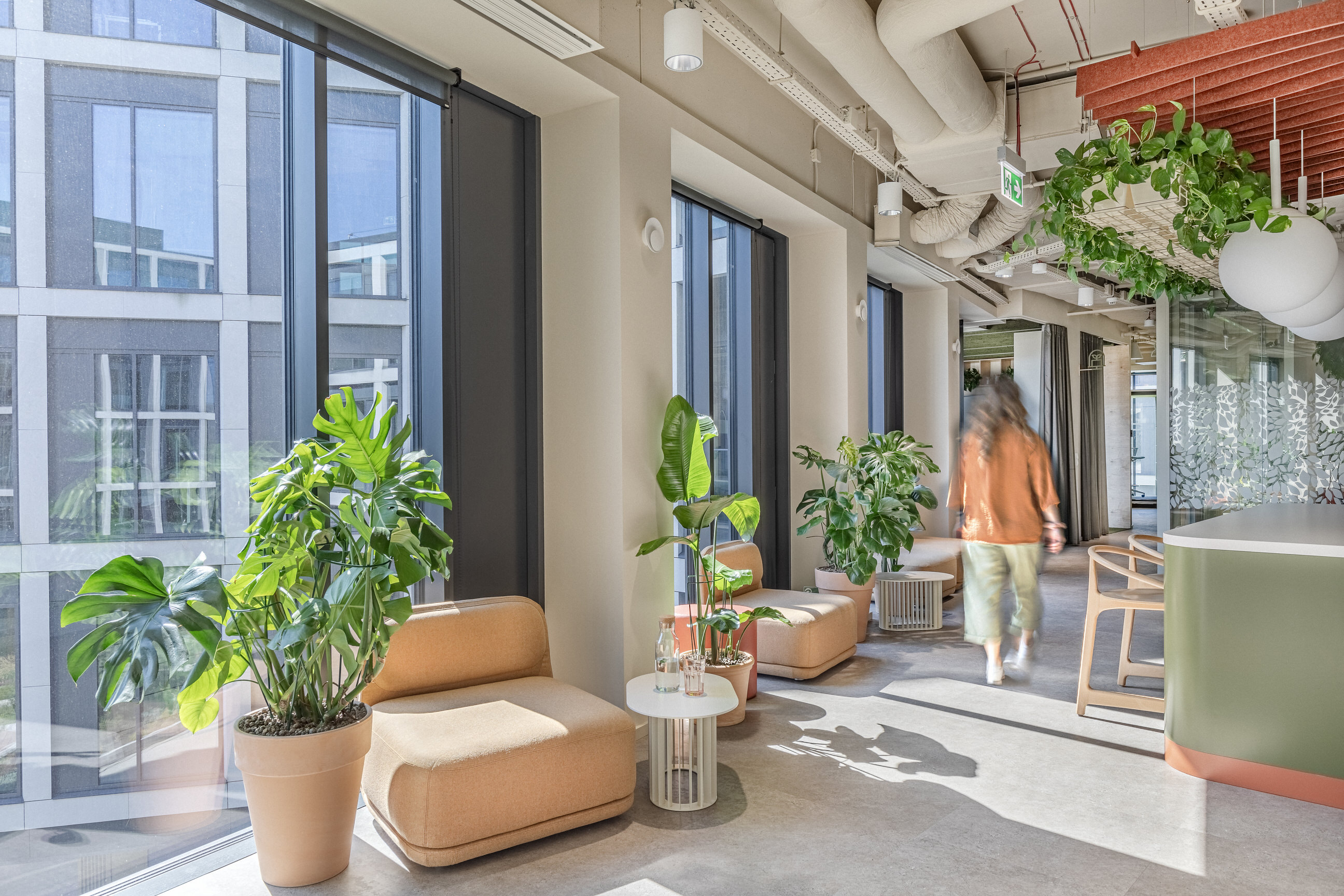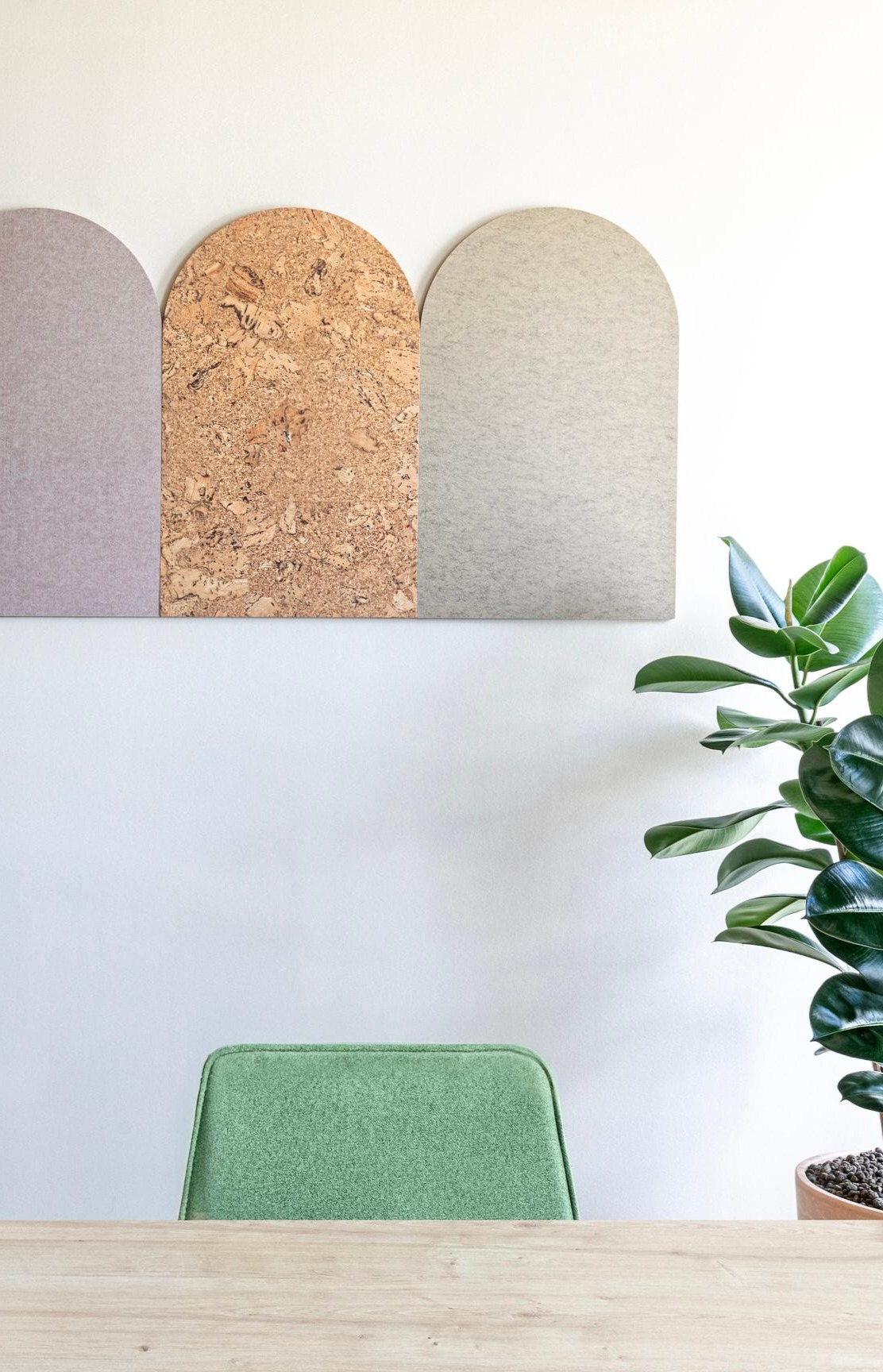 In the project concept of Workplace, there is no room for randomness.
The color palette of our project was carefully chosen to harmonize with the organization's character. Emphasizing naturalness, we opted for shades that reflect the beauty of nature, avoiding black and white, which don't naturally occur in the world of nature. We selected subtle shades of green, delicate mint, as well as basic colors of beige and brown. These natural tones were enriched with deep shades of brownish-red and a rich dark yellow, reminiscent of the sun and warm rays of sunrise. In this way, we created a color palette that not only pleases the eye but also faithfully represents the natural character of the plant world.
It's worth adding that these elements enhance the feeling of a cozy atmosphere. They are enveloping, warm, and soothing. We achieved this by designing soft shapes in the office and paying attention to details, such as acoustical curtains playing with lighting effects or scented fruit bushes on the terrace, which provide a pleasant olfactory experience.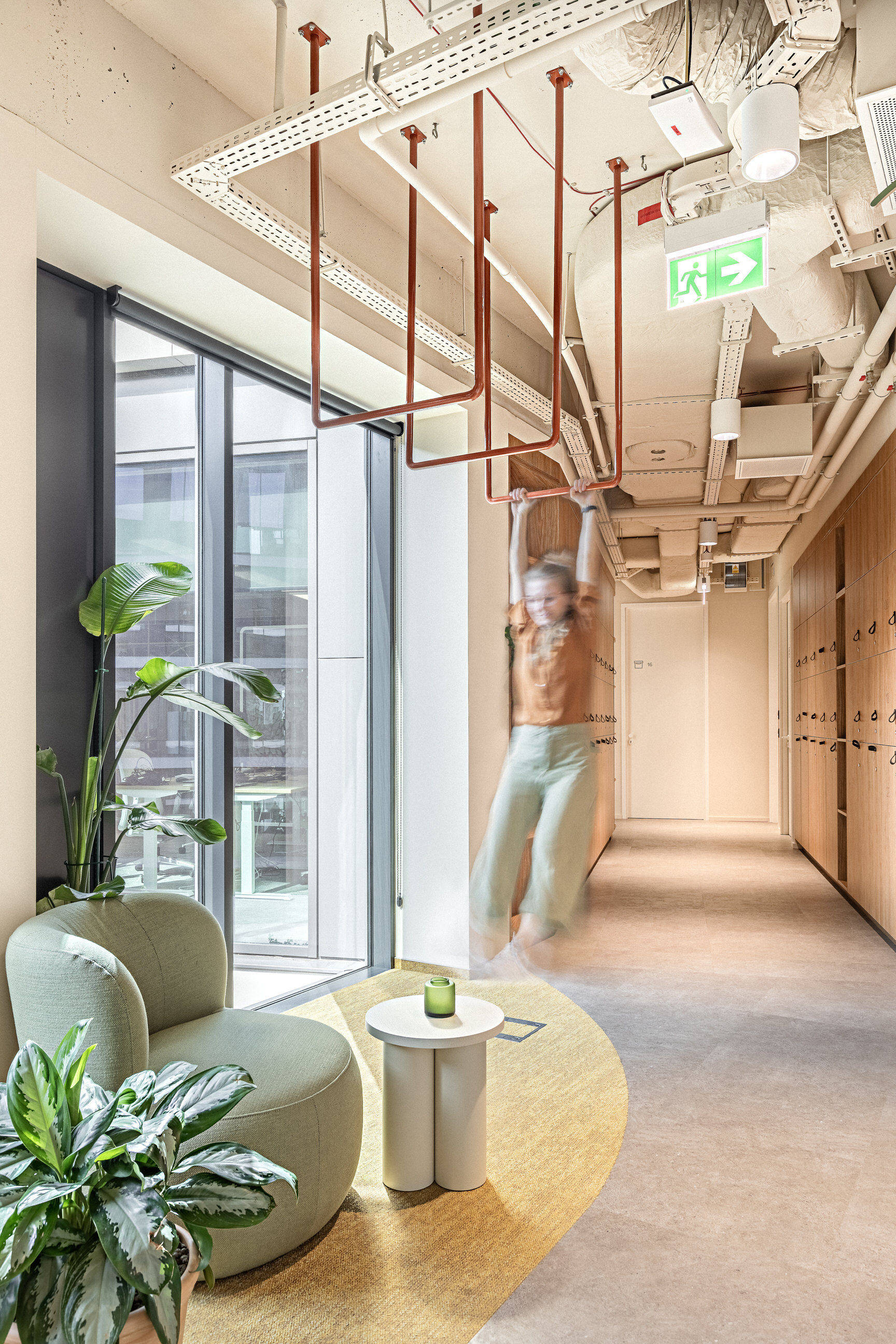 Lipton is comprised of people with extraordinary openness, which is of significant importance for their work style.
As a result, we've created a new ecosystem that takes into account the diversity of employees' needs. The office is the heart of the organization, where many things happen simultaneously. Therefore, we've adapted this space to accommodate all these activities. We've taken care of spaces for:
Creativity, testing, and meetings.
Work in isolation and concentration.
Hosting guests, both in-person and via video conferences.
We haven't forgotten about the magic of tea within the organization either. We've established a Tea Point and a tea laboratory where employees can meet. It's also the place where the process of creating new tea flavors takes place.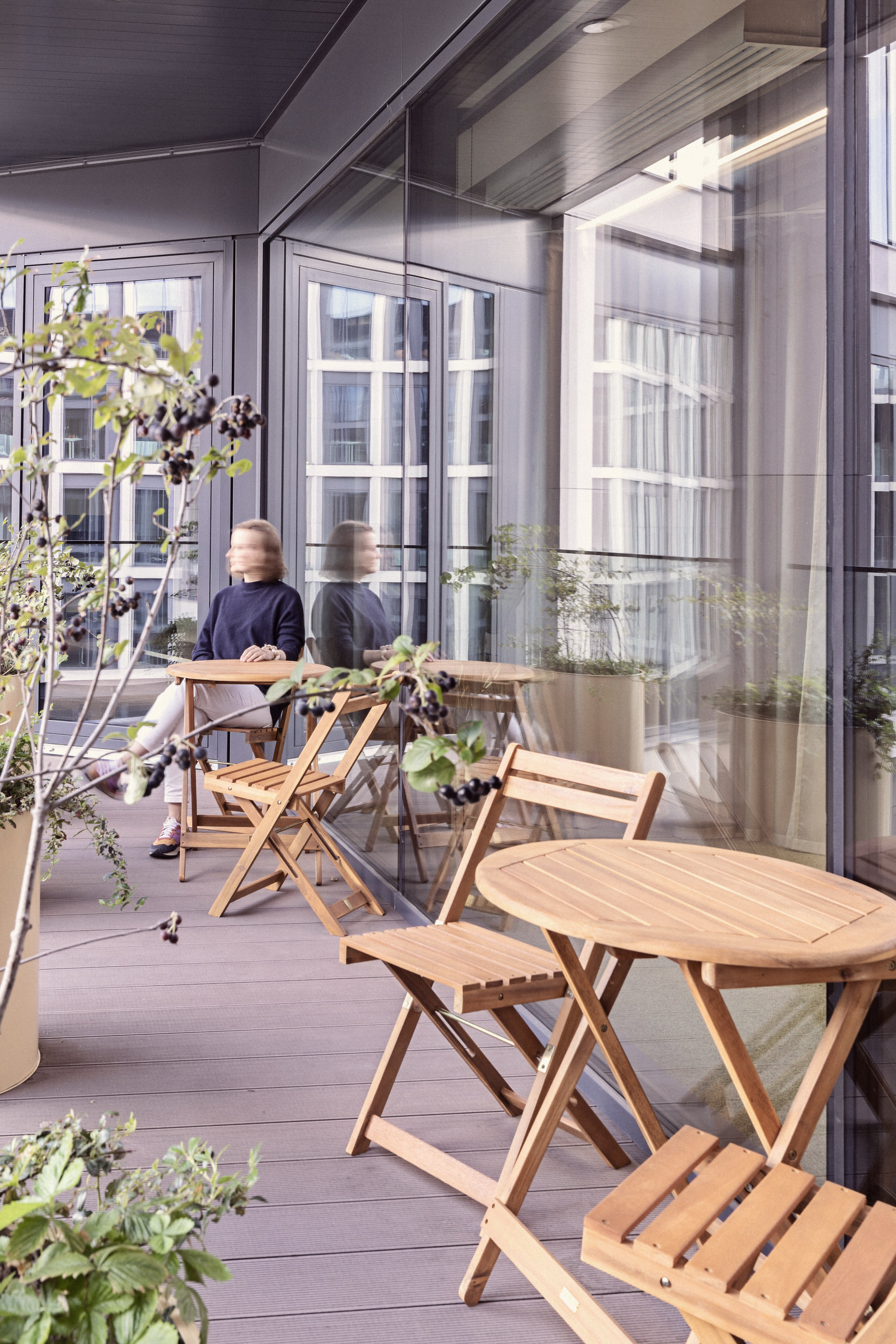 The zones that have been created, the materials used for finishing, and the choice of color palette are the result of a lengthy design process that combines functionality with attractive aesthetics and the organization's values.
Lipton's new headquarters is a tangible and concrete expression of altruism for its employees.
Looking Towards the Future
Coworking has become a thing of the past for the Lipton brand. In exchange, they have succeeded in creating a supportive work environment. In the industry, they have established themselves significantly, strengthened in their own values, and materialized in the form of a new headquarters.
Lipton has gained a workspace close to people, one they eagerly return to every day. It increases attendance, regenerates incredibly, and inspires work, just like first-class tea.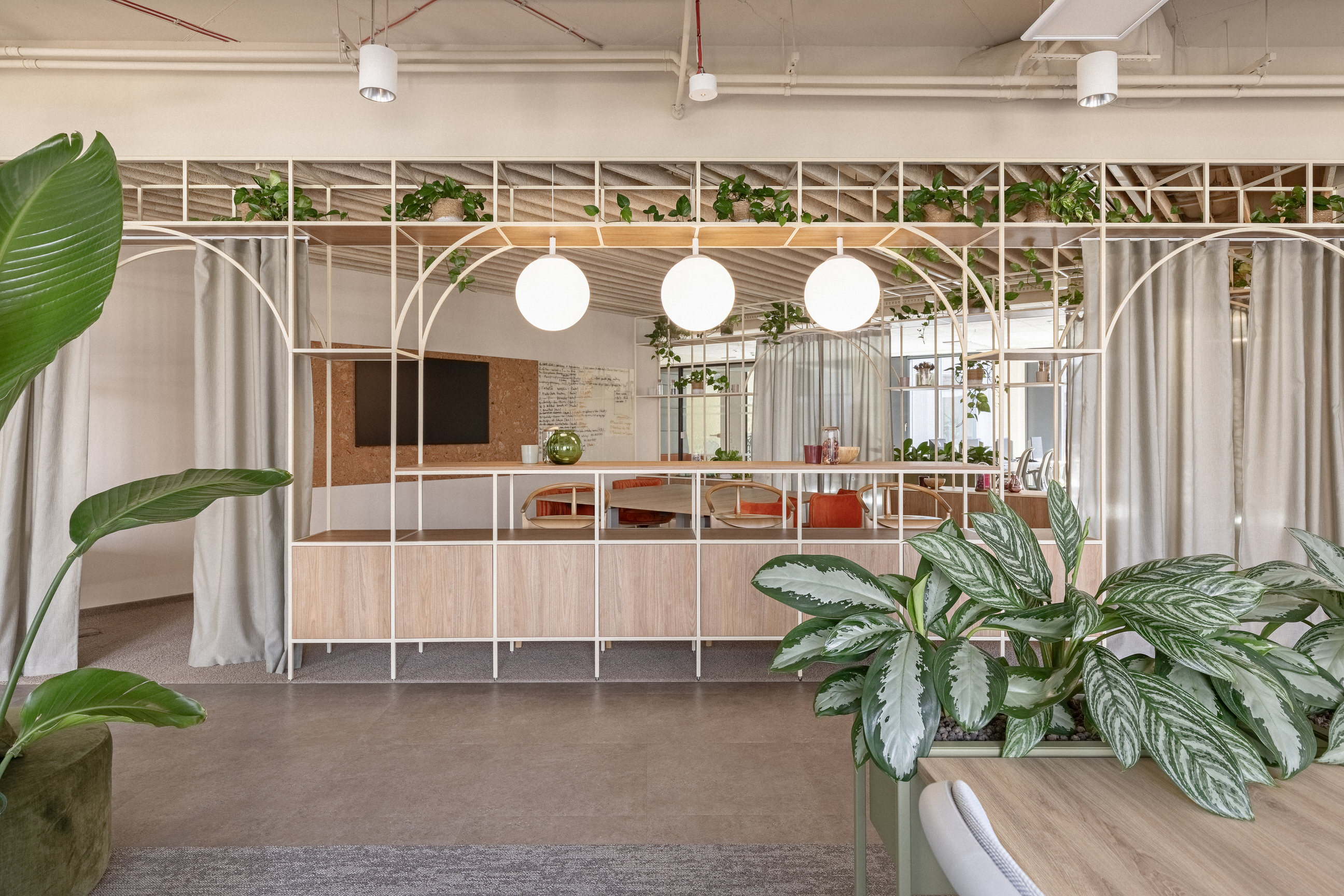 Authors
Management: Dominika Zielińska and Bogusz Parzyszek
Project team: Zofia Kurczych and Barbara Majerska
Supporting team: Olga Szadkowska, Maciej Kolak, Małgorzata Romanowicz and Daniel Dziczek
Visualizations: Paweł Deroń
PM support: Katarzyna Nowakowska and Karolina Michalak / CBRE
Client-side team: Karolina Mikrut, Alexander Kuznetsov, and Łukasz Chałaczkiewicz
Space branding and wayfinding: Damian Bieniek, Piotr Najar / spaceID
Photography: Bartosz Płuska
Text: Saints x Workplace
Project
Size: 900 sqm
Duration: 12 months (2022-23)
Location: Moje Miejsce / Warsaw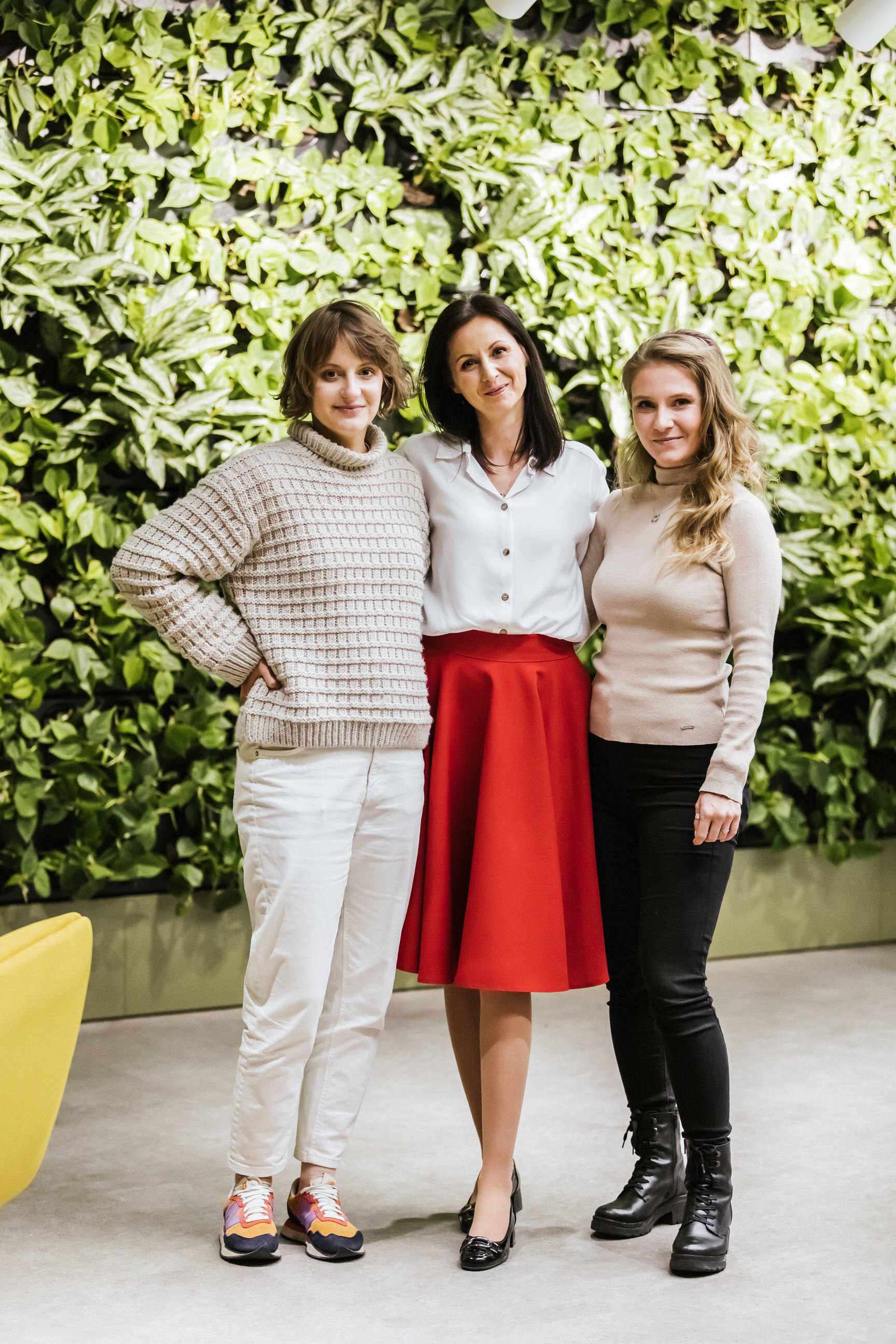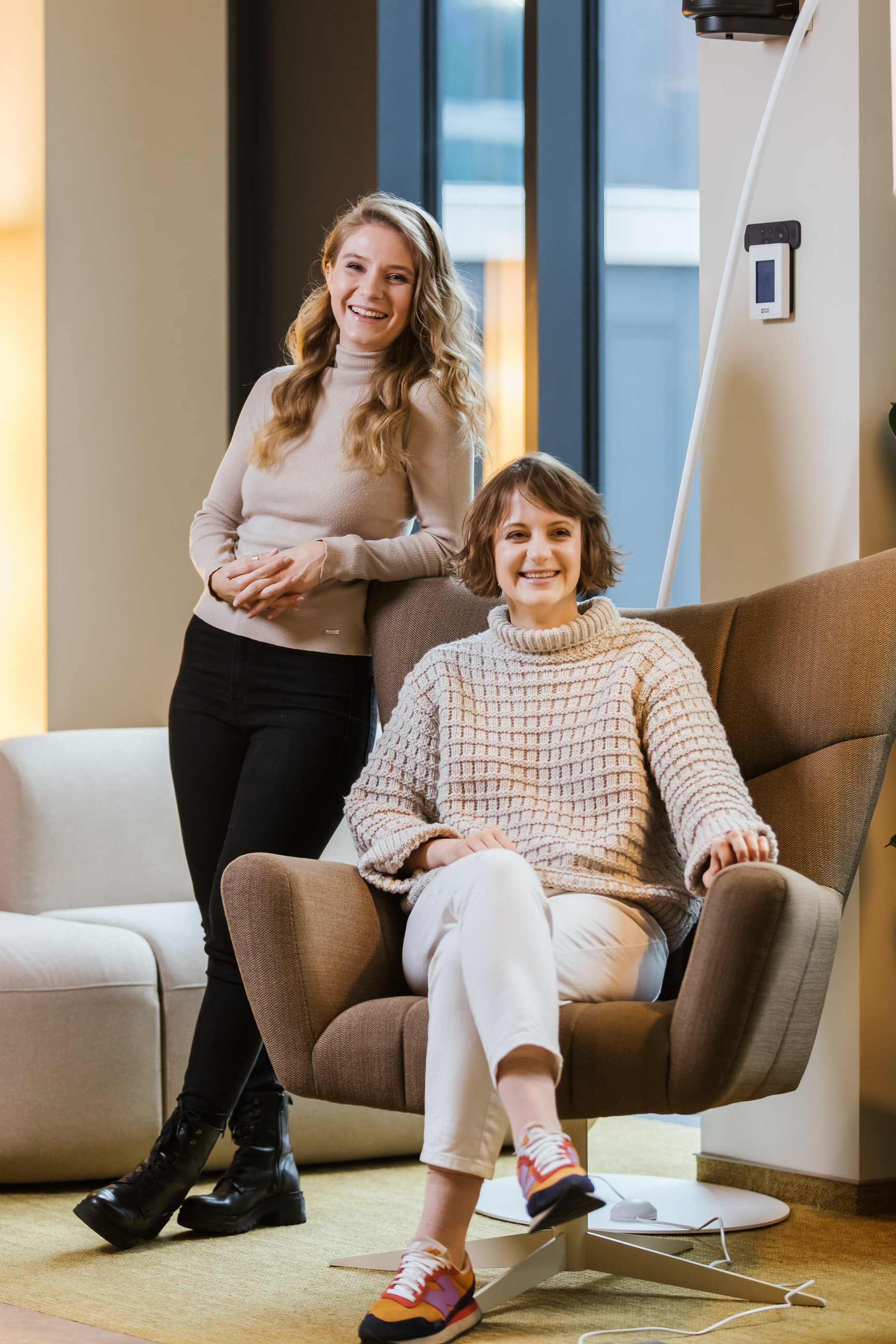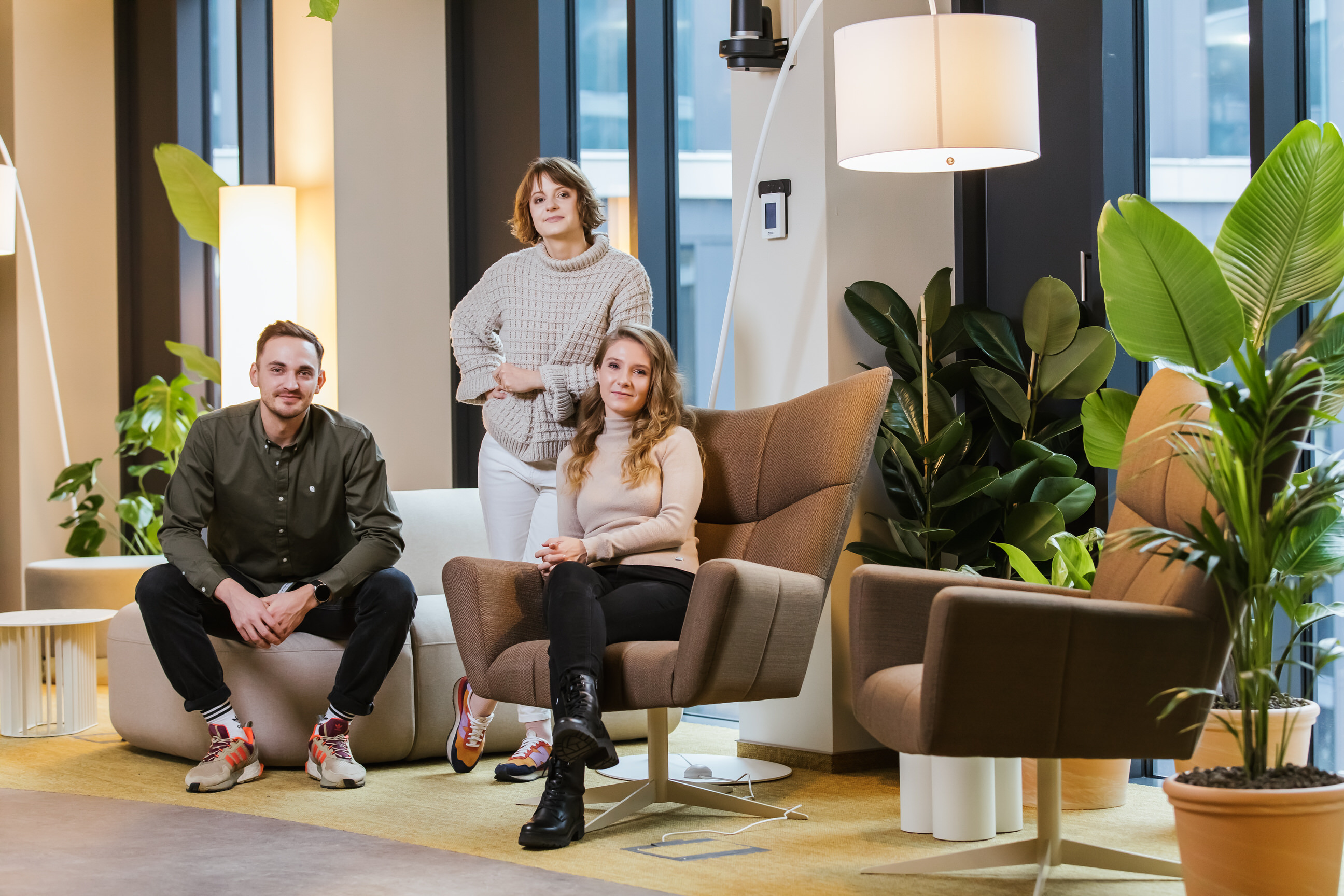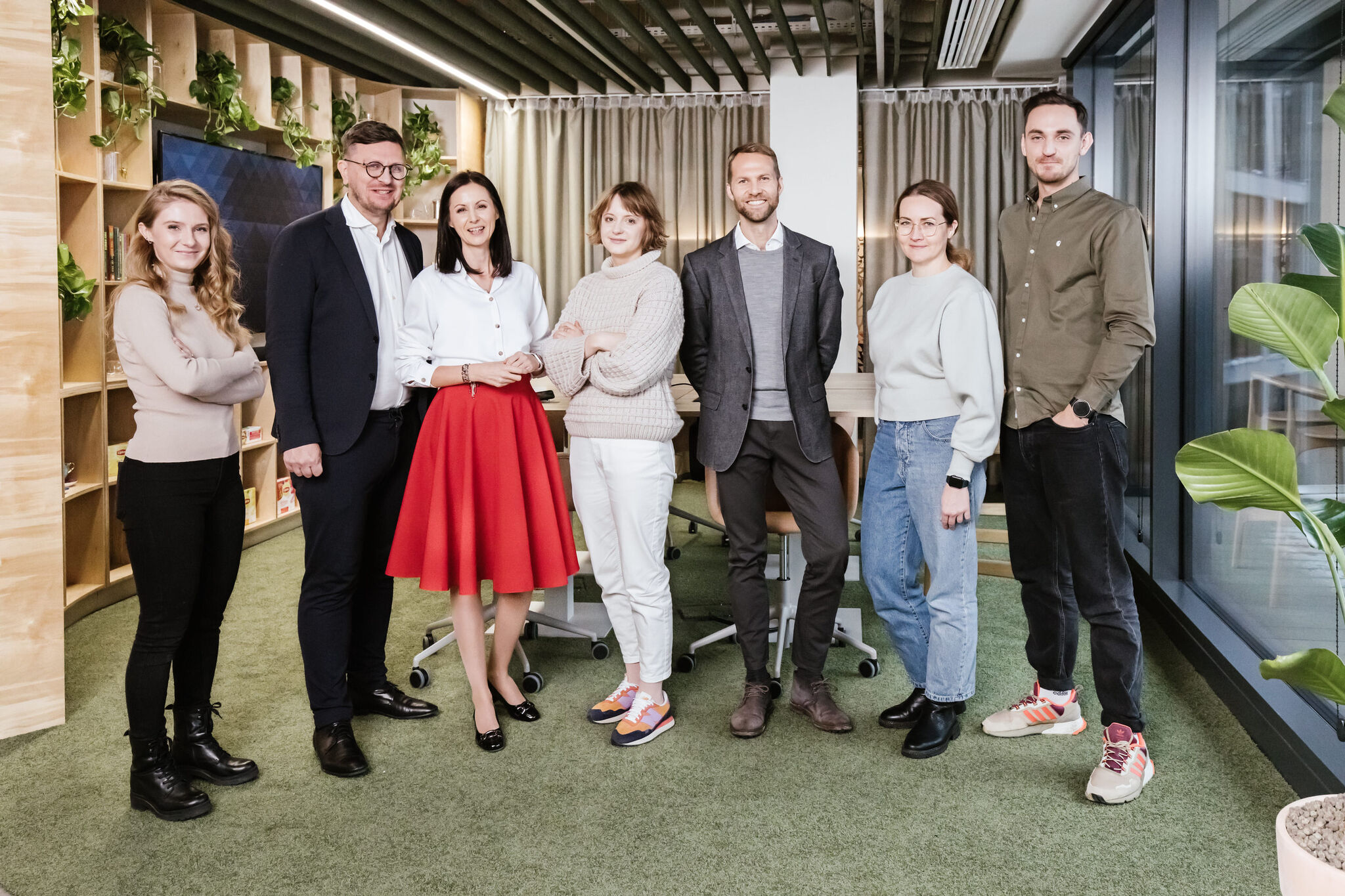 From the left: Barbara Majerska, Łukasz Chałaczkiewicz, Karolina Mikrut, Zofia Kurczych, Bogusz Parzyszek, Karolina Michalak, Daniel Dziczek.