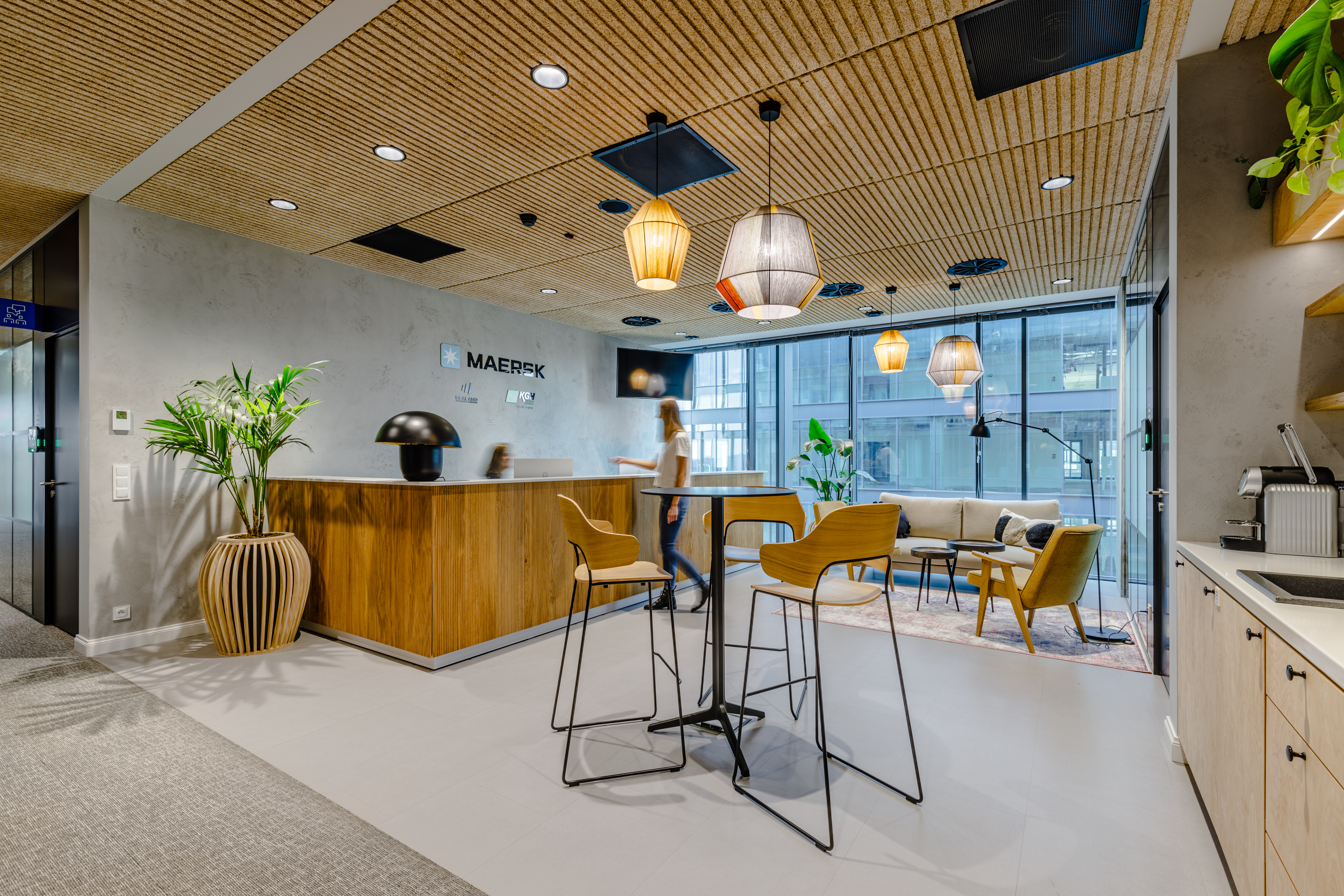 Maersk | hygge office
16.12.2022 / Can modern office design offer users a homey atmosphere while incorporating an environmentally friendly approach? Yes, when the right steps are planned early in the process. The new work space for Maersk is another project in which we are practicing and expanding our know-how in designing sustainable and employee-centered spaces.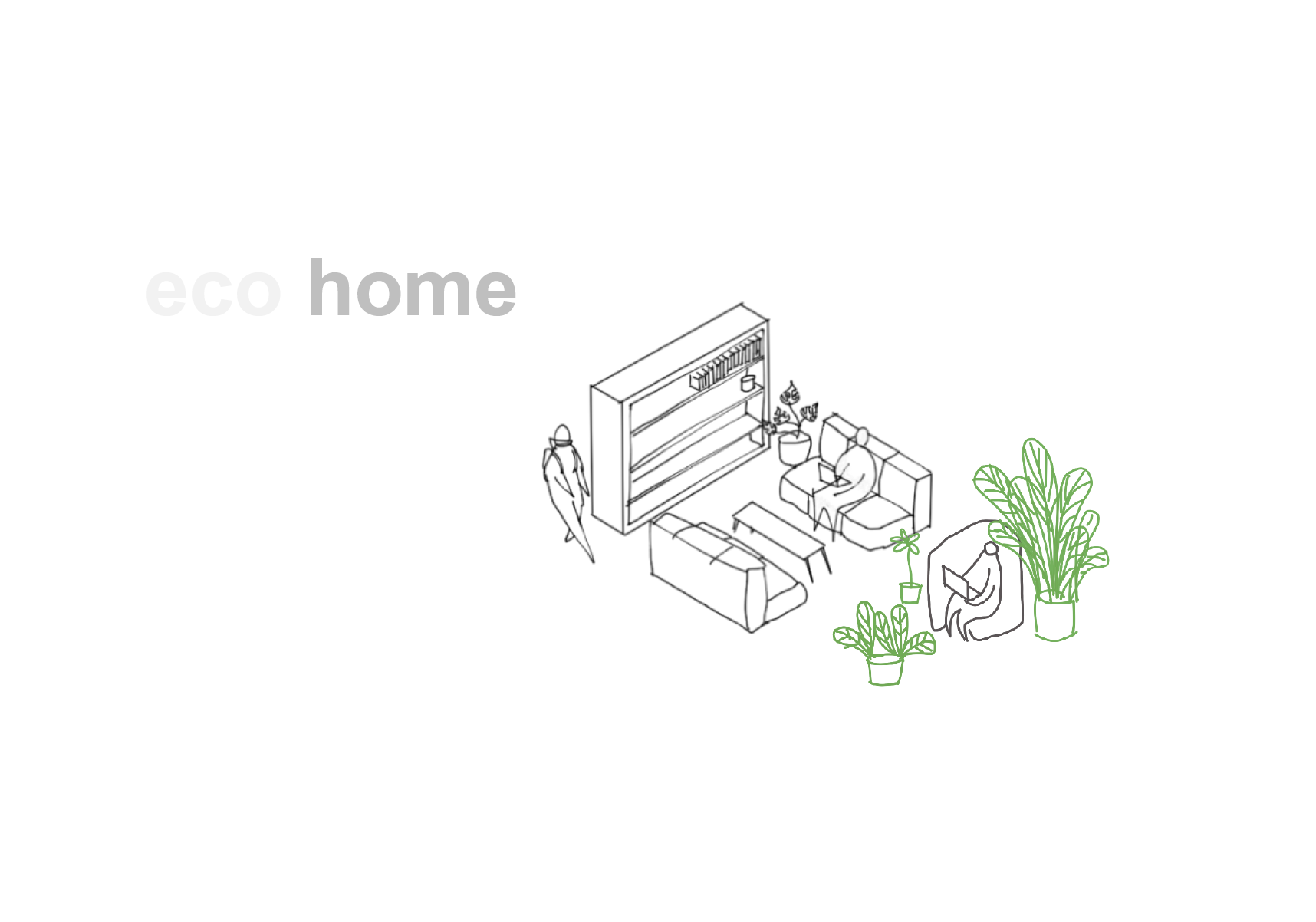 Maersk Poland is a division of Maersk A./S. It is one of the world's largest transport and logistics companies specializing in integrated container logistics. It is part of the global A.P. Moller Maersk Group, based in Copenhagen. The concern offers container, logistics and shipping services under the Maersk, Sealand, Twill, KGH brands, among others. It operates in 400 offices located in 130 countries and employs more than 100 000 people. Maersk has been present in Poland for more than 30 years.
Maersk Poland chose 3T Office Park, a modern office building in Gdynia, as the location of its Polish branch in the Tri-City. Its administrator commissioned us to design 1249 sqm of office space for this new tenant. Workplace and 3TOP's common goal was to design an office equipped with modern, eco-friendly solutions, with a homey atmosphere.
"We began our design work by examining the needs and values relevant to Maersk and determining the key objectives we wanted to fulfill: What exactly should the new space communicate in terms of brand culture and values? What kind of atmosphere do we care about building? What functionalities and aesthetics should we target, taking into account the feelings and needs of the target users?" – says Ewa Jedras, Senior Architect Workplace.
"Through discussions and the joint formulation of the strategy, we agreed that the office design was to be based on three main assumptions: the least possible impact on the environment, the creation of an atmosphere of home, and the subtle inclusion of the Maersk brand. The proposed design was to be without extravagance, timeless and friendly in its aesthetics, and above all, based on a sustainable and less waste approach." – the architect concludes.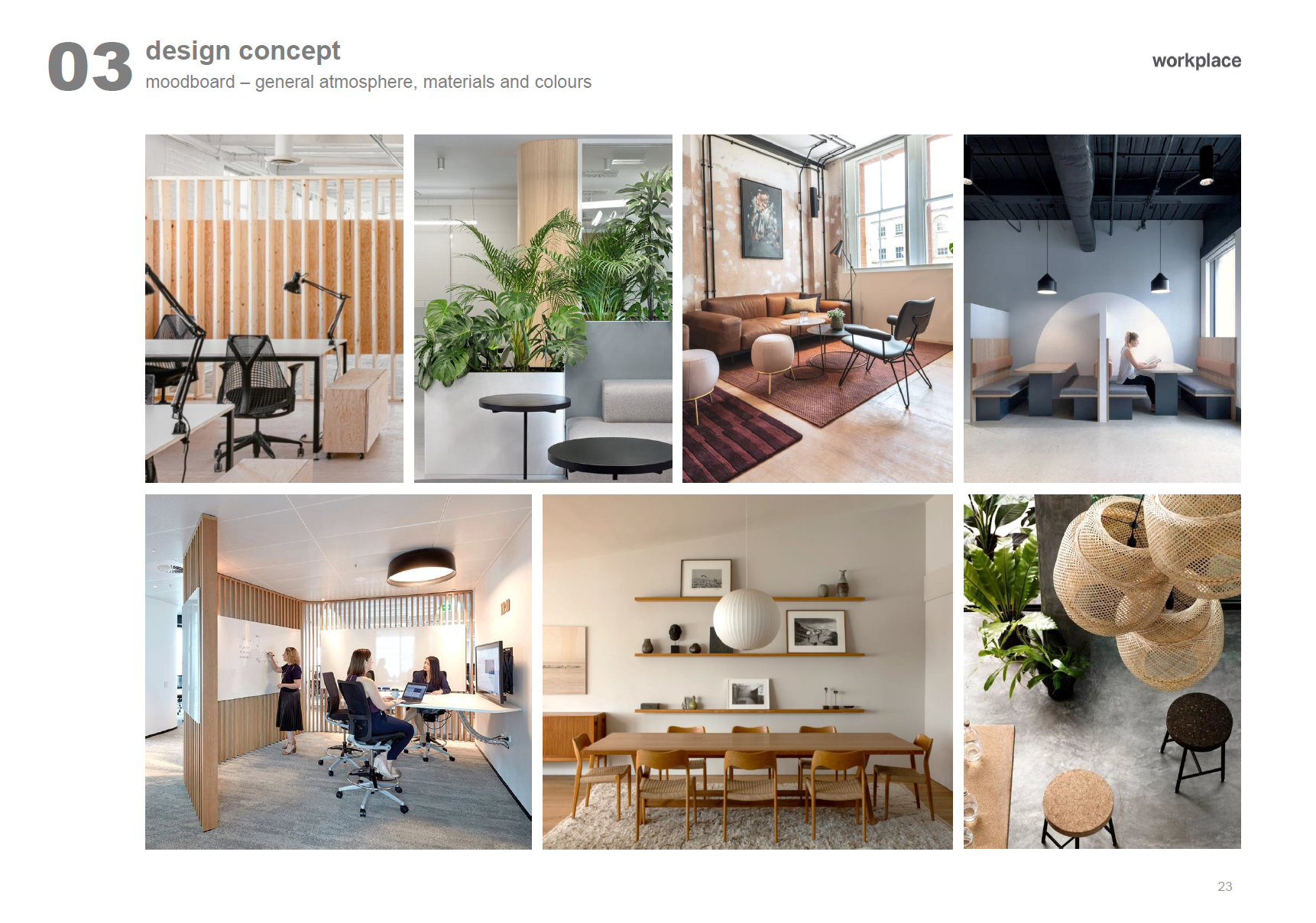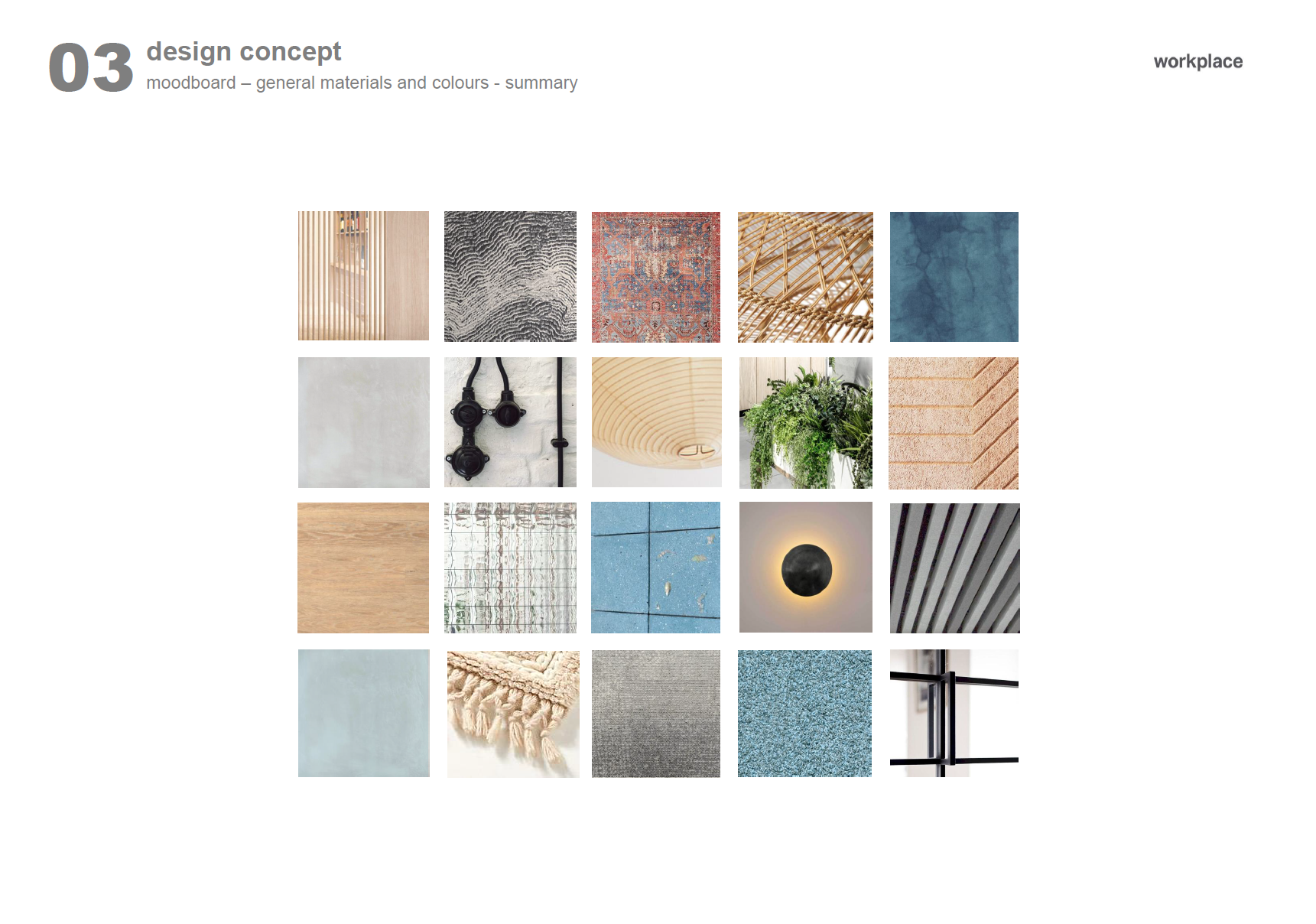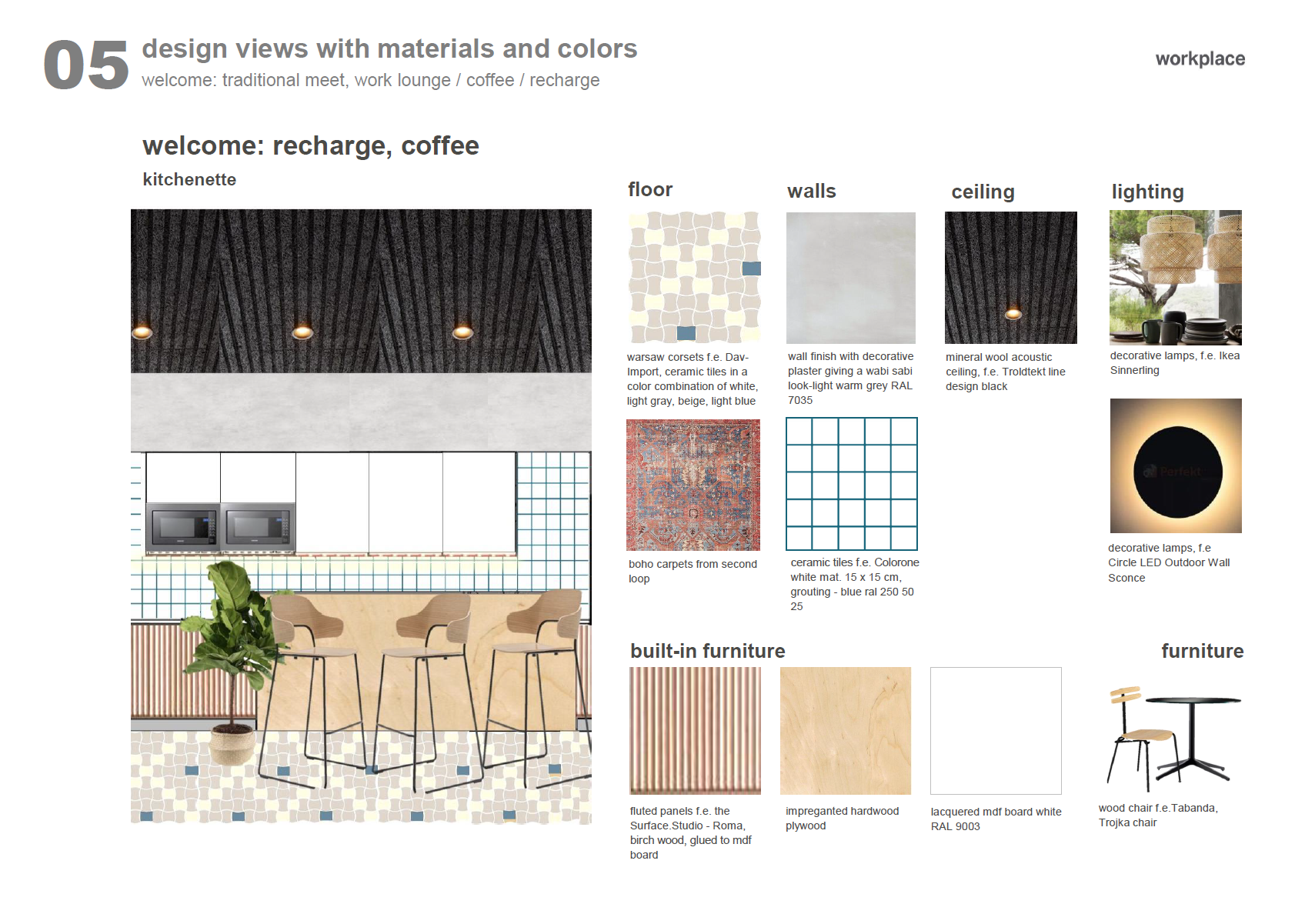 Employee-friendly office
Creating an office that was optimal for employees previously working at several Maersk locations, in addition to those from different generations and with diverse needs, was quite a challenge. The space, although relatively small, was arranged to provide as much functionality as possible needed by users working in different ways.
Instead of a typical open space, we proposed smaller work zones, separated by various elements such as acoustic panels, green screens, free-standing greenery, and acoustic curtains. They give employees the feeling that they are in "their" space, also increase acoustic and visual comfort, the ability to better focus on daily tasks.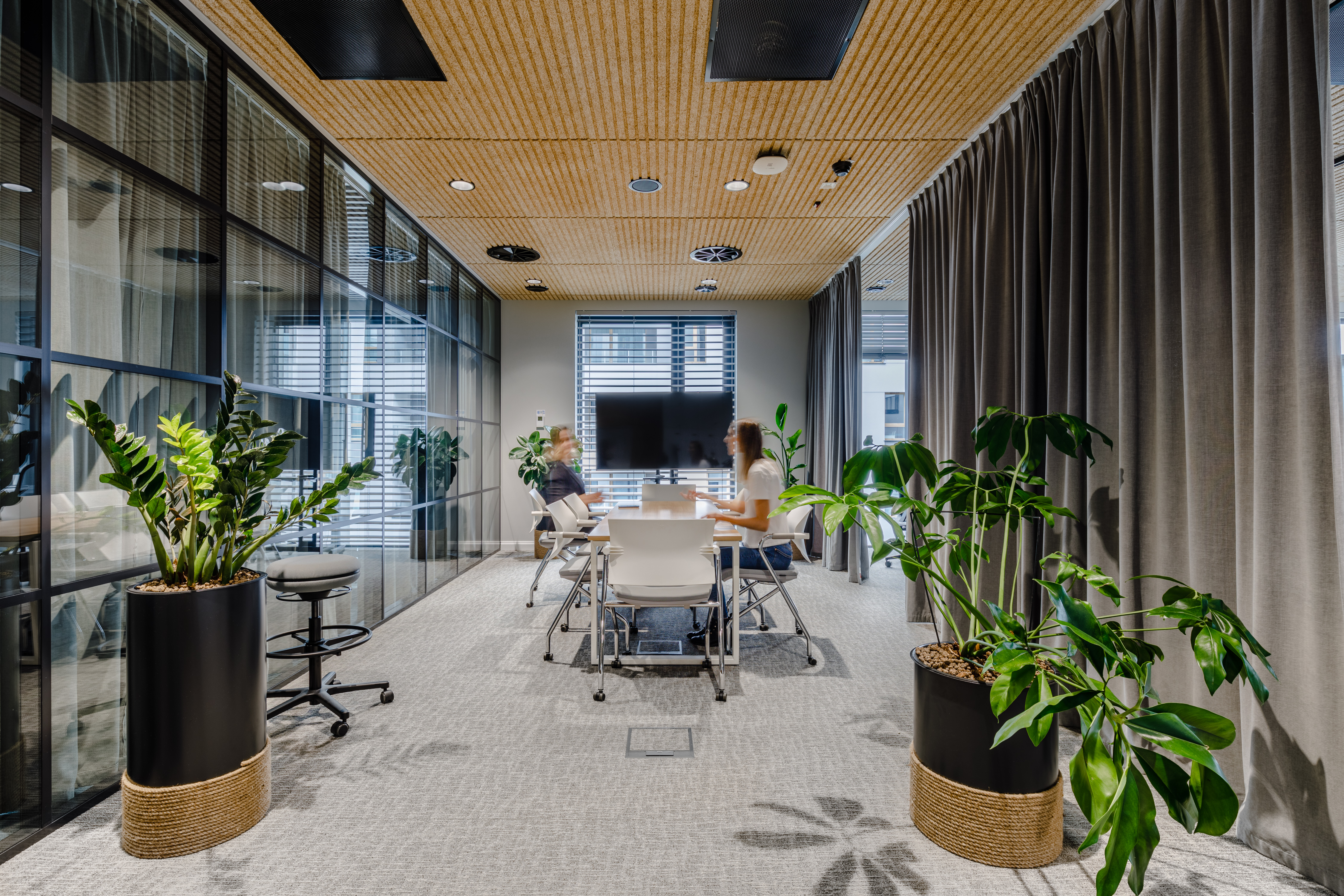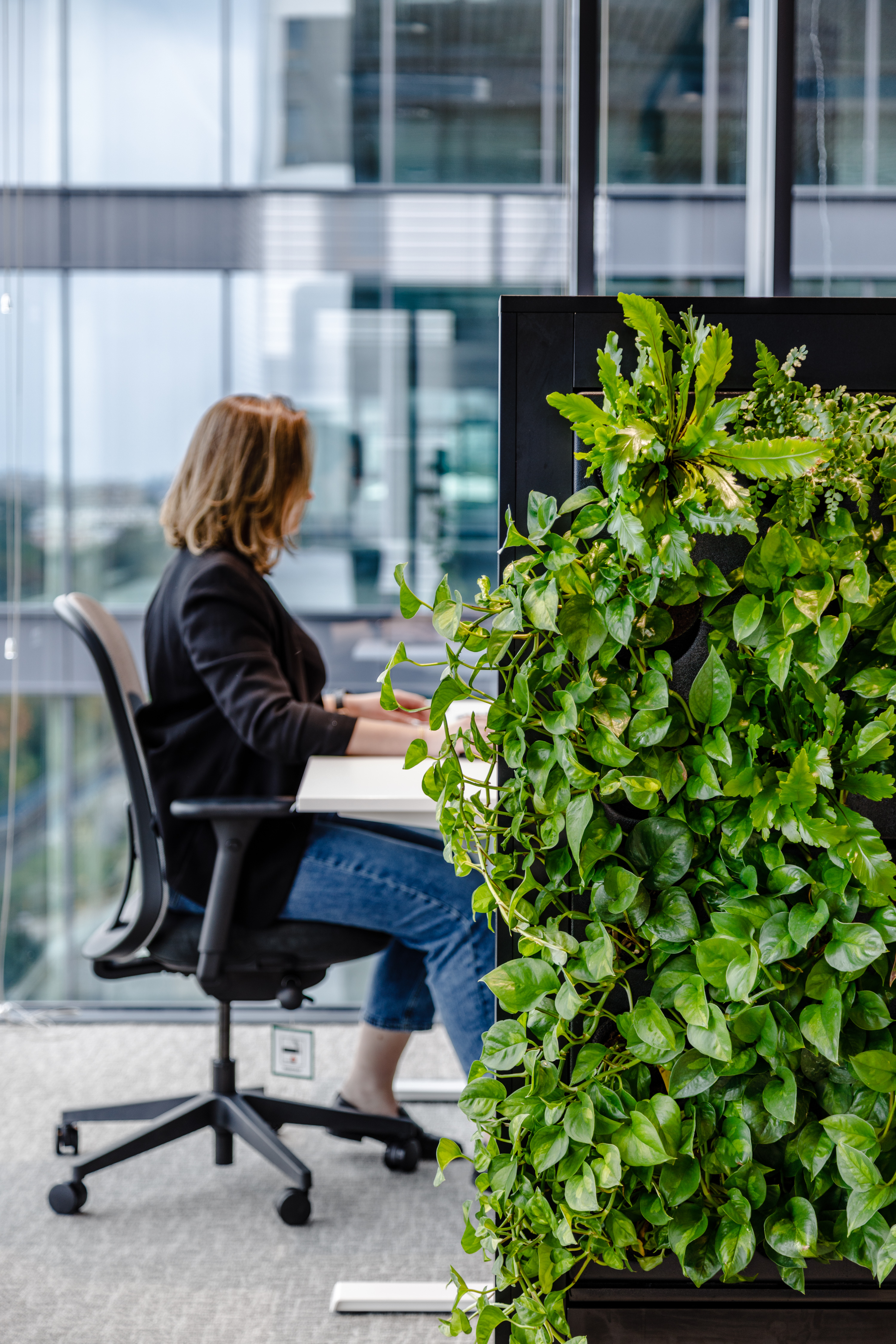 We enriched the work space with variously equipped support zones, enabling tasks of a different nature than individual work at a desk: networking, creative work zones, focus rooms, phone booths, work niches. In addition to the traditional table with comfortable chairs, some of them are also equipped with soft furniture such as sofas, home armchairs, but also with tables "on high" and with adjustable top height. Employees can hold a quick meeting, brainstorm, do video-call, or just work one-on-one in other ways in such places. And when it's time for a break, they have a sizable kitchen at their disposal, where they can sit down for lunch and conversation together at a large common table, or "hole up" with 2-3 people at intimate tables set up by the façade, looking out over a beautiful green hill.
"One of Maersk's most important values is its employees – we focused on their comfort and optimal working conditions with the entire project team. Employees found their way around the new office very well, and it was a great challenge because we were combining teams from 3 of Maersk's Gdynia locations." – Adds Aleksandra Studniarek, Team Leader Business Support Services Poland.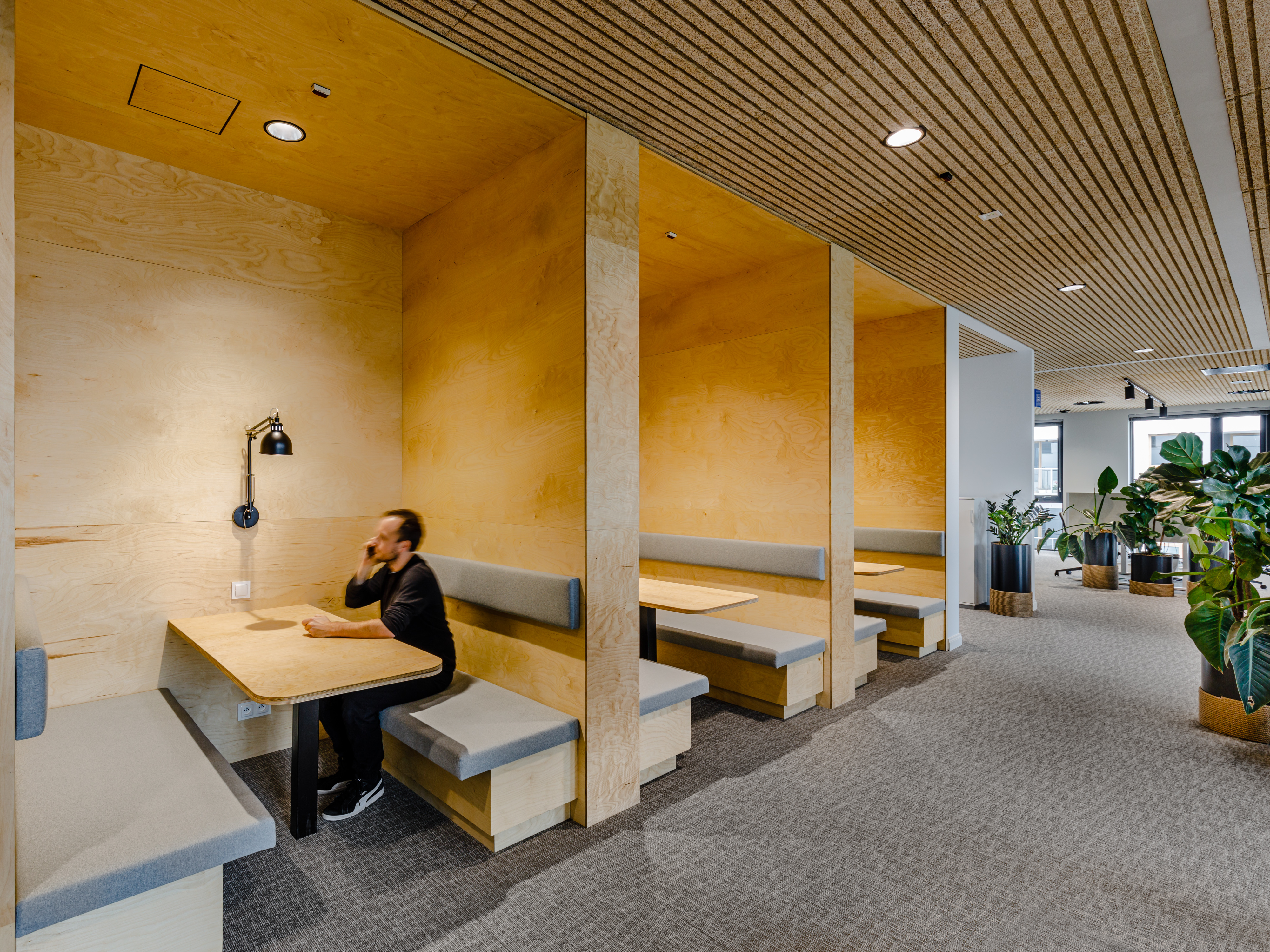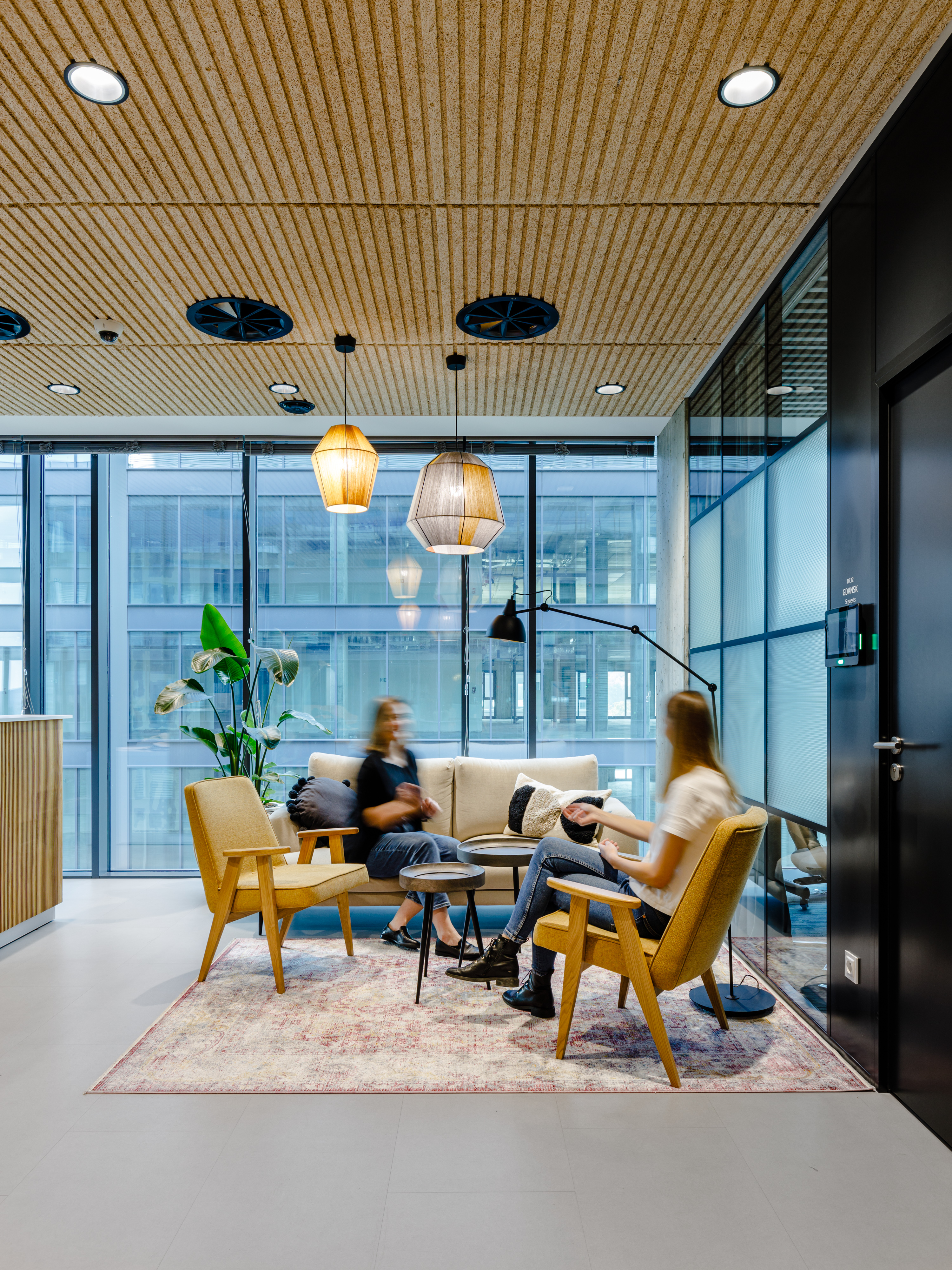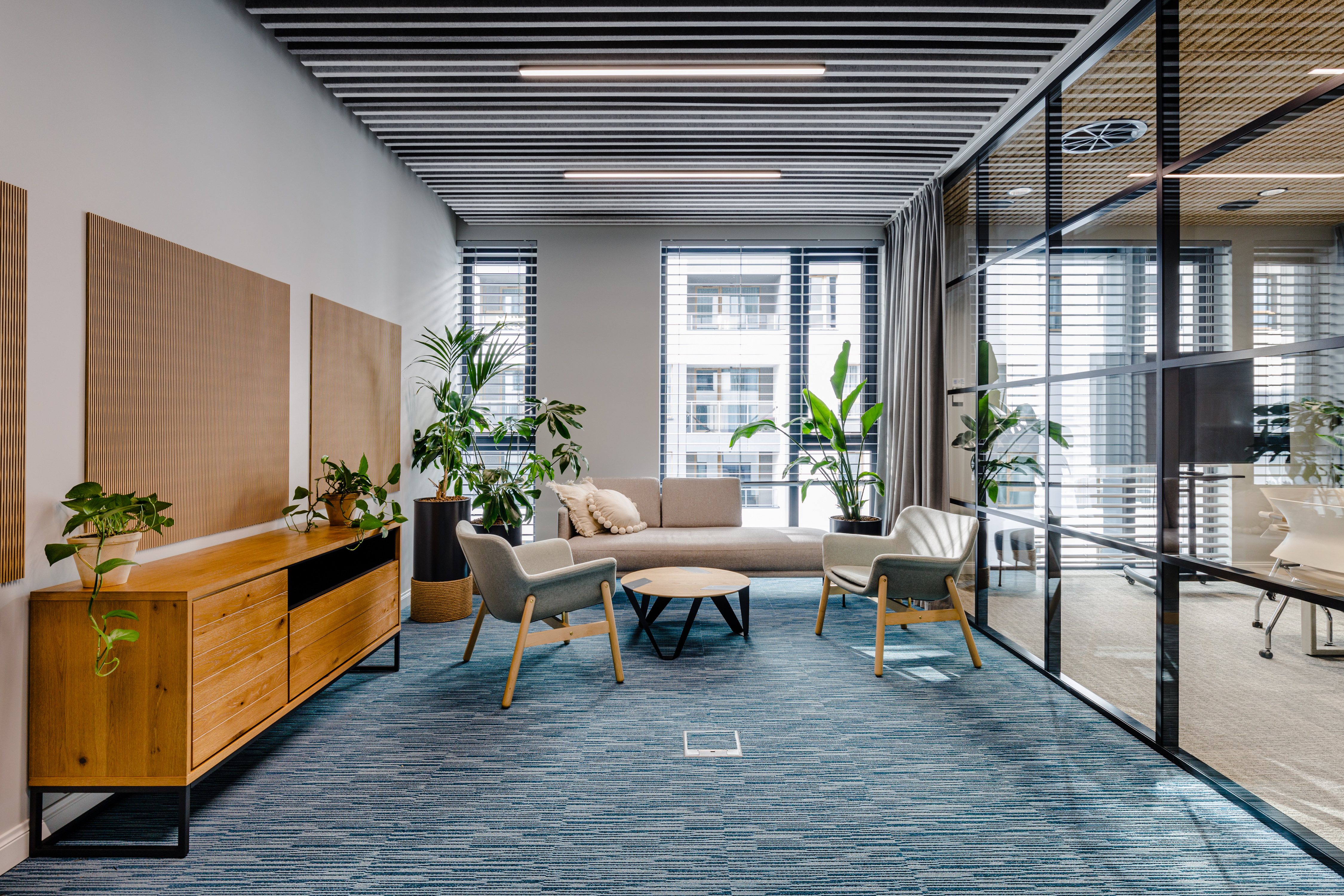 Colors come into play
The basis of the color palette of the project is light gray and beige in varying shades. We broke it up with subtle patterns and linear divisions. The company's bright Maersk blue appears, but as a discreet addition on the walls and carpets. In areas that do not require intense focus on work, complementary, more stimulating colors appear: warm shades of red, orange and yellow.
When designing the interior for Maersk, we tried to make maximum use of natural "living" wood, which builds an atmosphere of homely warmth and a certain material nobility that gives timeless beauty. We used it primarily in elements that users always have in sight and often touch: in the fronts of cabinets and customized furniture, shelves, chair design and wall cladding. We have also introduced finishing materials that are not wood, but which allow us to reinforce the feeling of being surrounded by natural, warm surfaces (natural cork, wood wool ceilings, mdf panels with visible "chip", upholstery in sand and beige tones, jute and rattan details in pots and lamps).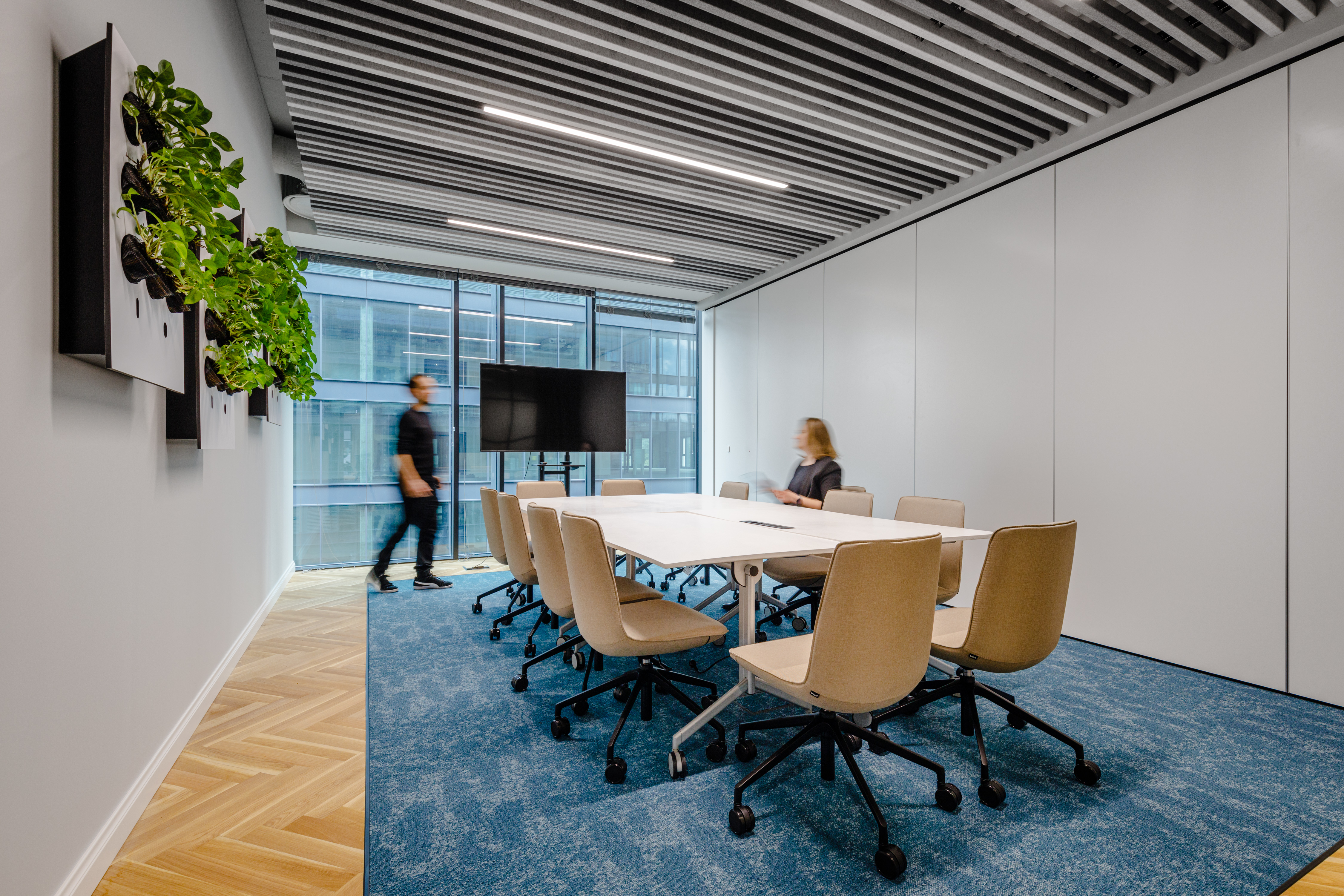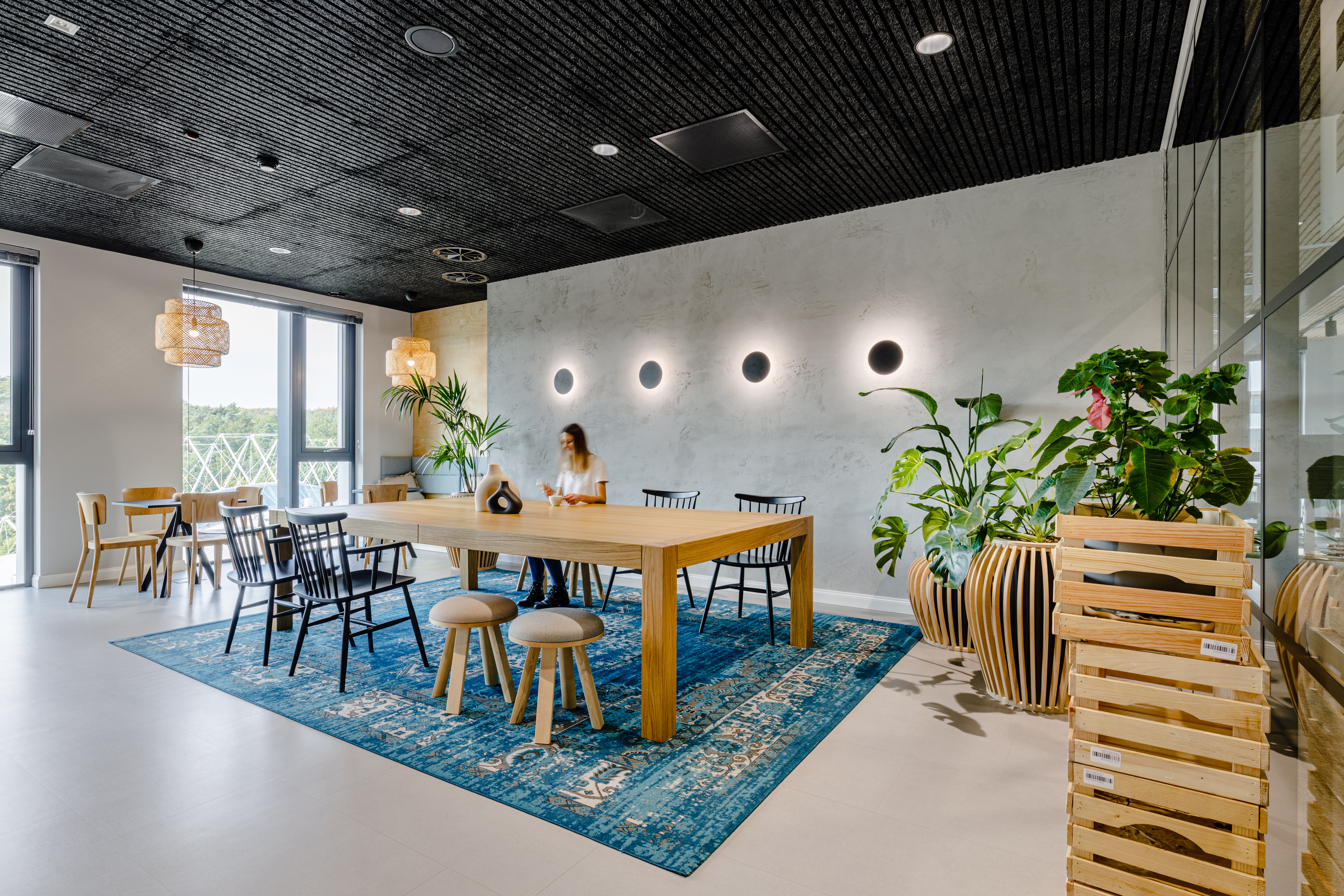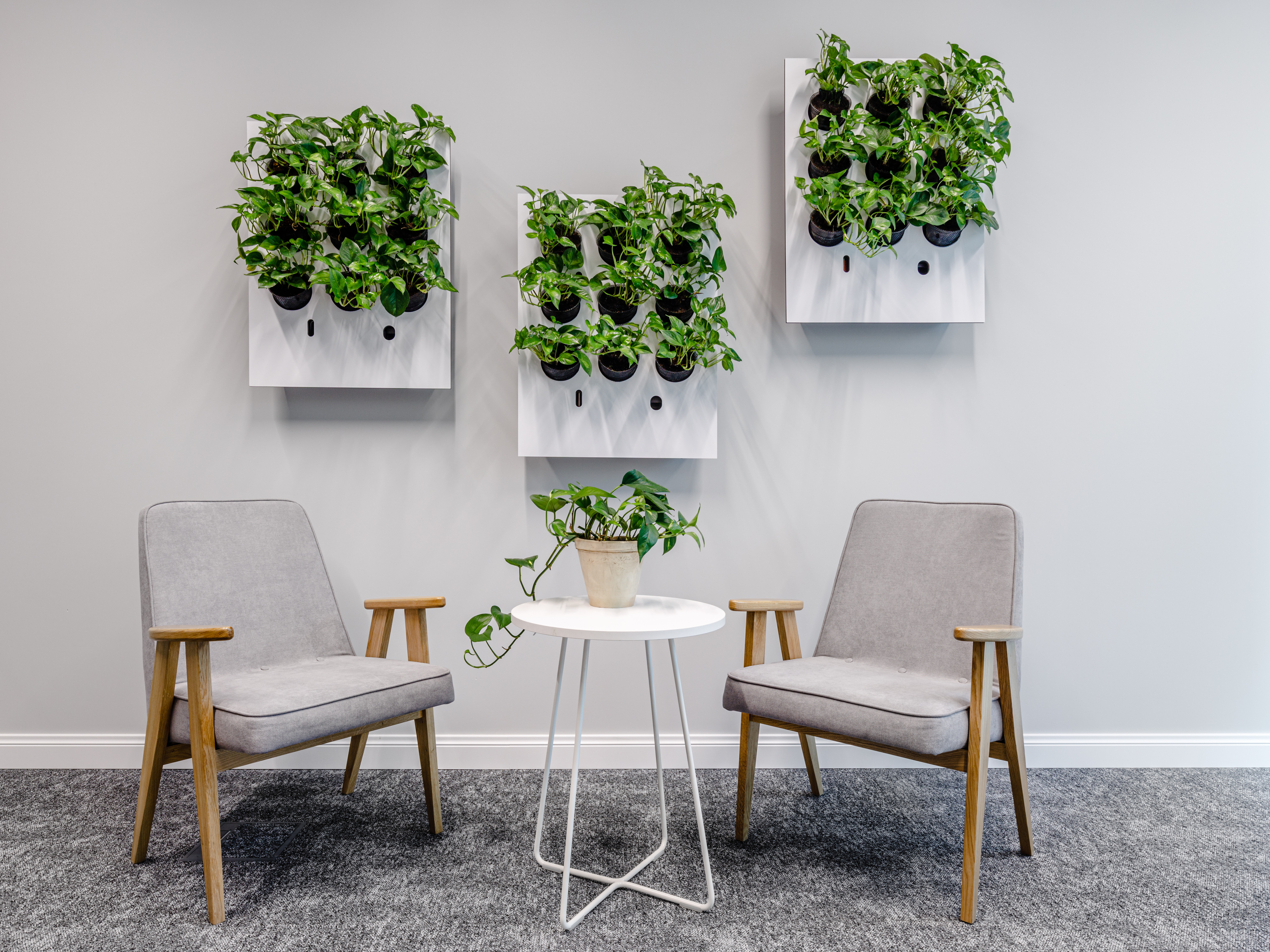 We emphasized the homey atmosphere of the interiors with plenty of vegetation and accentuated through "imperfect" finishes. We broke the whole with contrasting details, such as black connectors, the construction of furniture and lamps, and glass wall profiles. We strengthened the atmosphere of coziness by using numerous complementary light sources, in the form of wall lamps, desk lamps and free-standing lamps, emitting warm light. The impression of homeliness is also influenced by the use of fabrics of various weaves and textures.
Less waste and pro-eko approach
Thinking about environmental impact can be seen in both the finishing elements and the furnishings. A very large part of the movable furniture is Polish products, and some of it we ordered from local, Tri-City manufacturers. Some – like the armchairs – we bought used and refurbished in cooperation with the suppliers. We also managed to use some of the furniture from Maersk's previous offices, only refreshing them (cabinets, chairs) or making modifications such as replacing tops (tables).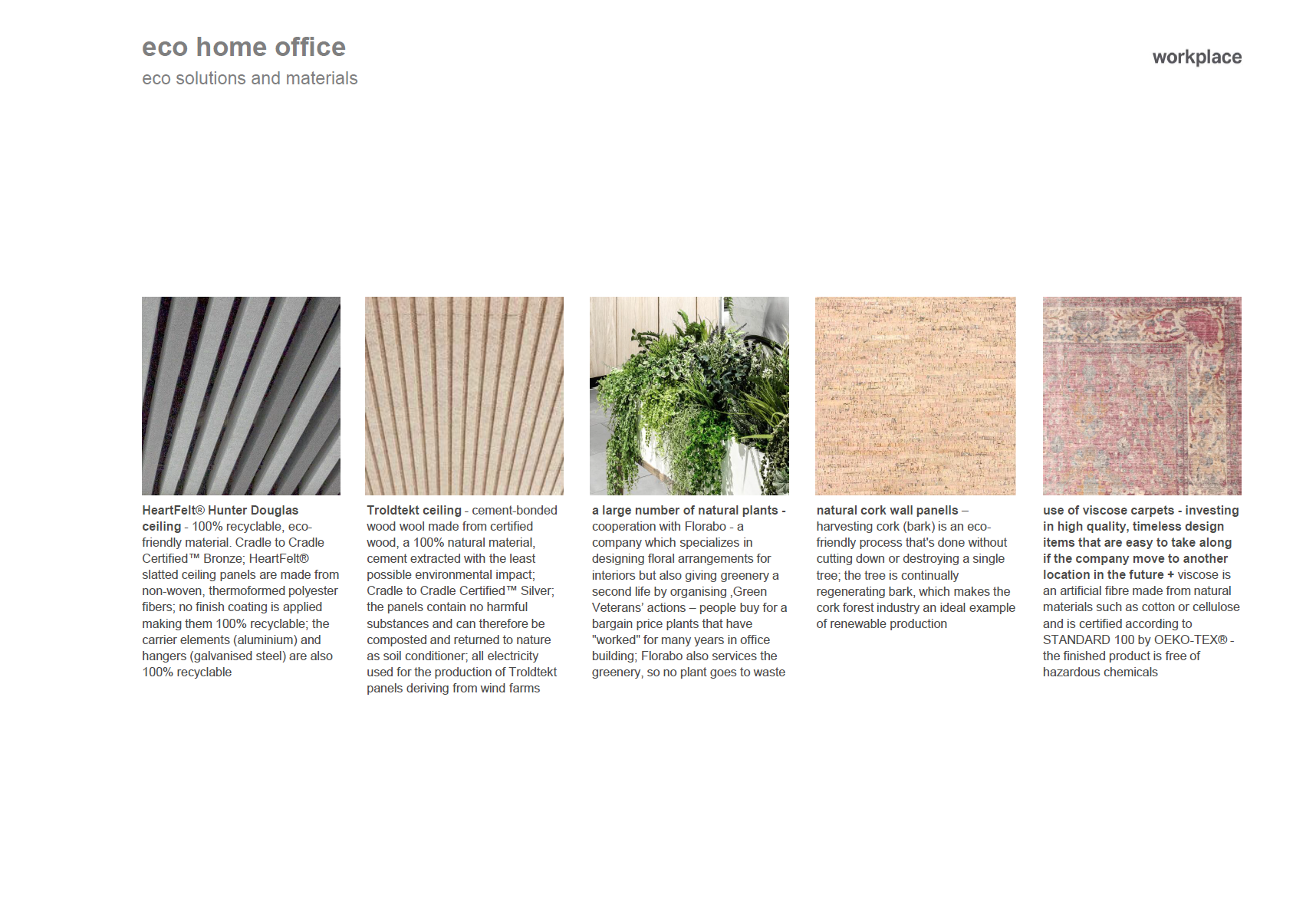 The recycled PVC carpets used in the project also continue their second life.
The pro-eko approach can also be seen in the decision to invest in movable equipment of good quality, with timeless aesthetics – carpets, decorative fixtures, furniture. They will serve the organization for years without the need to buy new ones (even when the company decides to refresh or change the space in the future).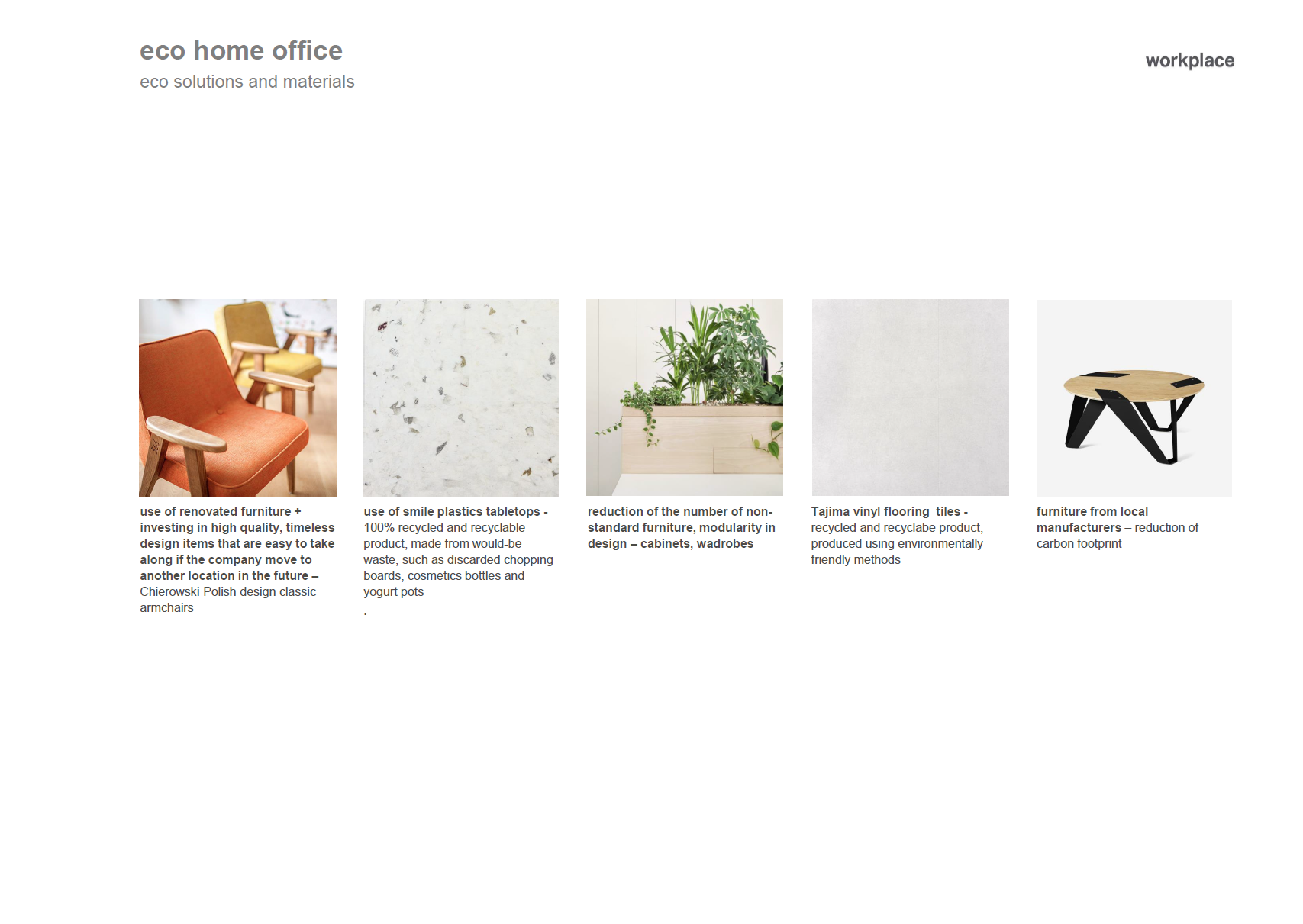 We made a large part of the table tops from recycled plastic, which is produced from compressed plastic waste. In addition to the less waste aspect, it allows us to achieve an interesting aesthetic effect, a unique "plastic marble."
Felt ceiling panels, made from thermoformed polyester fibers, also appear in the design. Since they have no finish coating, they are 100% recyclable, as are the ceiling's supporting elements (aluminum) and hangers (galvanized steel).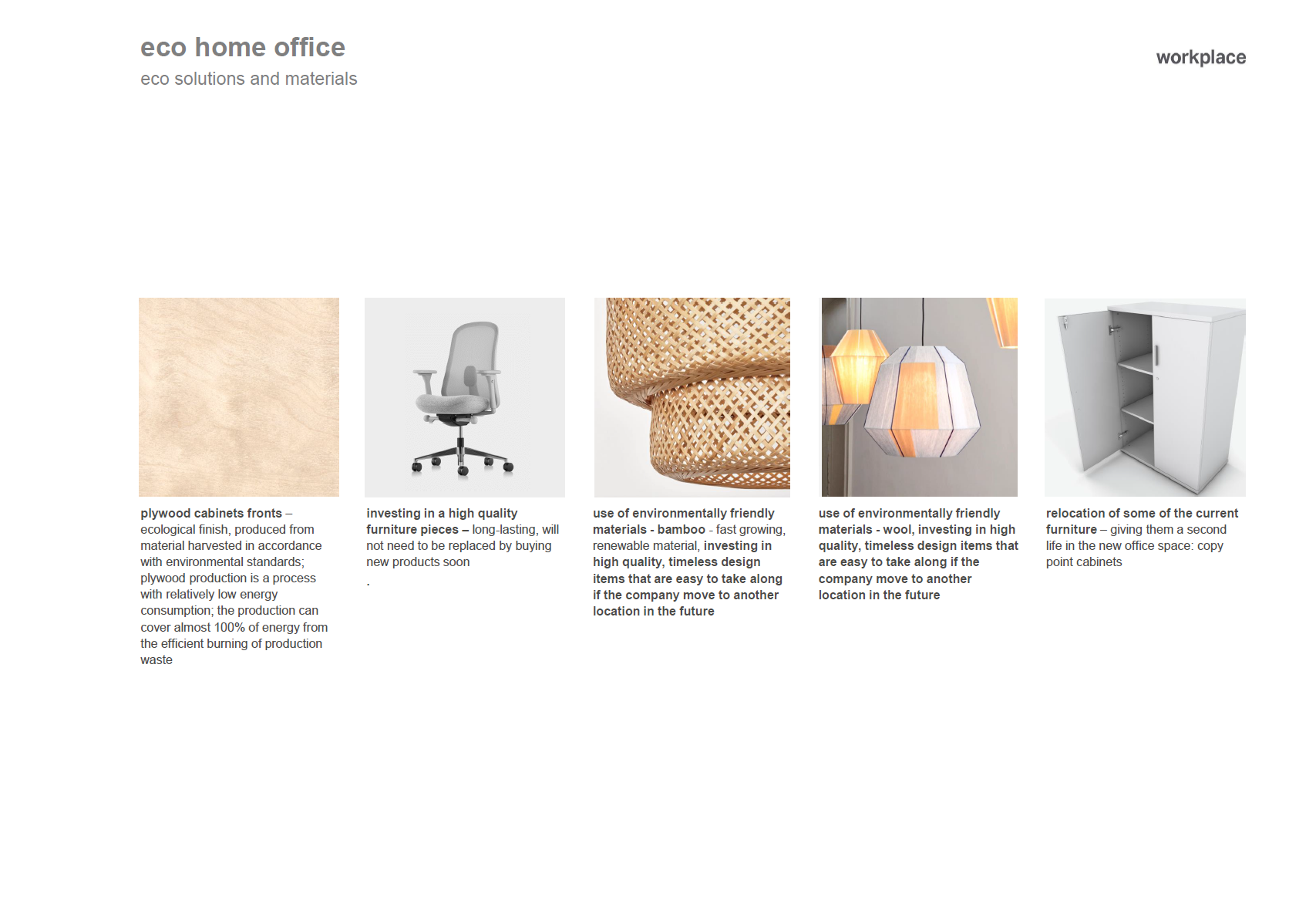 One of the strongest, guiding finishing motifs in the project is the cement-cured wood wool ceiling, visible from everywhere in the office. It is produced sustainably, using wind energy. Its panels contain no harmful substances, allowing it to be composted and returned to nature as a soil conditioner.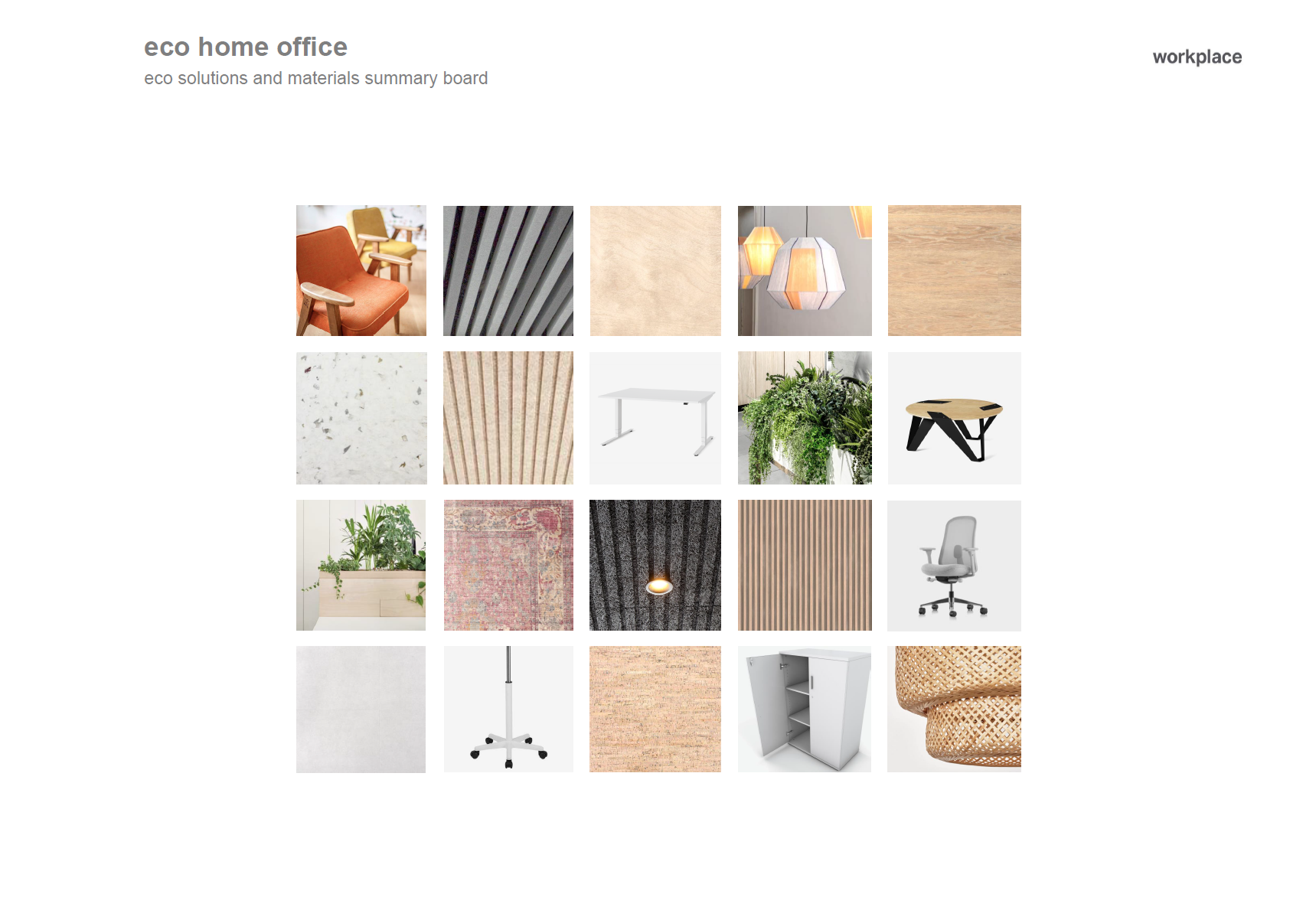 Budget-friendly office
An important part of working with the entire team involved in the process: Maersk, 3TOP, CBRE (project management) and the Workplace team was to identify priorities in the context of a limited budget. Optimizations did not pass us by, but thanks to the openness and involvement of all parties, we managed to avoid such modifications to the project that could have significantly compromised the final quality and aesthetics of the space.
In terms of budget, the less waste approach also proved helpful. Using some of the existing equipment and relying on second-circuit materials also allowed some savings to be achieved. As you can see, the eco-friendly approach supports not only the environment and interior aesthetics, but also the company's budget!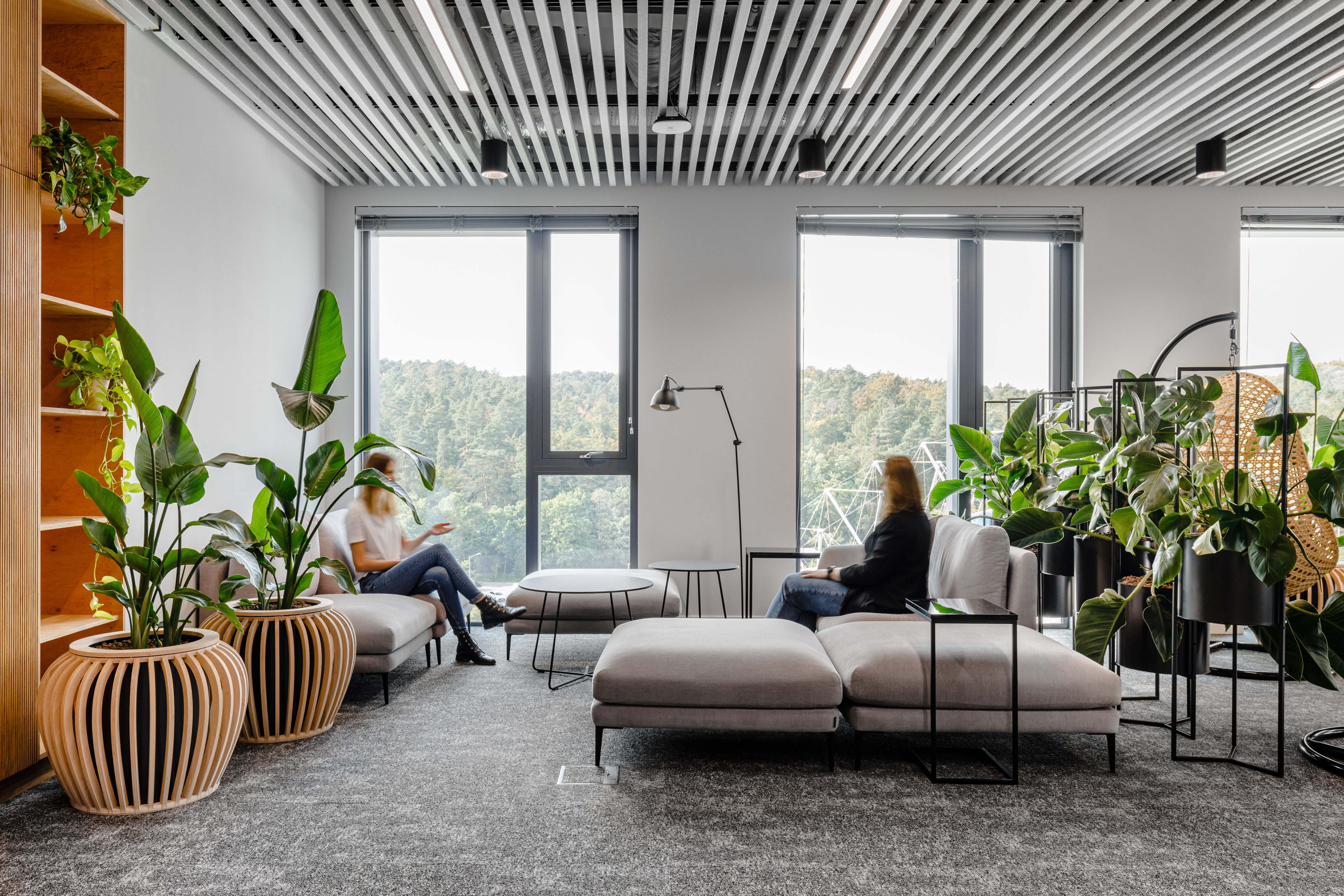 Authors
Management: Dominika Zielińska, Bogusz Parzyszek
Design team: Ewa Jędras, Ewelina Jezierska
Project management on the Workplace side: Daniel Dziczek
Visualizations: Jakub Andruk
Project team on the client side: Aleksandra Studniarek, Roksana Sikorska
External project management: CBRE, Jan Książek, Michal Idzkowiak
GW: DM Building, Katarzyna Śmiechowska
Photos: Adam Grzesik
Text: Marta Smyrska and Grażyna Zawada
Project
Size: 1 249 sqm
Location: Gdynia, 3T Office Park
Duration: 9 months